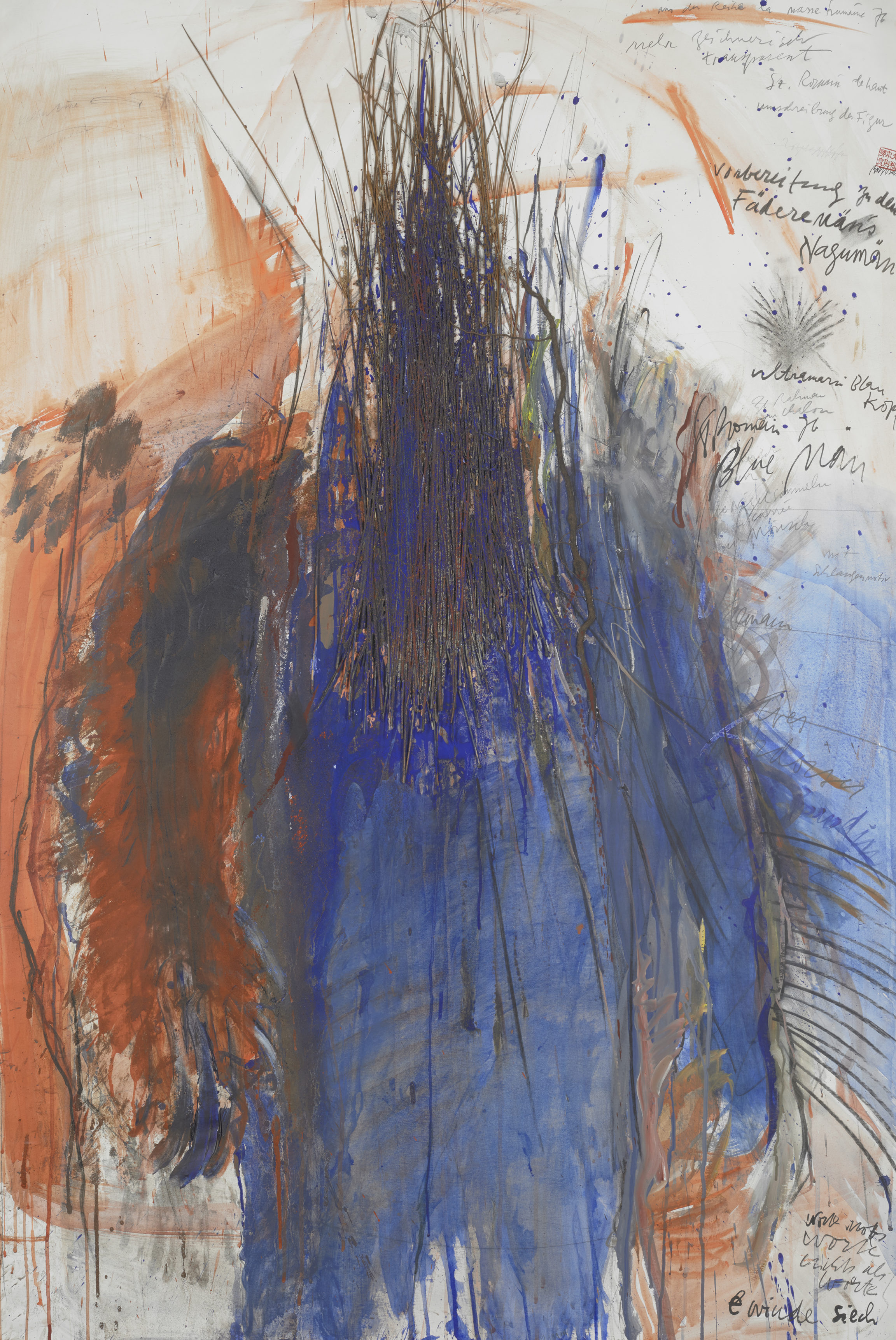 Rolf Iseli first came to public attention in the mid-1950s for canvases in which pictorial technique and physical energy were themselves the object of the painting. He produced his first tachist work in 1954 and was instrumental in bringing informal art to Switzerland as the movement spread across Europe in the wake of American abstract expressionism.
Iseli gave up oil painting in 1966, moving from canvas to the more fragile medium of paper, which can be folded, torn and otherwise mistreated. This led to an experimental period that achieved a balance between figurative art and pure expression in the early 1970s. His preferred subject became man and his environment, with no sense of nostalgia for an imagined lost connection with nature. The shift drew on his experience with planting and growing vines in Saint-Romain, Burgundy in 1971, on land he had purchased ten years earlier and where he spent half the year working. This work, typical in its use of natural materials – earth, straw, feathers, leaves and so on, all feature in Iseli's art – is part of a series of Bulrush Men. A male silhouette, the artist's own shadow, hidden by a spray of dried bulrushes, maps fully onto the painted surface. The shadow, projected on the paper as it would be on the ground, is an image of manhood.
This image translates the experience of an almost mystical moment. The man, stripped of any notion of identity, is in symbiosis with his natural surroundings. His body, radiating blue, blends into the orange gouache and ochre earth. The sheer power of the strokes applying gouache to paper causes drips to run off uncontrollably in vigorous lines to each side. The comments in various languages written during the course of the creative process, mainly in the right-hand margin, transcribe the artist's train of thought.
Bibliography
Matthias Frehner and Simon Oberholzer (eds.), Rolf Iseli. Zeitschichten / Les strates du temps, exh. cat. Bern, Kunstmuseum Bern, Bielefeld, Kerber Art, 2009: n. 68.
Julie Enckell, 'E wiuede siech, 1976,' in Dominique Radrizzani (ed.), L'attrait du trait: dessins anciens et modernes de la collection, Les Cahiers du Musée des Beaux-Arts de Lausanne 11, 2001: 100, n. 61.
Erika Billeter, Silvia Blatter et al., Rolf Iseli, exh. cat. Lausanne, Musée cantonal des Beaux-Arts, 1990.