Café-restaurant
Le Nabi
Opening hours
| | |
| --- | --- |
| Tuesday-Wednesday | 10:00 - 18:00 |
| Thursday | 10:00 - 20:00 |
| Friday-Sunday | 10:00 - 18:00 |
| Monday | Closed |
Terrace open, weather permitting: 8.30am – 8pm, except Mondays
Reservation recommended!
Contact:
info@lenabi.ch
+41 21 311 02 90
Special hours
| | |
| --- | --- |
| 24.12.2023 | 10:00 - 17:00 |
| 25.12.2023 | Closed |
| 26.12.2023 | Closed |
| 31.12.2023 | 10:00 - 17:00 |
| 1.01.2024 | Closed |
| 2.01.2024 | Closed |
Le Nabi
The menu aims to be inviting, familial, yet inventive. Traditional cooking is restyled while the menu follows the seasons by adapting to the harvest of local producers. The drinks are artisanal. Meticulous service at reasonable prices for a convivial moment that everyone can afford to enjoy. Kids are very much welcome, too. Menu selections are designed for savory discoveries, and a play area encourages creativity.
Breakfasts
Weekdays and weekends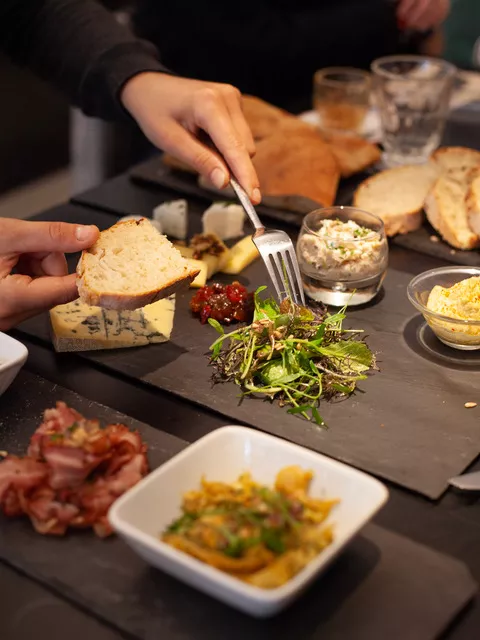 Everyday: café-croissants or breakfast.
On Sundays: large all-you-can-eat buffet for a brunch with family, friends or solo in a cosy setting.
Privatisation
For your events and receptions:
From 7pm to 11pm, Monday to Sunday
Capacity: 70 people
Surface area: 143 m2
Flat rate for rental: CHF 450 incl. VAT
Inspiration
Delphine Veillon and Johans Valdivia, who run our café-restaurant, see a sense of family in Félix Vallotton's work, the largest collection of which is located in the museum. For the name of their establishment they turned to the name given to a group of painters in France whom Félix Vallotton belonged to. The Nabis sought to break free of the constraints limiting academic painting and work in a direction that led to experiments suffused with a certain spirituality.
Discover the MCBA collection: Félix Vallotton