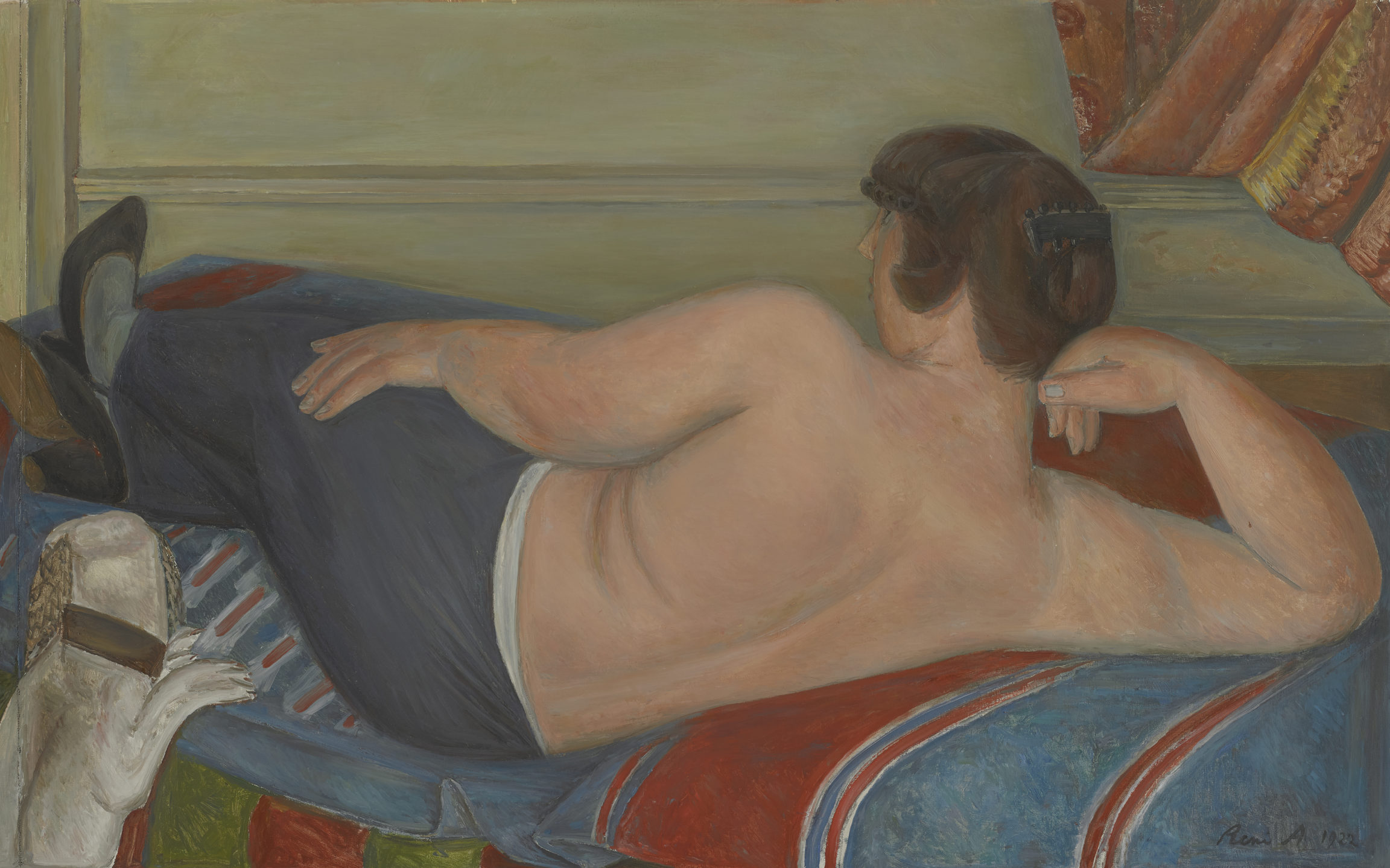 René Auberjonois
Grand nu couché or Nu étendu avec chien (Large reclining nude or Nude reclining with dog), 1922/1923
On September 30, 1923, the poet Gustave Roud described René Auberjonois in La Gazette de Lausanne as an unfairly overlooked master of 'pure painting', adding 'French-speaking Switzerland remains silent. In vain would you seek even a single drawing by him in his home town museum'. Roud was wrong: this nude in fact joined the Lausanne collection that same year.
Auberjonois himself described the work as 'a bit of a museum piece' and 'a woman on a Turkish divan', with echoes of two iconic reclining nudes – Diego Vélasquez's Venus at her mirror (1647-1651, also known as the Rokeby Venus, London, The National Gallery) and Ingres's La Grande Odalisque (1814, Paris, Musée du Louvre). The painting borrows the Rokeby Venus's pose and the Odalisque's sharp outlines and light-filled palette, bright in the red, white and blue of the rug and tender in the ochre skin tones. The woman is not contemplating her own reflection or gazing out at the viewer, however. She is shown staring at the wall with her back to us. Auberjonois offers an ironic reading of the classics, even down to the dog, a symbol of fidelity, rejecting trivial approaches suggesting that paintings exist outside their own qualities of form and colour.
The woman's solid build and large hands began to feature in Auberjonois's work as early as his 1921 painting Femme dans la loge (Woman in a Theater Box, Zurich, Kunsthaus). Such quasi-sculptural forms are found in the work of a number of artists who turned back to classicism after the First World War, including his fellow Swiss artists Théophile Robert and Félix Vallotton. The best-known example is Picasso, a painter Auberjonois admired greatly: his Trois femmes à la fontaine (Three Women at the Spring, 1921, New York, The Museum of Modern Art), dates from the previous year.
Bibliography
Jörg Zutter (ed.), René Auberjonois, exh. cat. Lausanne, Musée cantonal des Beaux-Arts, Genève, Skira, 1994: n. 18.
Hugo Wagner, René Auberjonois. L'œuvre peint – Das gemalte Werk. Catalogue des huiles, pastels et peintures sous verre, Zurich, Schweizerisches Institut für Kunstwissenschaft, Denges-Lausanne, Éditions du Verseau, 1987: n. 291.