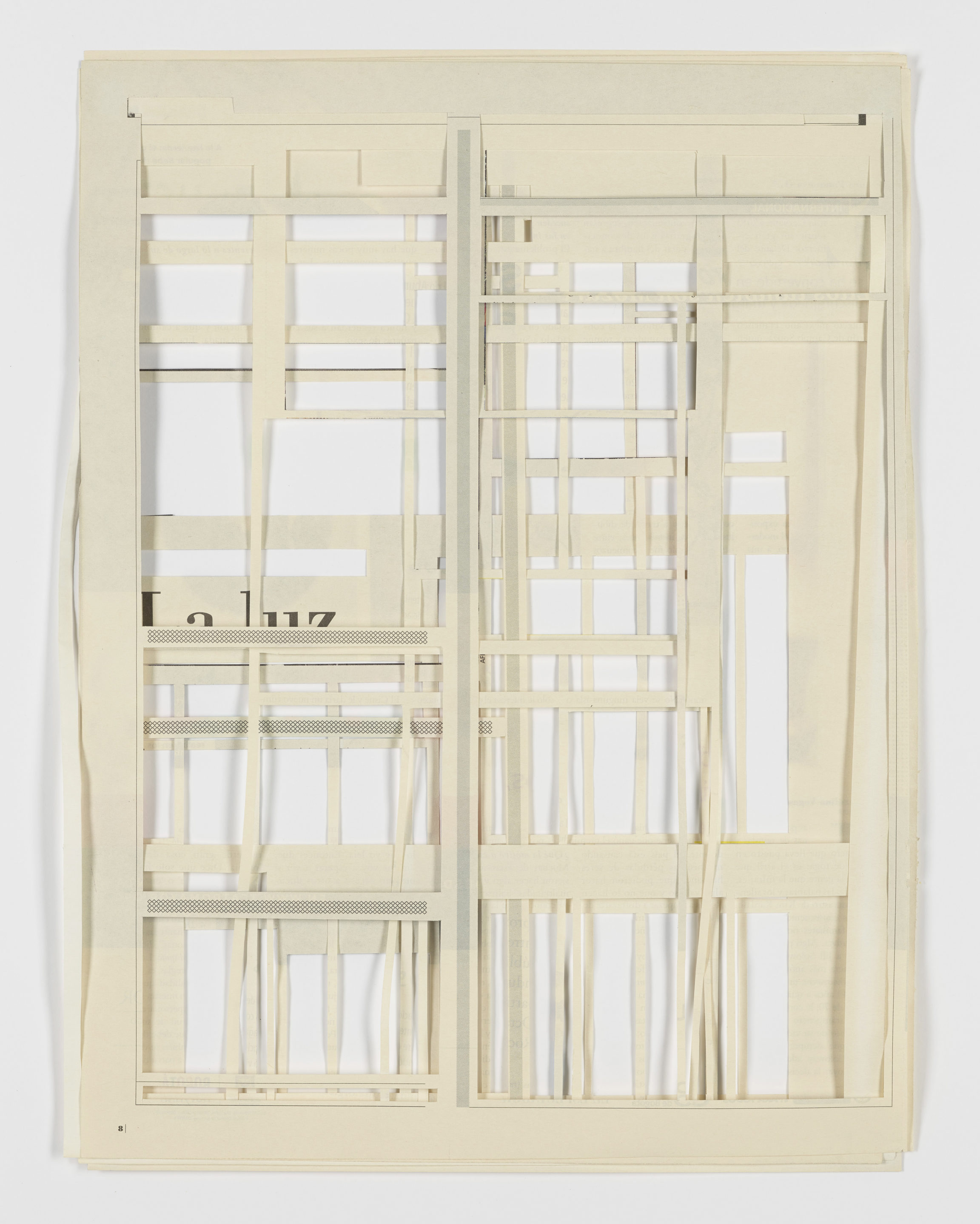 Jorge Macchi's artworks use a variety of media and strategies to play with the viewer's perceptions. Flashes of light diffracted by a disco ball turn into slashes in the walls and ceiling (Still Song, 2005, Tehran, Honart Museum), a dimly lit wooden table stands on a mattress that appears to be its shadow (Bed and Breakfast, 2006), while a double wall lamp lights up a stretch of wall, revealing the wallpaper pattern, though the lamp is in fact switched off (Hotel, 2007). The visual traps he sets for the audience are intended not merely to take us by surprise, but also to put us into a fictional space populated with familiar objects such as clocks, instruments, maps, and furniture presented in unusual stages that only become apparent on closer viewing. He has also produced a large number of watercolours in which objects often feature twice, exploiting the medium's inherent fluidity to both bring out and hide his motifs.
The present work, La luz (2015), is typical of a corpus of decoupage works produced over many years. Macchi has simply excised all the headlines and blocks of text from a Colombian newspaper, voiding the newspaper – and through it, daily life – of its content, sparing just the words La luz. The layered pages create a cage effect, generating a sense of depth in a fundamentally flat object, inviting us to interpret the disappearance of language in terms of the light that pours forth when news, often dark and dismal, is removed from sight. The work can also be seen as a series of windows letting the light pass through. Windows are an important motif in Western iconography, evoking the development of perspective by Renaissance artists and the theorisation of paintings as a window to the world. The work's overall structure also gestures to the grid format, emblematic in modern art.
Bibliography
Laurence Schmidlin (ed.), Jorge Macchi. La Cathédrale engloutie, Lausanne, Musée cantonal des Beaux-Arts de Lausanne, 2020 (Espace Projet series, n. 2).
Inés Katzenstein, Rodrigo Moura and Agustín Pérez Rubio, Jorge Macchi. Perspectiva, exh. cat. Buenos Aires, Museo de Arte Latinoamericano de Buenos Aires, 2016.
Sigismond de Vajay and Thibaut Verhoeven (eds.), Jorge Macchi. Music Stands Still, exh. cat. Ghent, S.M.A.K., Buenos Aires, KBB (Kültur Büro Buenos Aires / Barcelona), [Vevey], Toit du monde, 2011.