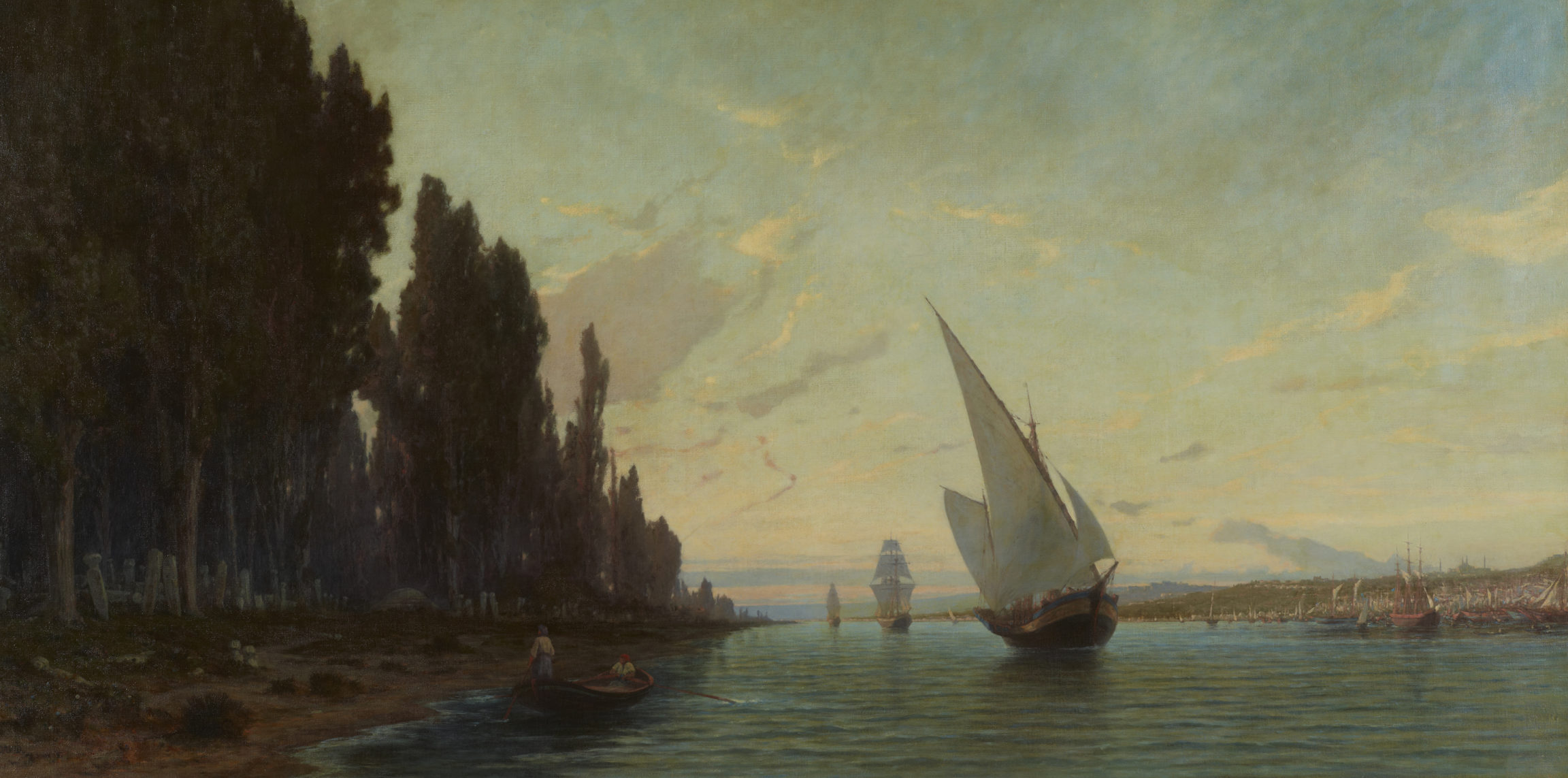 Émile David studied with Barthélémy Menn in Geneva and Charles Gleyre in Paris before heading for Italy in 1848. He spent much of his time in Rome with his fellow artists, Étienne Duval and Auguste de Beaumont – like him, both Swiss – and Henri Harpignies and Jean-Jacques Henner from France. In 1869, he set sail for Greece, visiting Athens and Corinth. By the spring of 1870 he was in Constantinople, marvelling at the Bosphorus: "I wallowed in the Orient like a donkey in dust".
This elegiac painting captures his memories of the majestic strait. In the centre of the canvas, three elegant ships glide along, their sails swelling in the breeze. To the right lie the port of Constantinople and the Golden Horn, glowing gently in the rising sun. To the left are two men drawing into shore in a skiff, landing by a cemetery and a cypress forest gesturing to the Muslim tradition of planting trees in memory of the dead.
David was a painter of intimate scenes in the style of Menn and, by extension, the Barbizon school and Camille Corot. His generation of Swiss landscapists moved down from the spectacular Alpine peaks to the calmer, quieter plains. His paintings reflect an urge to capture fleeting sensations, yet his work remains painstaking in its descriptive approach, distancing him from Impressionism. His oeuvre, highly sophisticated in its use of colour, is relatively sparse: with a generous private income, he had no need to sell and could take his time to perfect his work to his own rigorous standards. He was not wholly detached from the art scene, however: he presented his work at Universal Exhibitions. This canvas was shown at the Paris Exhibition in 1878.
Bibliography
Marie Bovet-David, Catalogue des œuvres d'Émile David. Avec une notice biographique et une lettre d'Étienne Duval, Lausanne, Payot & Cie éditeurs, 1905: n. 21.