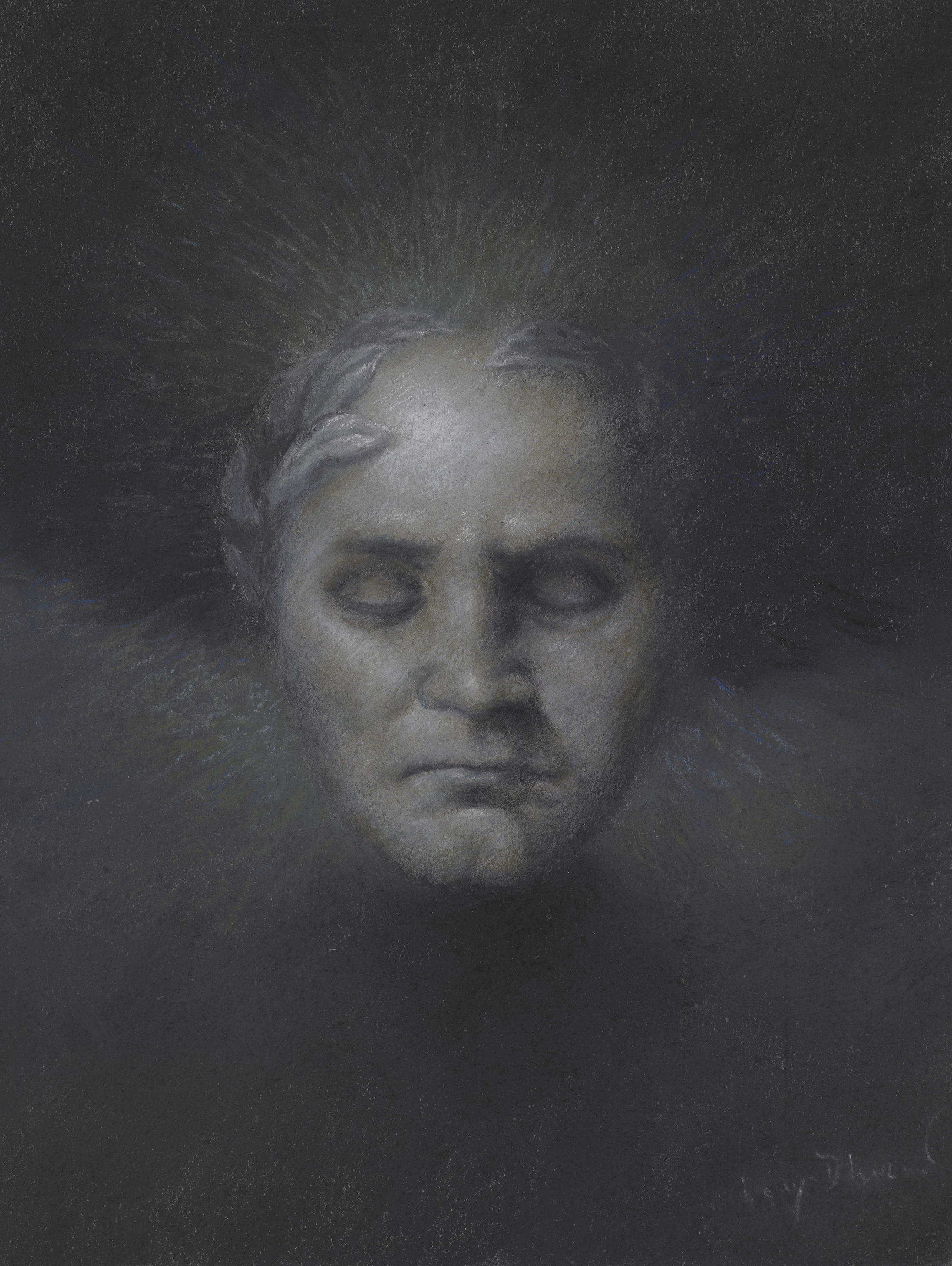 Lucien Lévy-Dhurmer
Le génie de Ludwig van Beethoven (The Spirit of Ludwig van Beethoven), circa 1906-1910
Beethoven was honoured as a quasi-divine figure as early as the ceremonies held to mark his funeral in 1827. For the Romantic generation, his extraordinarily fecund talent symbolised poetic inspiration and his deafness the solitude of genius. He was seen as a Promethean figure torn by internal struggles or as Jupiter enthroned in the heavens. At the dawn of the twentieth century, his mythical status reached greater heights than ever, extending across borders. Numerous monuments were raised to his glory. The Beethoven frenzy reached its pinnacle in 1902 with the eponymous exhibition at the Vienna Secession, where Gustav Klimt presented his Frieze and Max Klinger his Monument.
At the same time, visual artists explored the expressive potential of the artist's face. Naoum Aronson and Antoine Bourdelle sought to capture his pathos and blazing creative power by giving him unruly locks and a tortured expression. Other artists, like Benjamin-Constant and Franz von Stuck, took inspiration from the mask cast by Franz Klein during Beethoven's lifetime and from his death masks. The symbolist artist Lucien Lévy-Dhurmer's powerful pastel work uses a palette of blues and greens with touches of white to conjure a serene, radiant portrait of the musician emerging from the depths of night. Wearing a laurel wreath to signify his genius, he is shown with his eyes closed, quietly contemplating an inner life of immense richness. The universally admired musical genius seems to be floating untethered in the eternal silence of the cosmos.
Bibliography
Colin Lemoine and Marie-Pauline Martin (eds.), Ludwig van, le mythe Beethoven, exh. cat. Paris, Cité de la musique – Philarmonie de Paris, Paris, Gallimard, 2016.
Fariba Joubine Alai, Beethoven glorified in Statues, London, Homa Publishers Limited, 2000.
Rainer Cadenbach, Mythos Beethoven: Ausstellungskatalog, Laaber, Laaber Verlag, 1986.