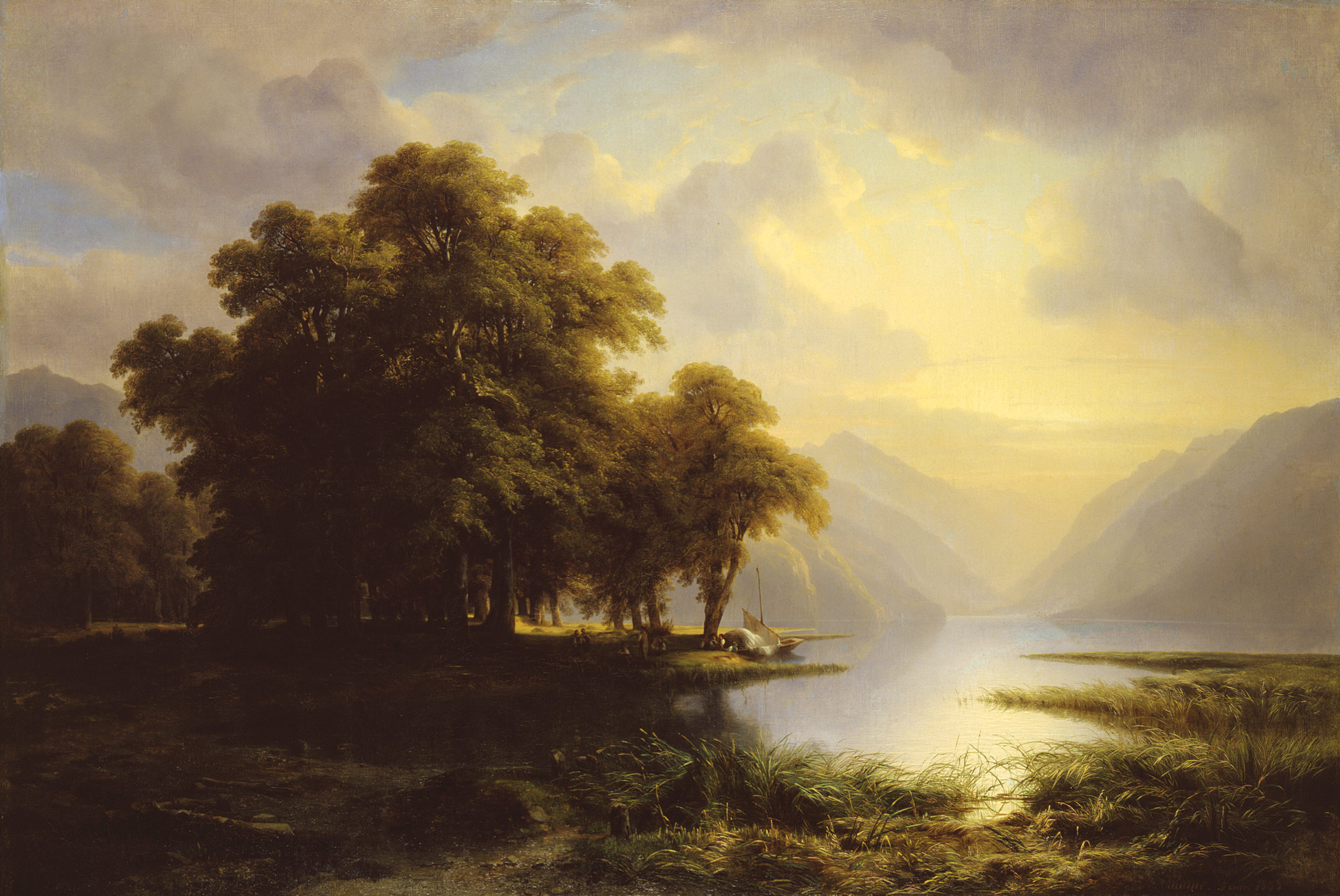 Alexandre Calame's talent was first spotted in 1829 by the banker Jacques-Amédée Diodati, who paid for him to study with François Diday, the master of Alpine landscapes in and around Geneva. Calame first started looking for subjects in the surrounding hills, then from 1835 on in the Bernese Oberland, famous for its spectacular mountain peaks. He explored central Switzerland, finding artistic inspiration in mid-altitude settings and painting many views of Lakes Lucerne and Brienz. The mountain summits form the backdrop to views with a long depth of field. The calm, light-filled, almost timeless panoramas offered a welcome change from Diday's use of the sublime and pathos and were much appreciated by art lovers.
This view of Lake Brienz is typical of how Calame was influenced by seventeenth-century Dutch landscape painting. In 1838, he travelled to Holland to study the work of Meindert Hobbema and Jacob van Ruisdael, having discovered the Dutch school from Genevan collectors who preferred its painstaking realism and predilection for local views to the academic, idealised works of the Italian school. Calame learned from the technical mastery of the Dutch school, particularly in rendering the clear waters of the lake and the shimmer of foliage. The clear, warm, calm atmosphere of Lake Brienz radiates emotion. The play of light is extremely subtle, filtering through the thicket of trees on the left to create a foil for the elements in the foreground and middle ground, highlighted by the rays of light on the right-hand side.
Calame's fame was assured when he came to paint this view of Lake Brienz. He had enjoyed his first major international success at the Paris Salon in 1839 with Storm at Handeck, purchased by the Musée d'art et d'histoire in Geneva, and his collectors included members of the Russian imperial family and King Louis-Philippe of France.
Bibliography
Agata Vetterli, Alexandre Calame, peintre des Alpes, Geneva, Notari, 2008: 40.
Alberto de Andrés, Alpine Views: Alexandre Calame and the Swiss Landscape, exh. cat. Williamstown/MA, Sterling and Francine Clark Art Institute, New Haven/London, Yale University Press, 2006.
Valentina Anker, Alexandre Calame. Vie et œuvre. Catalogue raisonné de l'œuvre peint, Fribourg, Office du livre, 1987: n. 222.