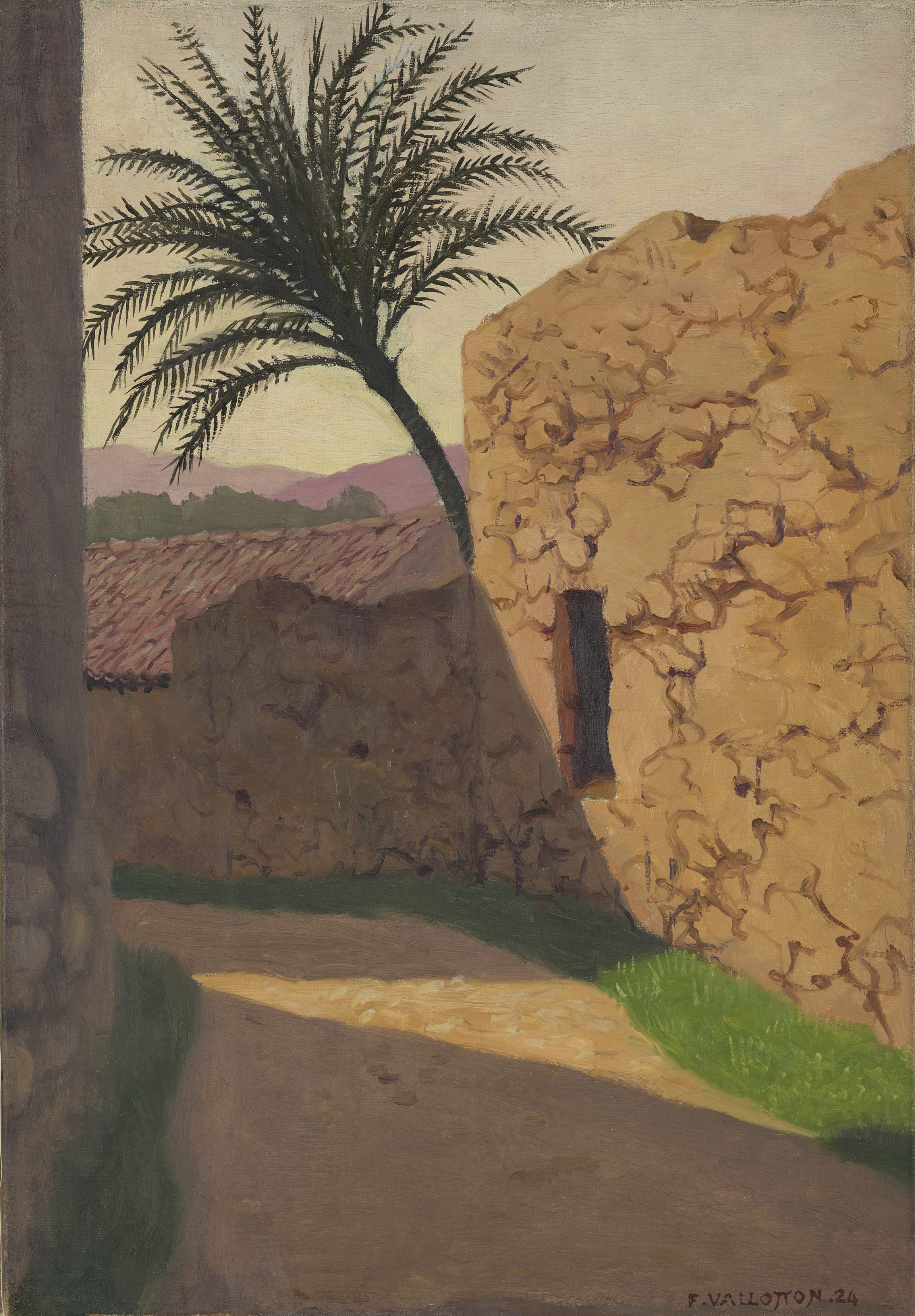 Félix Vallotton arrived in Cagnes on November 24, 1920. This painting, dating from early December, is one of the first he completed during his visit. The village where Auguste Renoir had settled some years earlier was one of Vallotton's favourite subjects. As an artist, his eye was inevitably drawn to the Mediterranean sun, the striking contrasts of light and shade, the tangle of narrow streets, the cracked dry-stone walls, rocky paths, distant hillsides, the dry grass, pines, and palm trees. A whole new world of artistic possibilities opened up to him.
Some twenty years earlier, in Marseille, he had focused on picturesque street scenes and charmingly insouciant bourgeois families going about their business. In Cagnes, the urban bustle gives way to a timeless, silent ambiance. Men, women and children are now just dots in the distance, or tucked away in the shadow of a wall or a tree. In many cases, there is no human presence in the streets at all. His handling of light has also changed, becoming warmer in tone. In this case, the palette is predominantly ochre, contrasting with the greys of the parts in shade.
In the works painted in the south of France in the winter of 1901, shadows corresponded to what Vallotton observed in reality. Here, two decades on, he uses shadow to underpin the key visual aspects of a carefully structured composition. The view is "composed" by a thoughtful arrangement of geometric shapes and swathes of colour that, though flat, are nonetheless carefully detailed in terms of shading.
Bibliography
Marina Ducrey, in collaboration with Katia Poletti, Félix Vallotton, 1865-1925 : l'œuvre peint, 3 vol., Lausanne, Fondation Félix Vallotton, Zurich, Institut suisse pour l'étude de l'art, Milan, 5 Continents Editions, 2005, n° 1376.