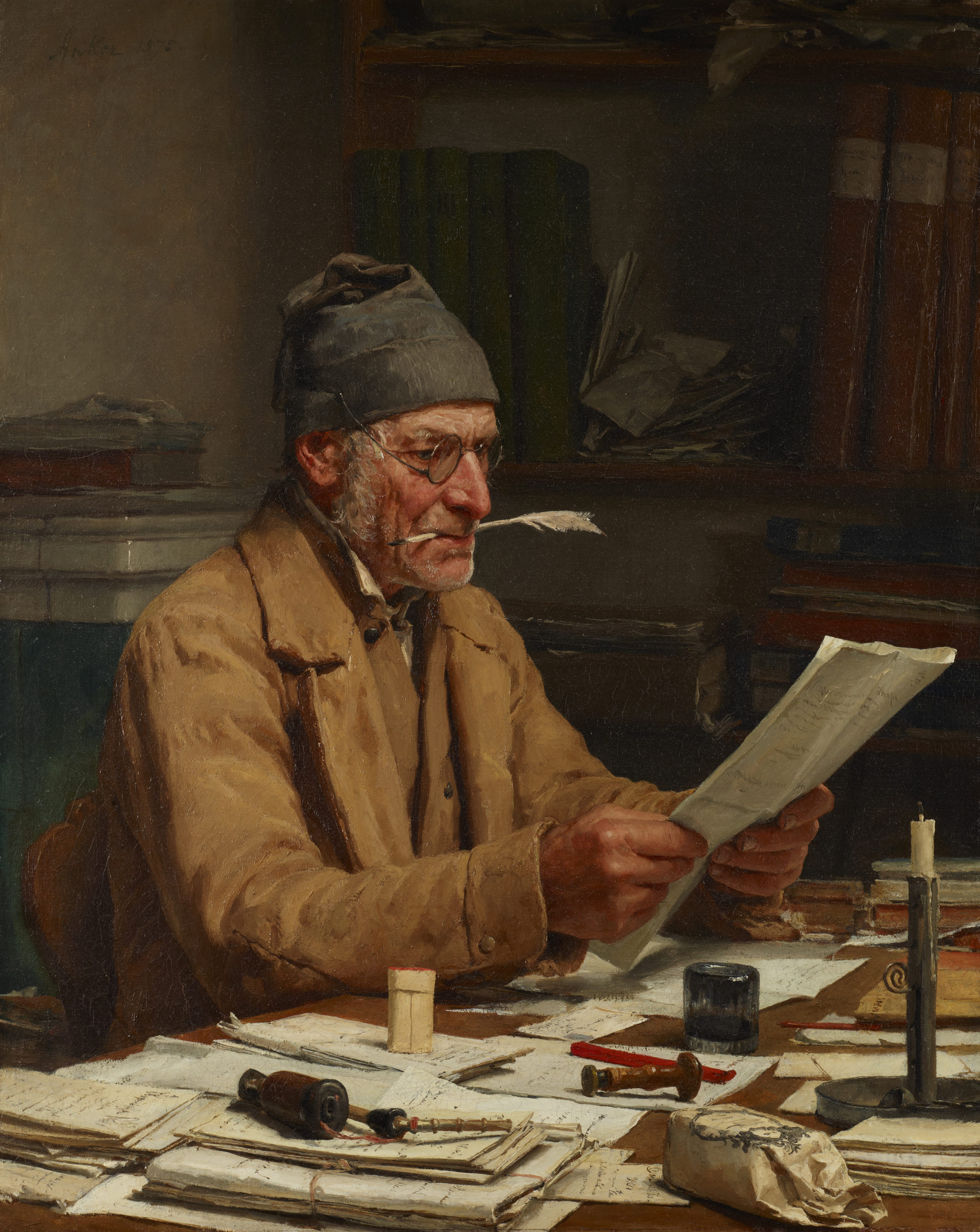 Here, Albert Anker paints a pivotal administrative figure in every Swiss commune. In nineteenth-century Switzerland, the commune secretary held considerable power thanks to his legal knowledge and many responsibilities, from financial management to recording births, marriages and deaths. The artist chose the saddler from his home village of Anet to sit for him as a secretary studying some important papers. The local character of the subject is underscored by the green-tiled stove behind him and his hat with a pompom. The scene is rather jolly, with its unselfconscious mix of officialdom in the inkwell, town seal, sealing wax, candle, registers, and files, and individualism in the pipe and tobacco pouch. The realism of the painting is at its height in a few mischievous details such as the goose quill clenched in the secretary's teeth, the glasses perched on his hat, and his stubbly cheeks.
This is one of Anker's best-known genre portraits. It became a popular heliogravure during his lifetime and is much loved to this day: it featured on a Swiss postage stamp in 1981 and the Swiss mint chose it for its annual gold coin issue in 2010. The painting's success was so immediate that Anker produced four further versions after the 1874 original. This is the first of those four. Like the original, it was immediately purchased by Anker's Parisian art dealer Adolphe Goupil, where it may have been admired by one of his employees, a certain Vincent van Gogh.
Bibliography
Therese Bhattacharya-Stettler (eds.), Anker, exh. cat. Martigny, Fondation Pierre Gianadda, 2003, cat. 55.
Sandor Kuthy and Therese Bhattacharya-Stettler, Albert Anker, 1831-1910. Catalogue raisonné des peintures et des études à l'huile, Berne, Kunstmuseum, Bâle, Wiese Verlag, 1995, n° 210.
Dario Gamboni et Georg Germann (eds.), Emblèmes de la liberté : l'image de la République dans l'art du XVIe au XXe siècle, exh. cat. Berne, Kunstmuseum, Berne, Bernisches historisches Museum, 1991, cat. 430.