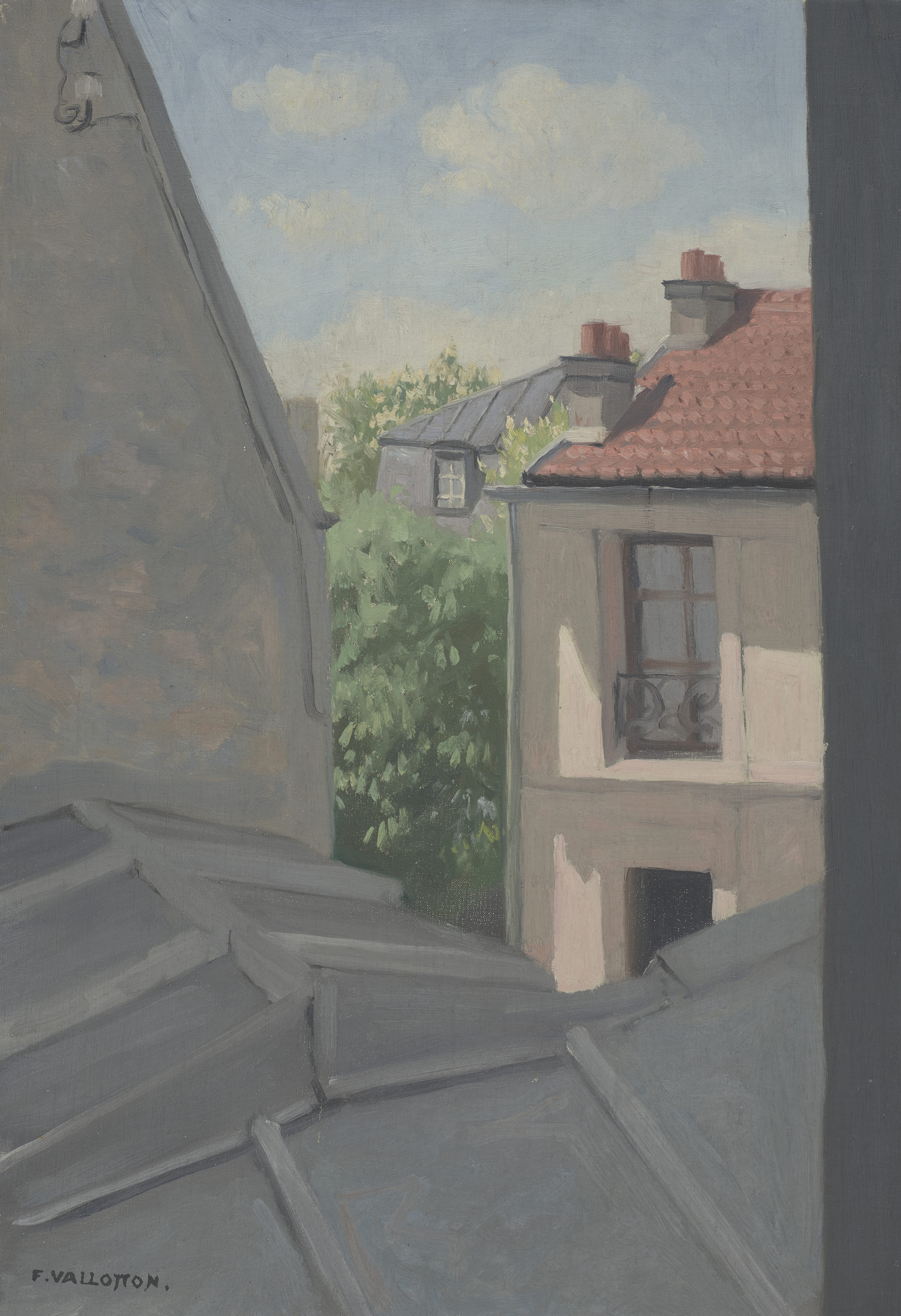 In the spring of 1903, Félix Vallotton and his family moved into an elegant town house at 59, rue des Belles-Feuilles, in the chic 16th arrondissement of Paris, right by the start of the rue Mérimée. Vallotton had a studio put in over the drawing room, accessed via a spiral staircase. One of the windows looked out over this view, with a huddle of rooftops, walls, and façades. The green foliage closing off the perspective, palette of greys for the stonework, and pale blue sky with a few scattered clouds, together create a rather chilly impression that is barely softened by the orange of the chimney and roof tiles opposite and a ray of sunlight.
The band of dark grey running down the right hand side of the canvas – part of the window frame or the wall in shadow – immediately draws the eye. It is a radical departure from the diagonals of the rooftops, boldly limiting the composition and imposing its own vertical frontality. Vallotton used a similar technique in some of his portraits, such as Le foulard jaune (The Yellow Scarf, 1911, in the Museum collection).
Les toits, rue Mérimée downplays the opulence of Vallotton's new residence. Was he perhaps nostalgic for his lost bohemian youth, having lived in comfort since his marriage to the wealthy Gabrielle Rodrigues-Henriques in 1899? Or was he looking for an unusual viewpoint and unexpected framing? Vallotton's approach in the urban and natural landscape is typified by his constant quest for striking viewpoints, often inspired by photographic framing. His 1913 views of Perugia and Moscow are a case in point.
Bibliography
Fenêtres de la Renaissance à nos jours, exh. cat. Lausanne, Fondation de l'Hermitage, Lugano, Museo Cantonale d'Arte, Milan, Skira, 2013.
Marina Ducrey, with the collaboration of Katia Poletti, Félix Vallotton, 1865-1925: l'œuvre peint, 3 vol., Lausanne, Fondation Félix Vallotton, Zurich, Institut suisse pour l'étude de l'art, Milan, 5 Continents Éditions, 2005: n. 452.
Sasha M. Newman (ed.), Félix Vallotton, exh. cat. Lausanne, Musée cantonal des Beaux-Arts, Paris, Flammarion, 1992.