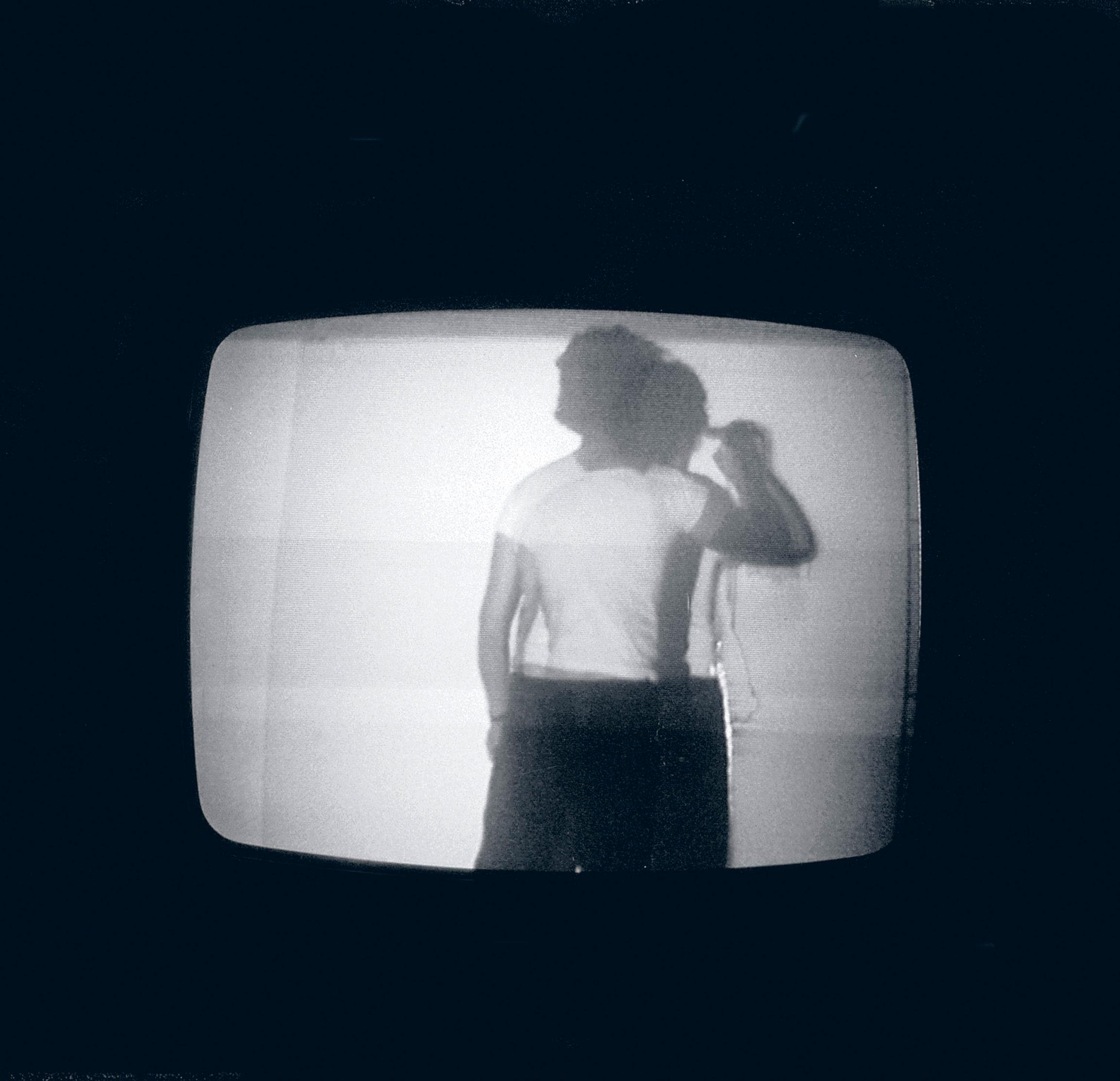 Jean Otth made his first video works in 1971 and showed them the following year at Galerie Impact in Lausanne (Action Film Vidéo) and at the Museum (Musée expérimental 3: Implosion). These two exhibitions are considered as marking the beginnings of Swiss video art.
Limite E was the first video to enter the Museum collection, alongside other tapes by Otth, such as Limite A and the TV-Perturbations series. It makes use of the aesthetic potential of electronic technology (closed-circuit, mise en abyme of the image). We see the artist from behind, standing in front of a white wall that also serves as a screen. Otth draws the outline of his own shadow, his static image (a projected transparency) and, finally, his dynamic image (a projected Super 8 film), suggesting a reflection on the different natures of the image – in this instance, drawing, projected or filmed, and static or in motion. The pictorial result of this action was a canvas measuring 170 x 170 cm, also in the Museum collection, which cannot be exhibited without the video which recorded its making.
Limite E belongs to a series whose subtitle, Interrogation sur les 'réalités' de l'image (Interrogations on the 'Realities' of the Image), not only sums up what interested the artist at the time, but also offers a diagnosis of the video scene of the day. As Otth puts it in the catalogue Vidéo 1970-1980 (1980), 'the Limit is a theme that chokes on its own obviousness. Drawing, scrawling the outline of a form is a primitive act to be preserved and developed. As the common denominator of all images and all codes (with time as a new plastic dimension), video brings forth a pictorial space whose specificity still needs to be determined.… But one thing is certain: matter. Rather than passively receiving images (a movie projection), this electronic material produces them with the fine doggedness of light, in a perpetual "techno-imaginary" happening.'
Bibliography
François Bovier, Balthazar Lovay et alii, Film Implosion! Experimental Cinema in Switzerland, exh. cat. Fribourg, Fri Art, Kunsthalle Fribourg, Berlin, Revolver Publishing, 2017.
Nicole Schweizer (ed.), Interactions fictives, Les Cahiers du Musée des Beaux-Arts de Lausanne, n. 14, 2004.
Jean Otth. Vidéo 1970-1980, exh. cat. Geneva, Centre d'art contemporain, 1980.