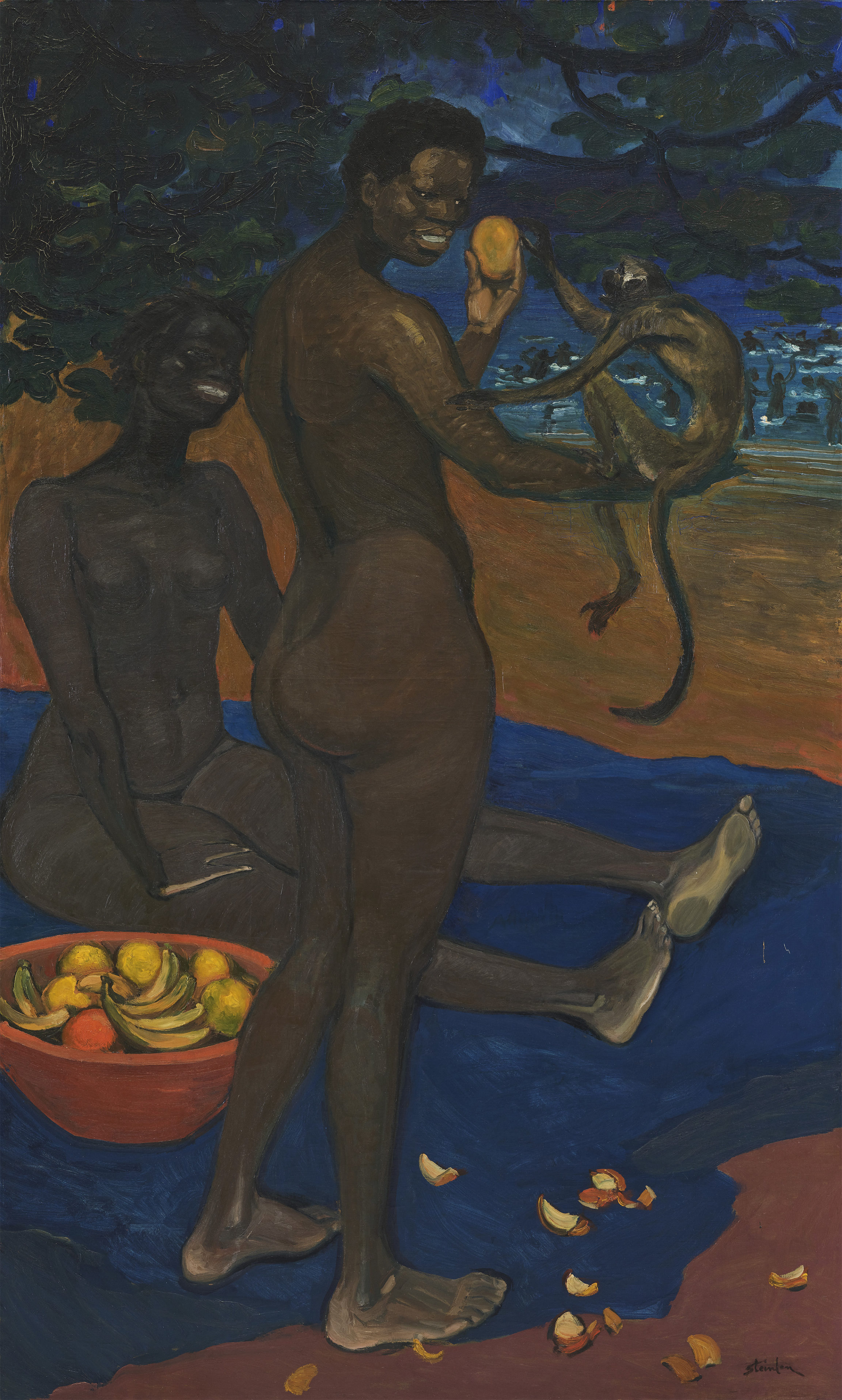 Théophile-Alexandre Steinlen
Masséida et le singe Gaspard (Masséida and the monkey Gaspard), after 1911
In 1911, Jean-Louis Forain introduced Théophile-Alexandre Steinlen to Masséida, a young woman of Bambara ethnicity well known in art circles. She regularly posed for artists, including Félix Vallotton, who depicted her facial scarifications in Négresse drapée de rouge, (Negress draped in red, 1911, private collection). When Steinlen's wife died, they struck up a relationship: she ran his household jointly with his daughter Colette, which sometimes led to clashes between the two women. On Steinlen's death, Masséida inherited part of his studio collection. After she died in turn, aged just forty, her own abundant collection of his work was sold in no fewer than eight separate lots between 1930 and 2000.
Masséida often posed for Steinlen's quick sketches in charcoal and more ambitious compositions in oils. The sketches capture her busy with household tasks, in academic poses, or reclining nude on a sofa. The works in oil place her in the centre of compositions in a bold palette of broad, dense swathes of colour, in an expressive, structured style reminiscent of both Paul Gauguin and the Montmartre school, particularly Suzanne Valadon. Steinlen always accentuated her feline aspect, highlighting her natural, supple grace. Here he plays with Orientalist clichés, staging her with one of her friends by an imaginary ocean as more women splash in the waves in the distance. A smiling Masséida teases the monkey Gaspard, one of Steinlen's many pets. The ground is almost a still life in its own right, with scattered fruit peel and a dish full of mangos and bananas.
Bibliography
Le modèle noir de Géricault à Matisse, exh. cat. Paris, Musée d'Orsay, Paris, Musée de l'Orangerie, Paris, Flammarion, 2019.
Philippe Kaenel, in collaboration with Catherine Lepdor, Théophile-Alexandre Steinlen, l'œil de la rue, exh. cat. Lausanne, Musée cantonal des Beaux-Arts, Ixelles, Musée communal d'Ixelles, Milan, 5 Continents Editions, 2008: 170-175.