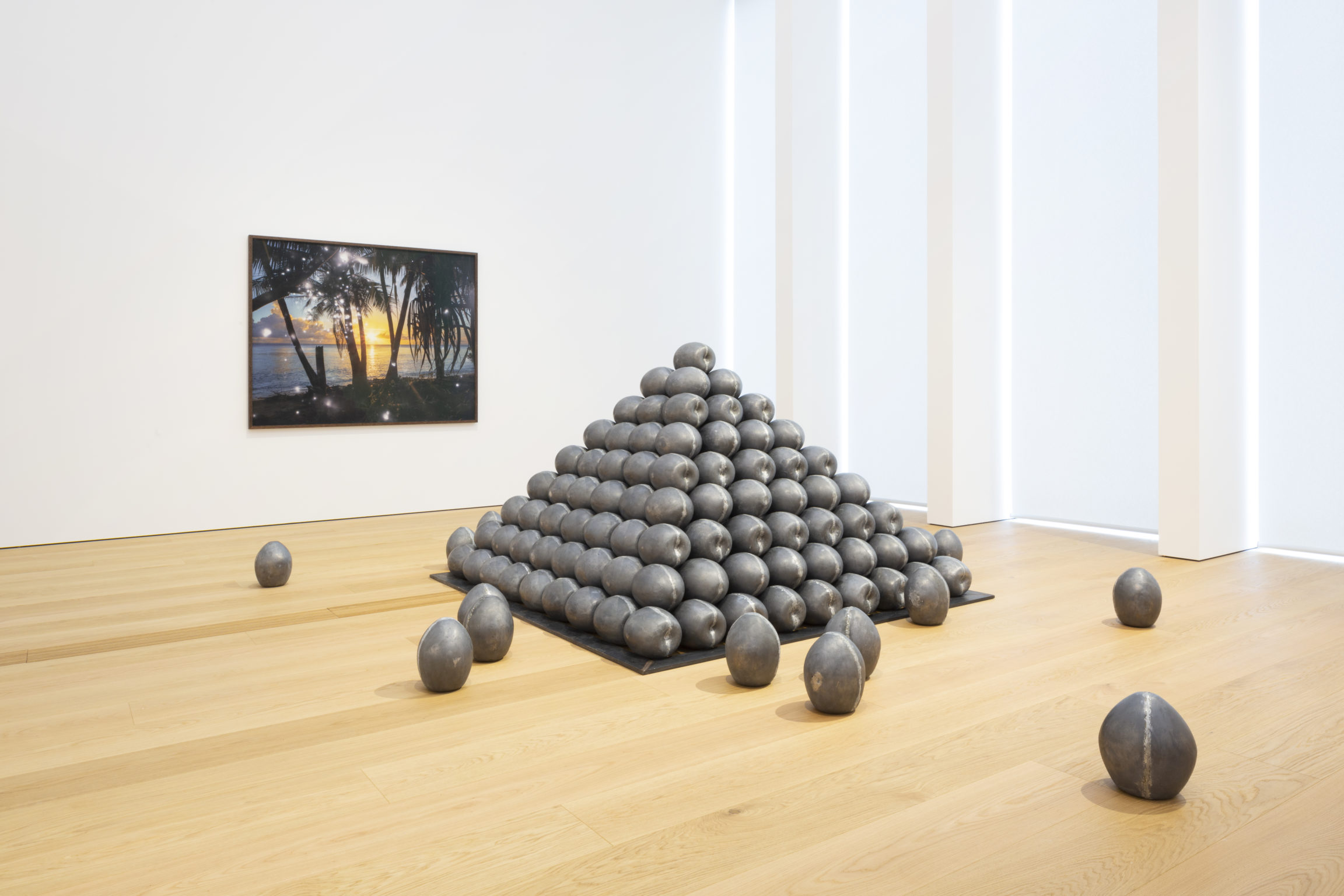 Faithful to the heritage of conceptual art, fascinated by land art and especially by Robert Smithson, influenced by Olafur Eliasson's teaching at the Institut für Raumexperimente in Berlin, Julian Charrière sets in motion research processes that give rise to performances, photographic records, films and installations. His materials, including decaying organic matter, cryogenically frozen plants, sediment and salt bricks reflect particular times and spaces, both as tangible traces of what he calls a 'geology of history' and as explorations of humanity's interdependent relationship with our environment.
Pacific Fiction – Study for Monument is one of a set of works created by Charrière following his exploration of the Marshall Islands and the Bikini atoll, part of his research into former nuclear testing sites as dystopian places par excellence. The United States test-fired nearly seventy nuclear bombs in the Marshall Islands from 1946 to 1958, including Castle Bravo, the single most powerful H-bomb, which wiped two islands from the map.
Pacific Fiction, a pyramid of coconuts encased in lead, can be read as the model for a future memorial. The coconuts refer to the etymology of the Bikini atoll, which takes its name from the local Melanesian name 'Pikinni', 'pik' meaning 'surface' and 'ni' meaning 'coconut palm'. The lead is used for its physical property of withstanding radiation. While the pile of coconuts echoes a stock of cannon balls, the work's pyramid shape and its subtitle, Study for Monument, also conjure up images of a tomb, Egyptian pyramids, the architecture of the bunkers on the Bikini atoll shoreline, and the angular iron monoliths that slumber in the depths of the Pacific.
Bibliography
Nadim Samman, Unnatural History, brochure of the exhibition Julian Charrière. First Light, Zuoz, Galerie Tschudi, 2016.
Ziba Ardalan (ed.), Julian Charrière. For They That Sow the Wind, exh. cat. London, Parasol Unit Foundation for Contemporary Art, 2016.
Nicole Schweizer (éd.), Julian Charrière. Future Fossil Spaces, exh. cat. Lausanne, Musée cantonal des Beaux-Arts, Milan, Mousse, 2014.