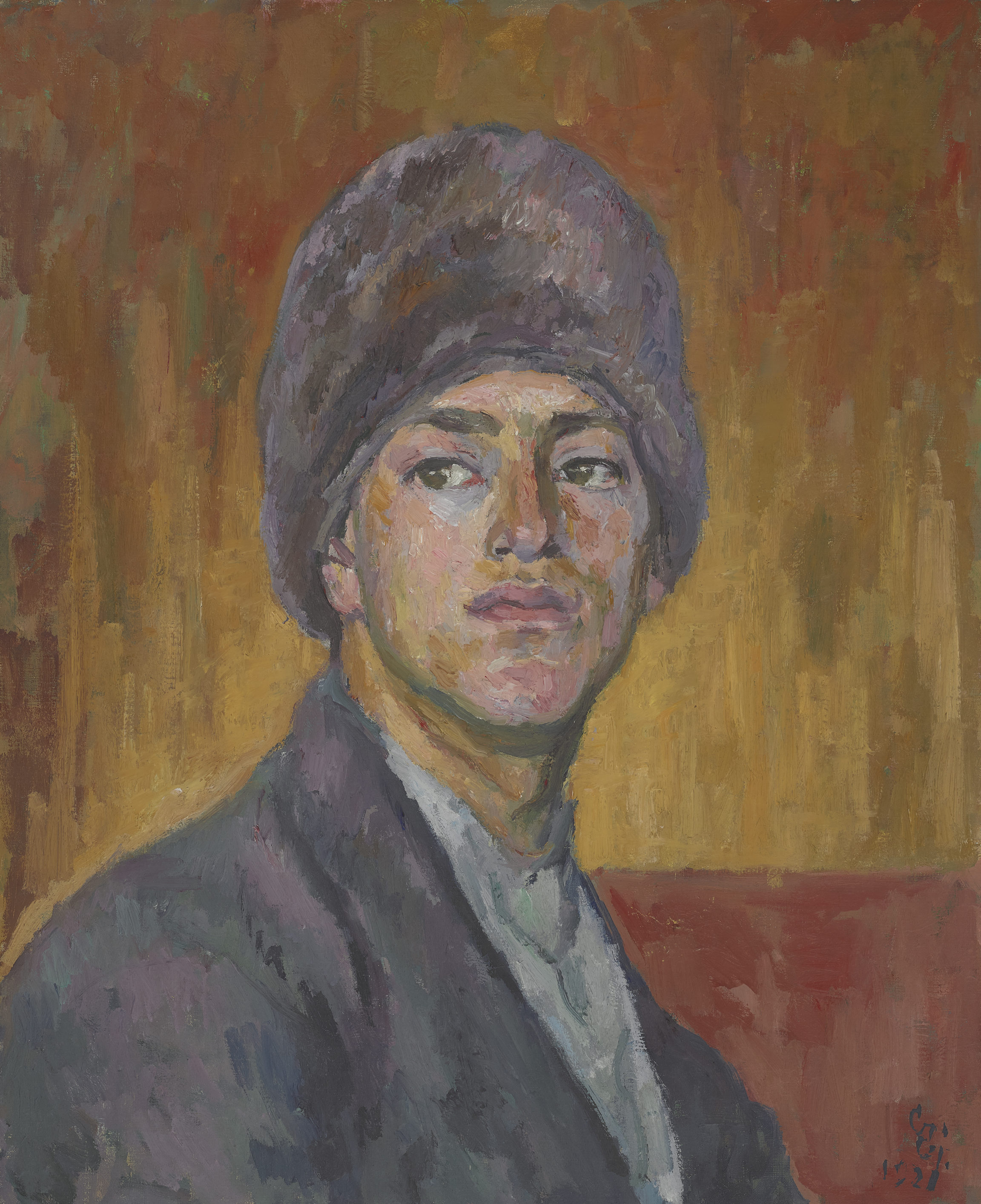 In 1921, Giovanni Giacometti painted four portraits of his beloved son Alberto, later to become one of the twentieth century's greatest sculptors. He may have chosen to pay particular attention to his son as he turned twenty due to his growing awareness of – perhaps even anxiety over – Alberto's calling as an artist. The young man's genius had been apparent from a very young age, first as an outstanding draughtsman and, from the age of fifteen, a peerless sculptor. The following year, Alberto left the mountains of his native Val Bregaglia for Paris, where he studied with the sculptor Émile-Antoine Bourdelle at the Académie de la Grande Chaumière until 1925. He spent much time poring over works in the Louvre.
Alberto was long torn between painting and sculpture. In this work, he sits for his father, as his sister and brothers had often done since childhood, shaping his own artistic outlook. He wears a fur hat that hides his thick curls. The portrait's most striking aspect is his meditative gaze, looking out beyond his father, perhaps to his own future. The heavy brows, fleshy lips, jutted chin and thoughtful gaze define his features. Giovanni Giacometti uses a typically bold palette and strong lines. The body is laid down in assured, fluid strokes, sculpting the shoulders and torso in swathes of purple and grey standing out against a warm background. Green, yellow and red alternate, contrast and merge to create an overall orange-hued effect.
The portrait was gifted to the museum by Henri-Auguste Widmer, a Lausanne-based doctor and art collector who was a close friend of the Giacometti family.
Bibliography
Corsin Vogel and William Saadé (eds.), La montagne fertile. Les Giacometti, Segantini, Amiet, Hodler et leur héritage, exh. cat. Évian, Palais Lumière, Milan, Silvana Editoriale, 2021: n. 15.
Paul Müller and Viola Radlach, Giovanni Giacometti 1868-1933. Werkkatalog der Gemälde, Zurich/Lausanne, Swiss Institute for Art Research (SIK-ISEA), 1997 : vol. II, n. 1921.03.
Dieter Schwarz (ed.), Giovanni Giacometti 1868-1933, exh. cat. Winterthour, Kunstmuseum Winterthur, Lausanne, Musée cantonal des Beaux-Arts, Coire, Bündner Kunstmuseum, Zurich/Lausanne, Swiss Institute for Art Research (SIK-ISEA), 1996.