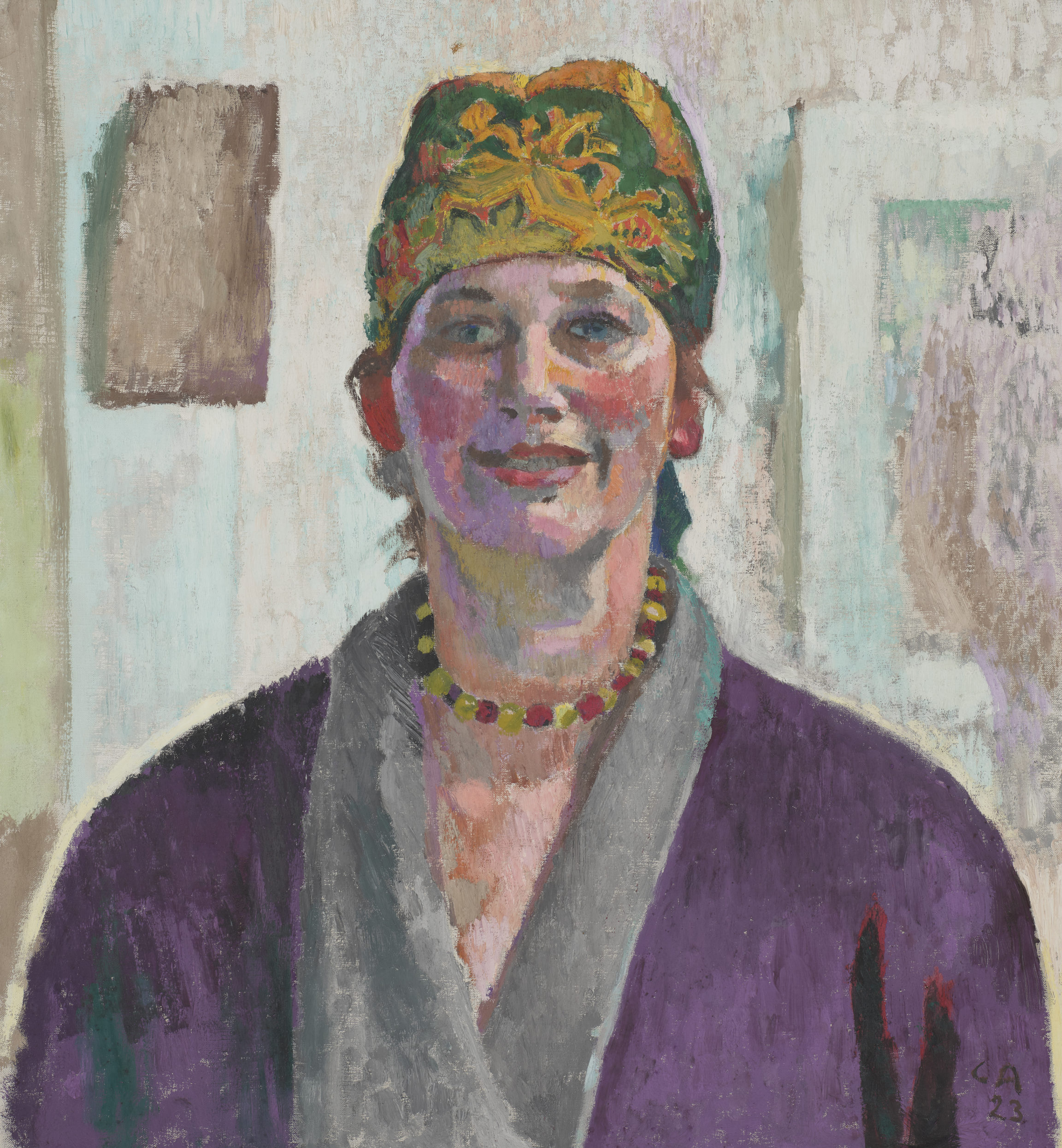 Solothurn-born Cuno Amiet, a long-standing friend of Giovanni Giacometti since their days studying art in Munich and sharing lodgings and a studio in Paris in the late 1880s, was something of a chameleon in artistic terms. More than any other painter of his day, he absorbed the various new artistic trends and reflected them in his abundant output that reveals constant new influences. Like Giacometti, he was also outspoken in his defence of the importance of colour. He came to this belief during a visit to Pont-Aven in the summer of 1892, where he discovered Paul Gauguin and Vincent van Gogh, and became ever more convinced of it over the course of his association with the Die Brücke art community in Dresden from 1906 to 1912.
Cuno Amiet married Anna Luder in 1898. She became one of his favourite sitters. Le chapeau vert (The Green Hat, 1897–8, Solothurn, Kunstmuseum) is a magnificent portrait dating from their engagement, depicting Anna in a black hat decorated with orange flowers, topped with a magnificent bright green ribbon. The taste for extravagant hats perched on women's heads, almost landscapes in their own right, probably came less from Anna herself than from the artist: he painted so many portraits of women in hats that the hats can almost be said to take centre stage: the artist is more interested in capturing their bold colours than the features of their wearers.
This portrait was painted in Amiet's studio in Oschwand, the Bern village where Amiet had been living for twenty years. Anna, recently turned fifty, is wearing a loose purple robe and a green cap decorated with yellow patterns, characteristic of artistic fashions of the 1920s. She stands out like a mountain against a pale-coloured wall hung with studies and paintings, her smiling face drawing in all the colours around it. The brushwork is speckled and the colours dazzling, regularly juxtaposed in bold, clashing pairings.
Bibliography
Magali Junet, Mécène et collectionneur: la Société vaudoise des beaux-arts, exh. cat.  Lausanne, Espace Arlaud, Lausanne, Société vaudoise des beaux-arts, 2011: 30-31.
Christoph Vögele, Ortrud Westheider et Michael Philipp, Ferdinand Hodler und Cuno Amiet Eine Künstlerfreundschaft zwischen Jugendstil und Moderne, exh. cat. Solothurn, Kunstmuseum, Hamburg, Bucerius Kunst Forum, Munich, Hirmer, 2011.