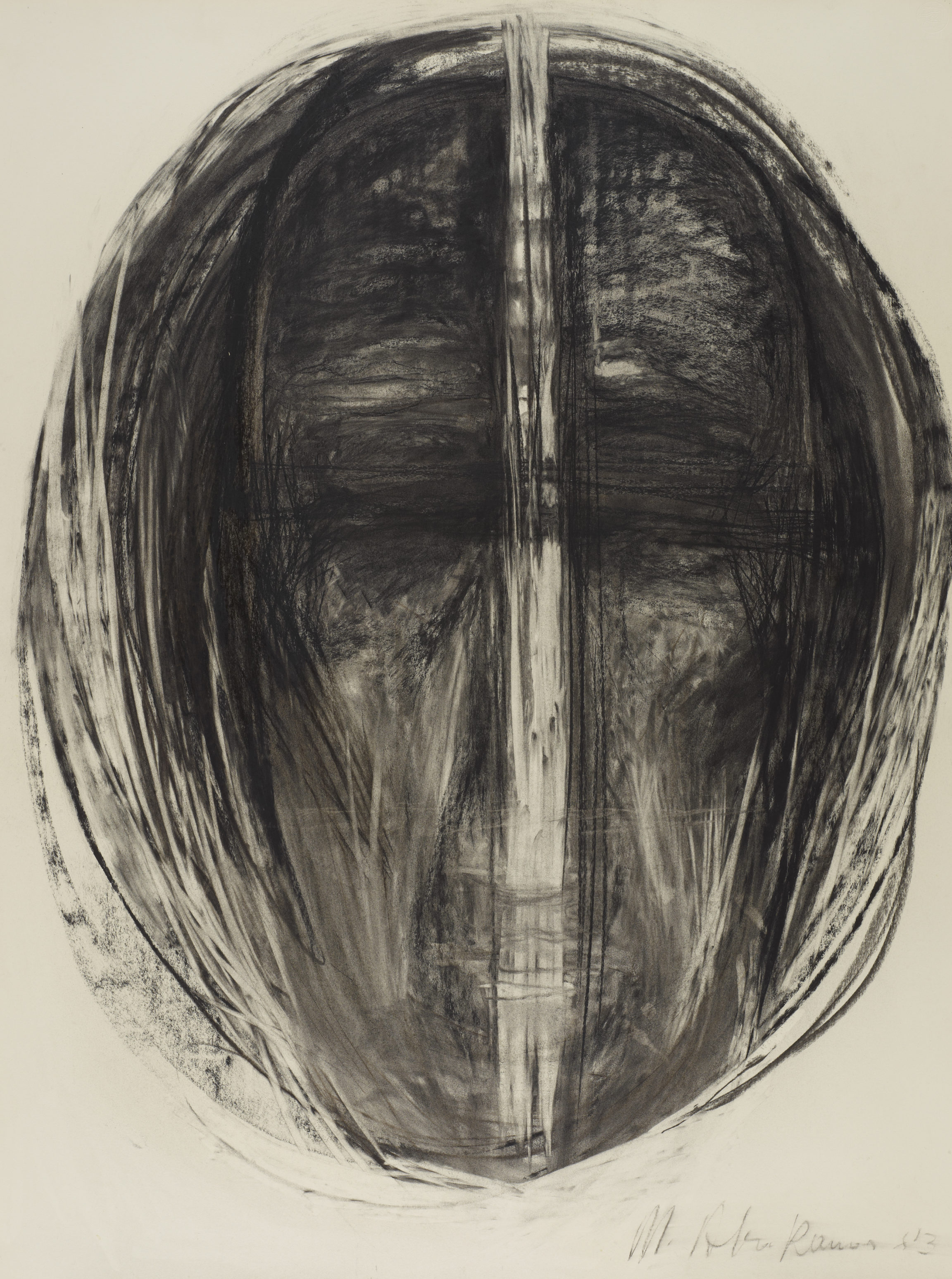 Exhibited at several editions of the Biennale de la Tapisserie organised at the Museum between 1962 and 1995, Abakanowicz's woven works, the Abakans (1966–75), shown hanging in space, made a powerful impact on the public. The Têtes series, which she made using charcoal and lithography in the early 1980s, in some ways recalls the form of the simplest Abakans. These faces split down the centre display both flatness and volume. This dual effect is produced, in part, by the curve of the expansively drawn head and partly by the face itself, rendered in short, multidirectional strokes. Abakanowicz allows two states of drawing to coexist: the working drawing and the illusion of three-dimensional form that gradually emerges.
Each of these big faces is structured around a cross whose horizontal axis locates the level of the eyes and whose vertical axis marks the place of the nose, and the zone between the arches of the eyebrows. Abakanowicz drew with the support laid flat on the floor. Her work explores the range of effects of charcoal. In certain areas, she works with the tip of the rod, leaving dense black marks; at others, she stumps them. She also makes the most of the width of the charcoal that she rubs on; the pulverulent material then attaches to the grain of the paper and reveals its structure. Finally, the artist takes advantage of the fact that the charcoal is easily removed because of its weak adhesion to the support, using an eraser to open up luminous interstices or accentuate the relief of the face.
Eyes closed and mouth silent, this Tête seems immersed in silence. The attitude of withdrawal, like the suggested thinness of the face, reach out to the viewer and create a feeling of empathy. Of Polish origin, Abakanowicz was marked by the horrors of the Second World War. Body fragments that are like concentrates of introspection, her Têtes remind us of the interiorised suffering of human beings inhabited by tragedy while evoking the image of a deceased person wrapped in a shroud.
Bibliography
Magdalena Abakanowicz, Mary Jane Jacob and Jasia Reichardt, Magdalena Abakanowicz, exh. cat. Chicago, Museum of Contemporary Art and Chicago Public Library Cultural Center, Montréal, Musée d'Art Contemporain, Portland, Portland Art Museum and Portland Center for the Visual Arts, Dallas, Dallas Museum of Fine Arts, Los Angeles, Frederick S. Wight Art Gallery of the University of Calfornia, New York, Abbeville Press, 1982.
Magdalena Abakanowicz, Magdalena Abakanowicz. 21 dessins au fusain, exh. cat. Paris, Galerie Jeanne Bucher, 1982.