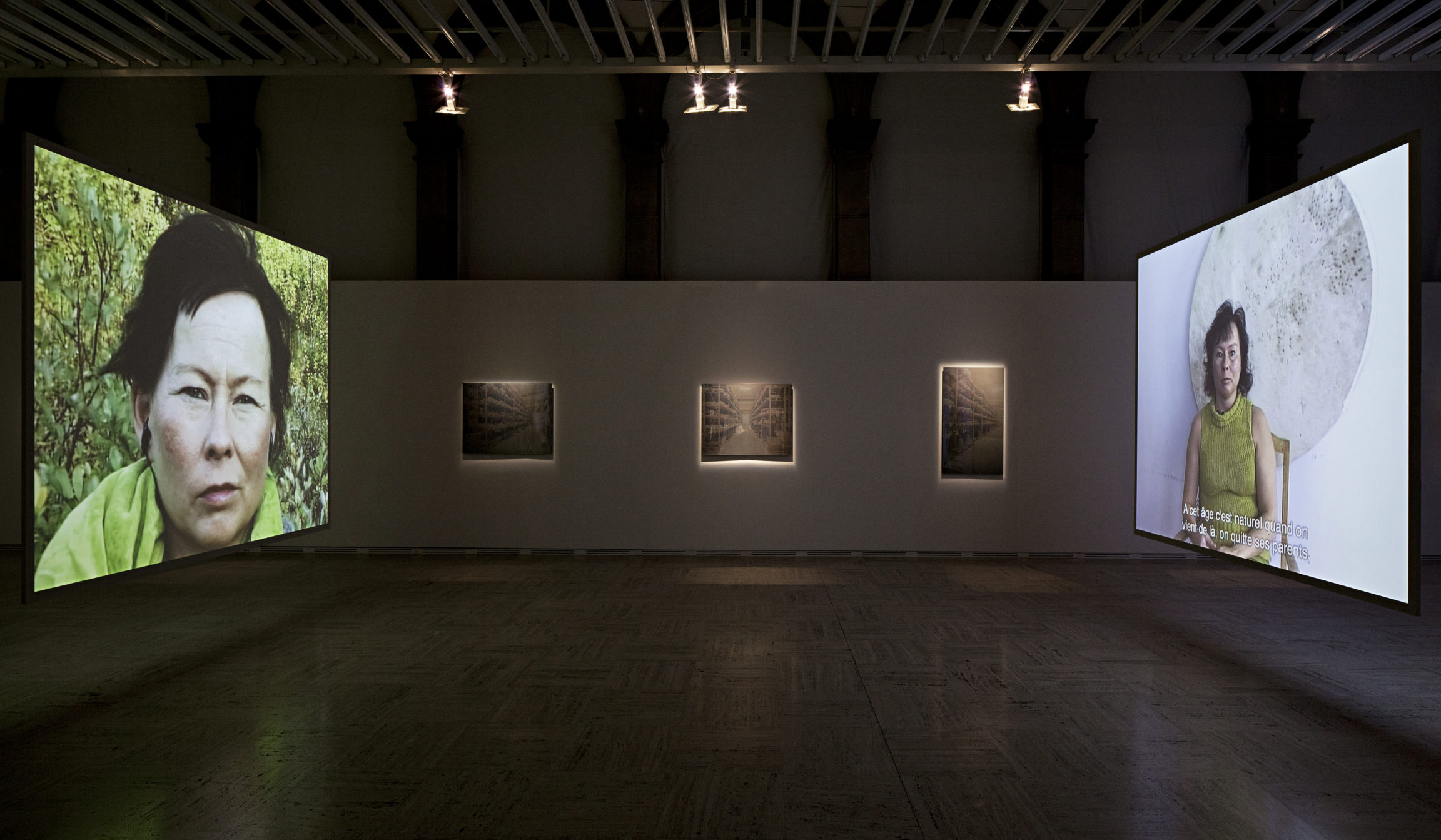 Esther Shalev-Gerz was born in Lithuania, brought up in Israel, and now lives in Paris. Her art explores the construction of individual and collective memories. Her fresh reading of history is anchored in the present of her protagonists. Most of her works are created in dialogue with the inhabitants of a particular place or witnesses of a particular event. The past is always read through the present of those who remember it or work with its relics.
White Out – Between Telling and Listening draws a portrait in two phases of a woman between two cultures, two places, and two times. Two still frames focused on Asa Simma, a Sami woman living in Stockholm, are projected facing each other, one filmed in Stockholm, the other in her home landscape in Lapland. In the first, she reacts to quotes about Swedish and Sami culture, while in the other she listens to her own words. The contrast between the two Asas is striking. On the one hand, the energetic urbanite moves her arms and hands expressively as she shares her story, while on the other, her face is calm and reserved as she listens. The work divides the I into the subject of the utterance and the subject that receives it, but also into two lifestyles. Unlike the video On Two (2009), which plays with the contrast between two inhabitants of Paris who share the same time and space (the French philosopher Jacques Rancière and the young Lebanese philosopher Rola Younes), the contrast in White Out focuses on one single individual. The 'betweenness' of the title is the space constantly crossed from one contemporary identity to another, the permanent to-and-from between two positions. Echoing the country's official history, the photographs that complete the installation depict objects from Stockholm's Historiska Museet.
Bibliography
Nicole Schweizer (ed.), Esther Shalev-Gerz. Entre l'écoute et la parole/Between Telling and Listening, exh. cat. Lausanne, Musée cantonal des Beaux-Arts, Zurich, JRP Ringier, 2012.
Marta Gili (ed.), Esther Shalev-Gerz, exh. cat. Paris, Jeu de Paume, Lyon, Fage éditions, Paris, Éditions du Jeu de Paume, 2010.
Kerstin Smeds, Esther Shalev-Gerz et alii, Esther Shalev-Gerz. Two installations. 'White-out': Between Telling and Listening. 'Inseparable Angels': The Imaginary House of Walter Benjamin, exh. cat. Stockholm, Historiska Museet, 2002.