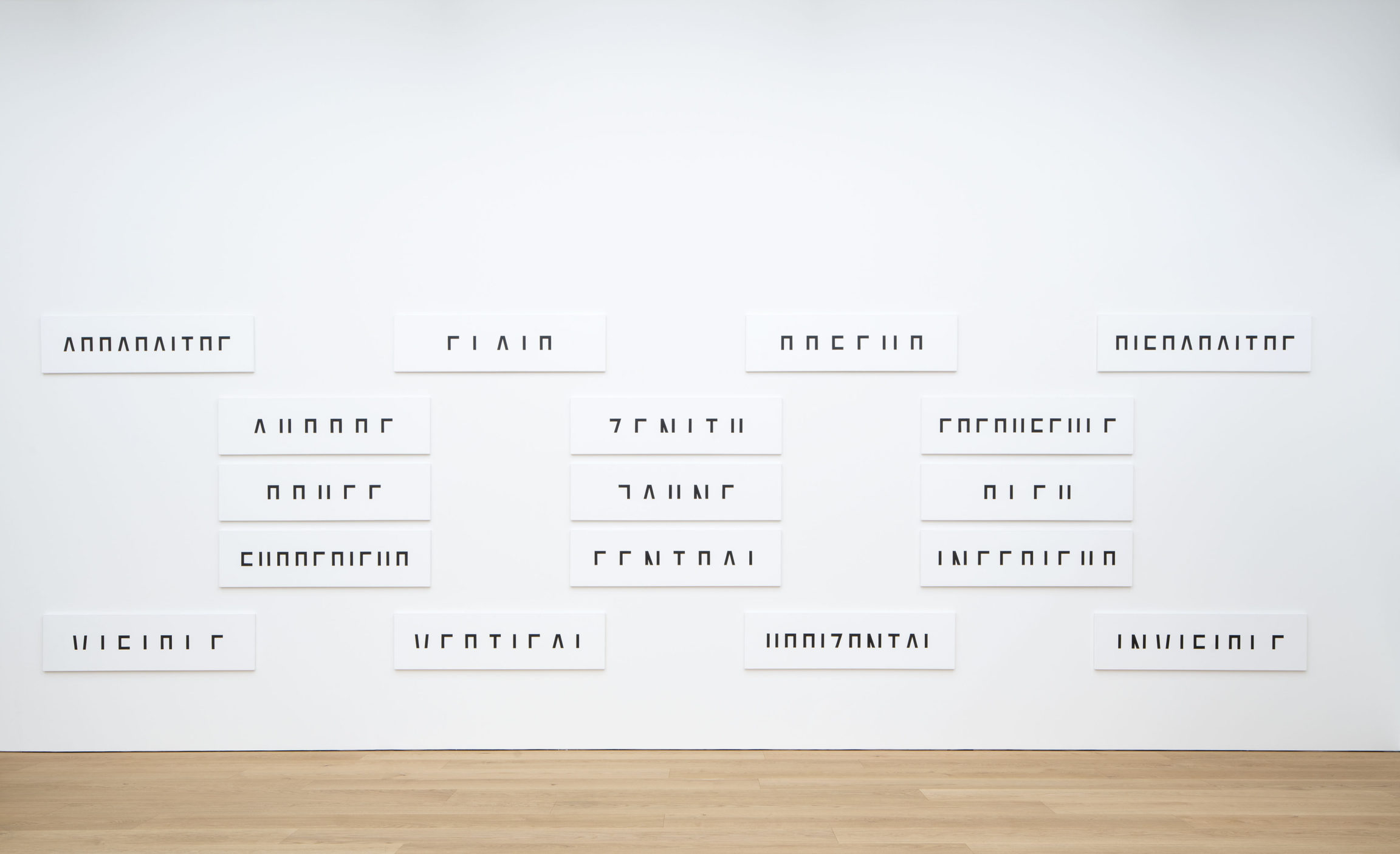 Silvie and Chérif Defraoui began working together in 1975 on the long-term project Archives du futur, involving a range of techniques including installations, videos, and photography, among others. After Chérif's death in 1994, Silvie Defraoui continued the project alone. She is still working on it today. While each individual work lays claim to its own autonomy and singularity, the overarching project forms a network of ideas that triggers discourse on the nature of images.
Zénith is part of this broader project, building on earlier works such as Orientation (1987) and Algèbre (Algebra, 1989) focusing on the nature of the written word and seeking to explore its decorative potential. Each of the seventeen rectangular canvases of similar size features a black-on-white inscription that, at first glance, appears meaningless. The inscriptions are in fact words cut in half along the horizontal axis with only the top half left, to reveal the symbolic, decorative potential of lettering.
The vocabulary is related to the sea, building a dialogue with the Villa Croce in Genoa where the installation was first shown. The canvases were arranged around a door overlooking the Mediterranean. The installation equally makes sense placed in a different context, such as a museum, where the fragments are stripped of their direct referent to become elements in a rebus. The artists planned an arrangement on a single wall across nine metres. The canvases are placed in a regular 4-3-3-3-4 rhythm, alternating across the wall in five lines. Each canvas is a potential horizon in the work's semantic geometry. 'Aurore' (dawn) harmonises with 'crepuscule' (twilight) and 'vertical' with 'horizontal', while the colours 'roug' (red), 'jaune' (yellow) and 'bleu' (blue) form the central line.
Bibliography
Silvie & Chérif Defraoui – Archives du Futur, online catalogue raisonné: https://archives-du-futur.ch/, Vufflens-le-Château, Association Archives du Futur Defraoui, 2021: n. 61.
Untitled document [unpublished transcript of a public interview with Chérif Defraoui by Jörg Zütter, 1993], Musée cantonal des Beaux-Arts de Lausanne Archives, artist's file 'Silvie et Chérif Defraoui'.