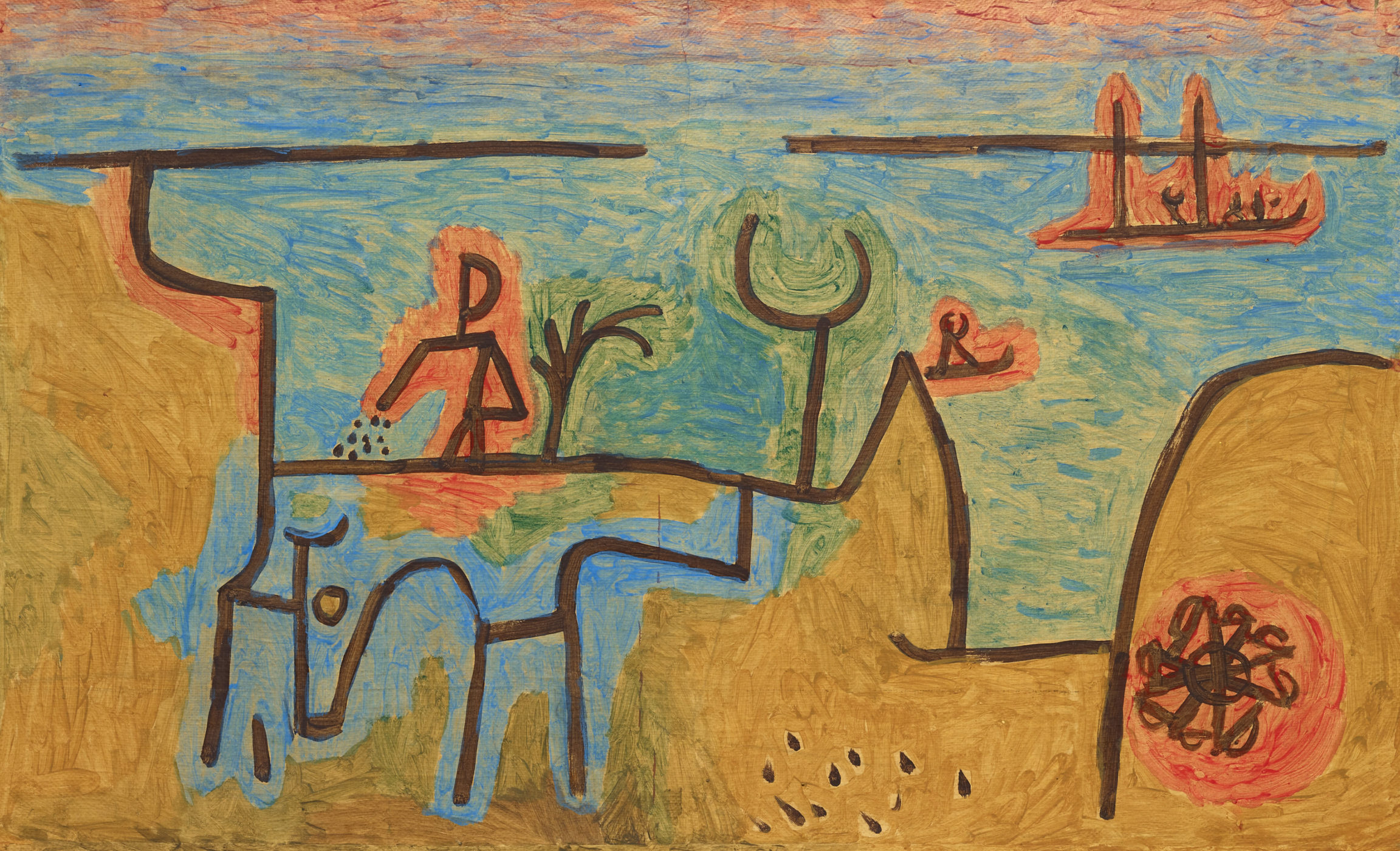 Paul Klee spent four weeks travelling across Egypt, from Alexandria to Cairo and from Luxor to Aswan, from 17 December 1928 to 17 January 1929. Only two drawings are known to have been brought back from the journey itself, but Klee certainly harvested an abundance of rich material, which he turned into art much later, between 1937 and 1940, the year of his death. Like his 1914 tour of Tunisia with August Macke and Louis Moilliet, his brief trip to Egypt was to have a profound impression on him.
Against a background of contrasting warm and chilly hues of dark ochre and muddy blue-green, indicating the mingling of land and water, Am Nil makes use of black pseudo-hieroglyphics in a continuous line, extending beneath two lines that serve as a very high horizon. The signs represent an ox, a man sowing seed, a papyrus, two boats and the paddle wheel of a noria, a primitive hydraulic pump with its characteristic yoke for an ox to turn the wheel. This is one of Klee's largest paintings, reflecting the work's 'epic' and personal importance for him.
Paul Klee fled the Nazi regime and settled back in Bern, suffering from a painfully itchy case of scleroderma that erupted in 1936 and would eventually kill him. He launched into a frenzied burst of artistic production, culminating in 1939 with 1,253 works in which his memories of Egypt helped overcome his fear of death. The motifs developed in Am Nil draw on the symbolism of the Ancient Egyptian Book of the Dead: the boats represent the passage 'to the other side', the dawn of a new day, while the water wheel and the seed promise everlasting return. In this work, Paul Klee, whose initials are hidden all over the painting, wrote his own Book of the Dead.
Bibliography
Sara Pliess, 'Späte Einflüsse aus Ägyten – Klees Werk nach der Reise,' in Paul Klee. Die Reise nach Ägypten 1928/29, Dresden, Sandstein, 2014: 116-161.
Michael Baumgartner, Carole Haensler et alii, À la recherche de l'Orient. Paul Klee, tapis du souvenir, Ostfildern, Hatje Cantz, 2009.