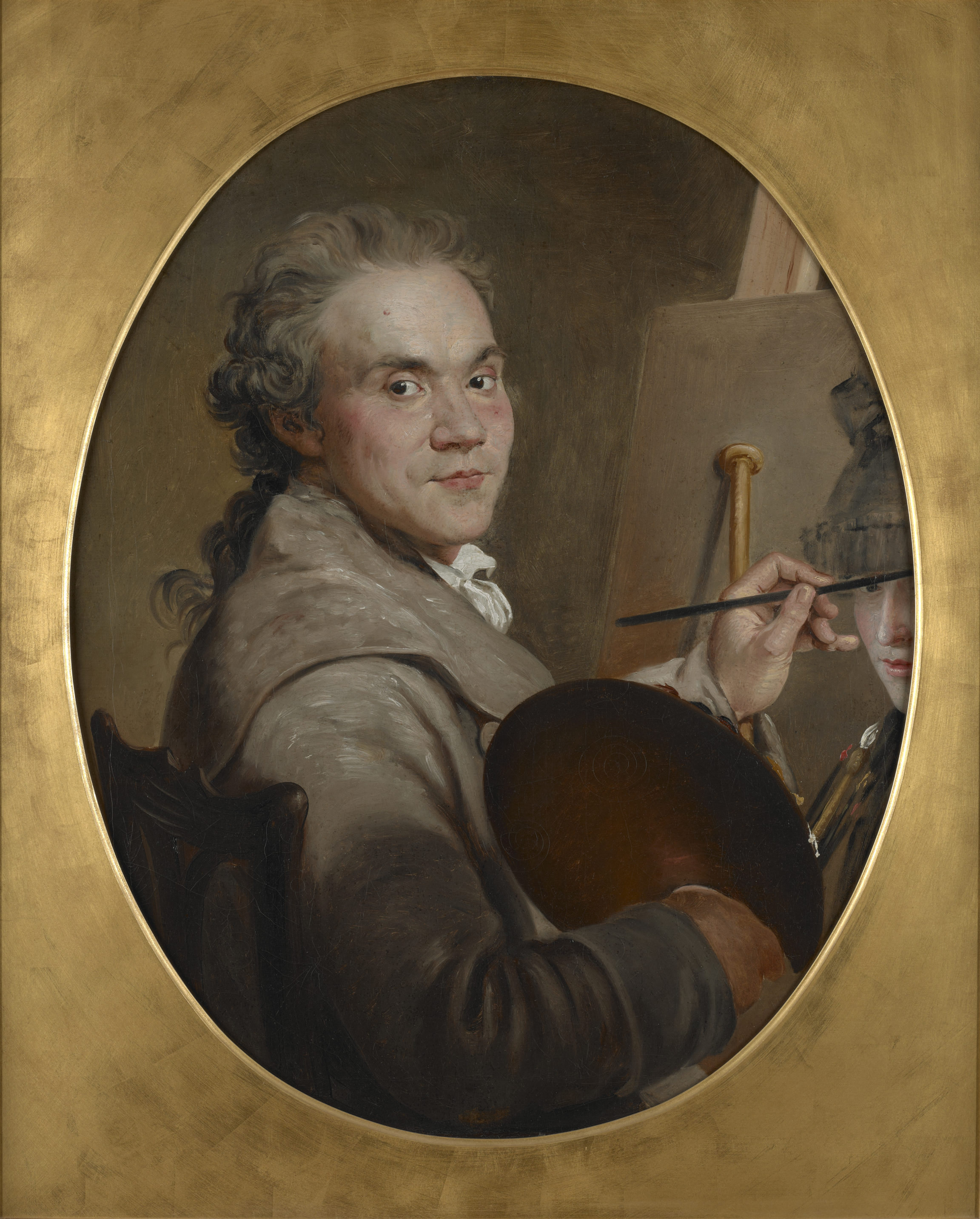 The soft brushwork and warm brown tones in this self-portrait of Jacques Sablet in his travelling coat are typical of the artist's first period, influenced by the Dutch, Flemish, and German schools. His enjoyment of the thick impasto texture really comes through in the lively dabs of paint on the canvas and the foregrounding of the materiality of colour, which imbibes the brushes and stains the edges of the palette. The short foreground is busy, featuring the crossed lines of the brush and hand-rest and the shadows cast by the brush, palette, and back of the chair. Sablet here demonstrates his mastery of perspective and light.
When this painting joined the museum's collection, the artist's identity was a mystery and the work was titled Portrait d'un inconnu (Portrait of an Unknown Man). It has now been definitely identified as a Sablet self-portrait, as confirmed by the style and the fact that the painter is holding his brush in his left hand while his right is gloved: Sablet's right hand was crippled in an accident. The realistic rendering of the face, with its bushy eyebrows and wart on the forehead, are also recognisable. The subject may not be conventionally attractive, but his features radiate strength and wit.
When this work was painted, the Vaud-born artist was in Italy, having followed his master Joseph-Marie Vien when he was appointed director of the Académie de France in Rome. Sablet intended to become a history painter after winning a prize at the Académie de Saint-Luc in 1777 and taking first place in the Parma art contest in 1778. His calling is clear in the subject of the painting he is working on: a winged allegory, possibly Minerva, which judging by its format is a study for a more ambitious composition.
Bibliography
Anne van de Sandt, Les frères Jacques et François Sablet. Collections du Musée des Beaux-Arts de Lausanne, Les Cahiers du Musée des Beaux-Arts de Lausanne n. 19, 2015: n. 2.
Anne van de Sandt et alii, Les frères Sablet (1775-1815). Peintures, dessins, gravures, exh. cat. Nantes, Musées départementaux de Loire-Atlantique, Lausanne, Musée cantonal des Beaux-Arts, Rome, Palazzo Braschi, Rome, Carte Segrete, 1985: n. 4.