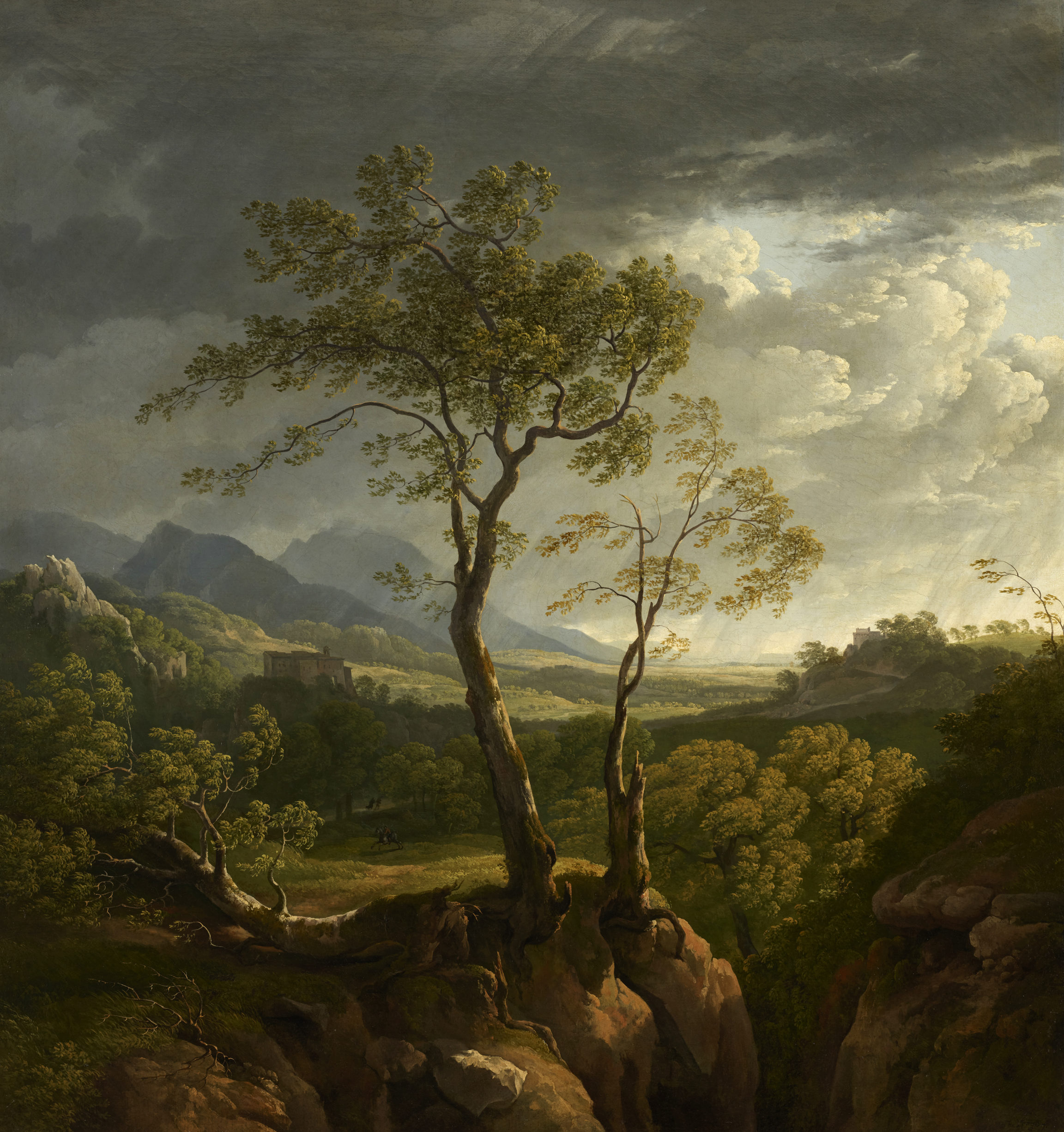 Hendrik Voogd
Campagne romaine sous un ciel d'orage (Roman Countryside under a Stormy Sky), c. 1800
Born in Amsterdam and trained at the city's municipal art school, Hendrik Voogd spent all his career in Rome, where he settled at the age of twenty. There he frequented the landscape painters Johann Christian Reinhart from Germany and Joseph Anton Koch from Austria, as well as the Frenchman Nicolas-Didier Boguet. Like them, he found his clientele among international aristocrats passing through Rome on the Grand Tour. The appeal of his at times monumental canvases derives from their balanced composition in parallel planes, the great clarity of their forms, and their cool, luminous palette, which earned him the nickname of 'the Dutch Claude' (Claude Lorrain was indeed one of his main models). It was not long before his landscapes showing the Roman countryside were fetching high prices. The artist further consolidated his reputation by disseminating his work in the form of lithographs.
Around 1800, Voogd's essentially neoclassical art began a discreet but palpable evolution, which explains today's interest in his. This Campagne romaine sous un ciel d'orage shows his receptiveness to this movement, the spirit of which was spreading throughout Europe. Landscape painting, which hitherto had conveyed a clear and harmonious vision of the universe, now acquired new kinds of content; it expressed individual feelings and reflected the great upheavals of this period roiled by the wars entrained by the French Revolution. It is this loss of bearings, and the worries shared by a disoriented generation, that this painting evokes through the motifs of the gathering storm and the tall trees exposed to the wind or uprooted, poised on the edge of a gulf. The sky of Arcadia has darkened. Gathering black clouds hide the sky and begin to cover the foreground in a darkness heavy with menace.
Bibliography
Frédéric Elsig, Peintures des écoles du Nord (XVIe-XVIIIe siècles), Les Cahiers du Musée des Beaux-Arts de Lausanne n. 16, 2007.
J. Bruyn Kops, 'Hendrik Voogd, Nederlands Landschapschilder te Rome (1768-1839),' Nederlands Kunsthistorisch Jaarboek, n. 21, 1970: 319-369.