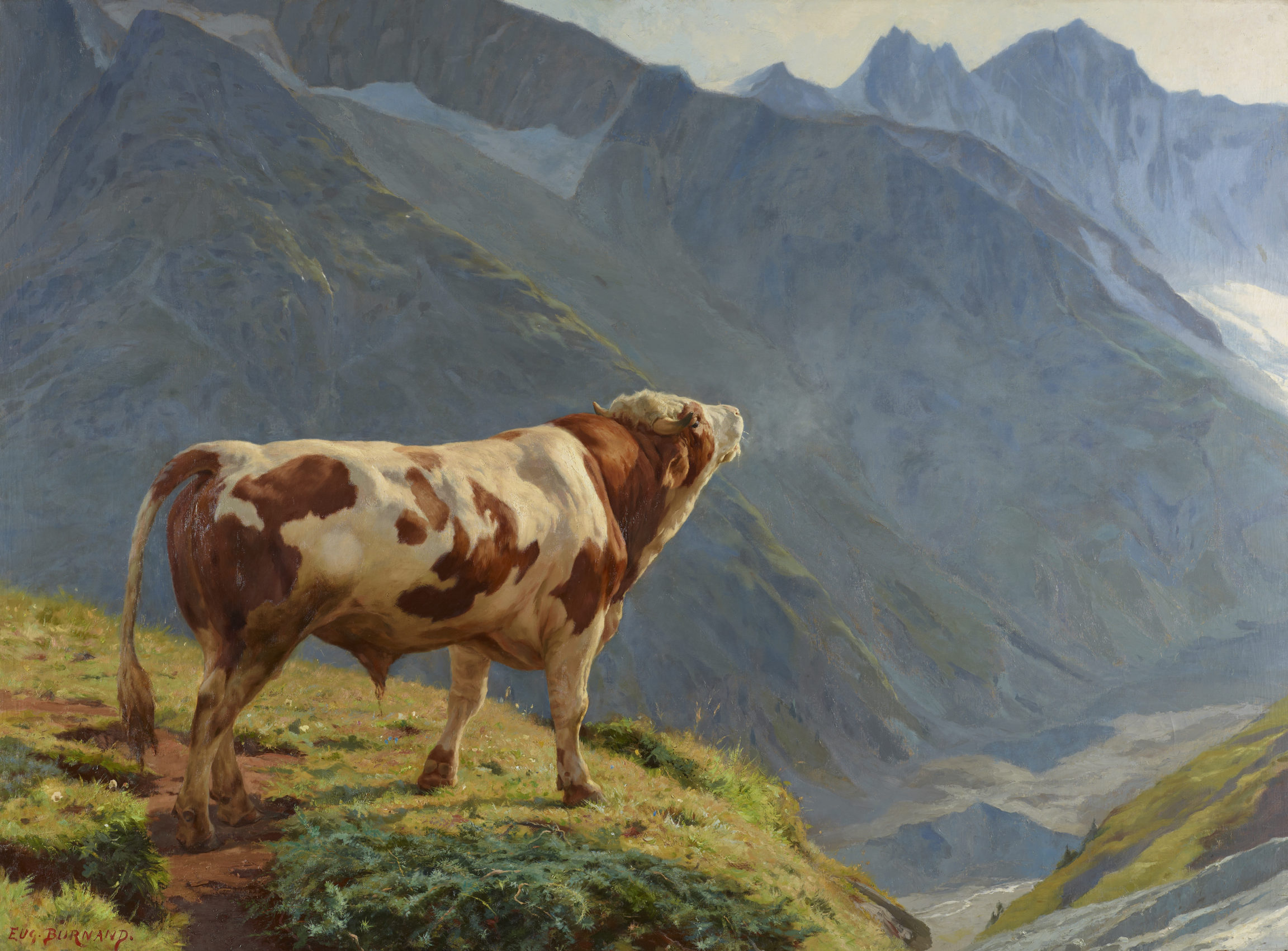 Eugène Burnand, from the canton of Vaud, moved to Paris in 1872 and studied with Jean-Léon Gérôme. By the early 1880s he was working within the broad naturalist trend spreading throughout Europe, specialising in rural genre scenes with peasants and animals executed in formats that were usually the preserve of history painting.
While in Switzerland during the summer of 1884, over a period of two months, the artist painted this Taureau dans les Alpes, a monumental work that he considered his manifesto. Following in the footsteps of his predecessors in the Dutch school, and in competition with Rudolf Koller from Zurich, his take on the bovine portrait resulted in a resonant image capable of speaking to the identity of his fellow countrymen while also positioning him in France as one of the great proponents of modern realism.
The painting is based on studies of a Valais landscape observed from Arolla, and sketches made in the family home at Seppey, in the canton of Vaud, of a severed bull's head. The artwork is spectacular, the colours are bold, the rendering virtuosic. A fine Simmental bull, its tawny coat blotched with white, overlooks the valley from the heights of its pastureland, steam escaping from its muzzle indicating the coolness of the morning air at high altitude. The carpet of grass dotted with flowers shines in the sun and sets a summery tone. The atmospheric treatment of the mountains covered in snow dirtied by the thaw conveys their distance and the depth of the Val d'Hérens.
Before its presentation at the Salon of 1885 in Paris, this Taureau dans les Alpes was previewed in Lausanne in November 1884, and was immediately purchased by subscription for the Museum. It was sent to Paris again for the 1889 Exposition Universelle, where the artist won a gold medal. The French landscape painter Jules Breton lauded Burnand for revitalising the Helvetian school: 'This is Switzerland, you will be the one to reveal this country.'
Bibliography
Philippe Kaenel, Eugène Burnand, peintre naturaliste, exh. cat. Lausanne, Musée cantonal des Beaux-Arts, Milan, 5 Continents Editions, 2004:  37-42.
La peinture suisse entre réalisme et idéal (1848-1906), exh. cat. Geneva, Musée Rath, Geneva, Musée d'art et d'histoire, 1998: n. 115.