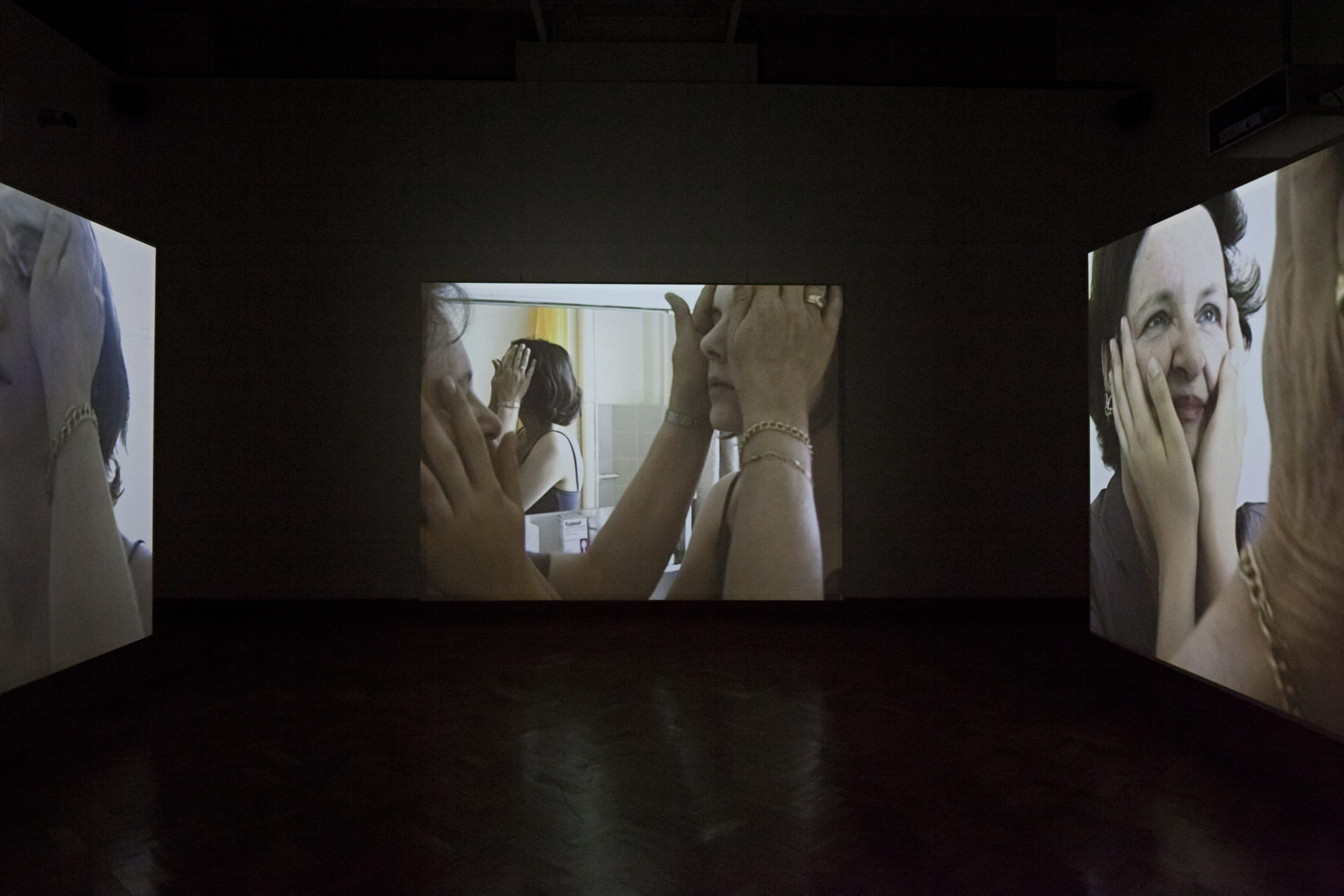 Emmanuelle Antille studied at the École supérieure des arts visuels in Geneva and the Rijksakademie van Beeldende Kunsten in Amsterdam and has been working in video and installations since the early 1990s. Her work lies at the juncture between fiction and documentary, with recurrent themes exploring human relations, rituals, social expectations, individual relationships, and power struggles within various communities such as families, step-families and groups of teenagers.
As Deep as Our Sleep, As Fast as Your Heart II is shown on three screens hanging in a room, taking viewers into a fascinating dreamscape simply by the way it occupies space. As the artist said in a 2001 interview, 'I started working on the installation because I wanted to tell stories and I didn't know how to go about it, which bit of the video and editing to start with'. The scenes shown on the three screens do not follow the logical narrative structure that still typifies most film productions. The same scene is repeated on the three screens from different angles, not only offering different points of view of the same event, but also opening up an infinite spectrum of points of view for the same scene.
Antille's work, filmed indoors, subtly draws the ambivalent, tense relationship between a mother and her daughter through interactions that alternate between rituals and children's games, halfway between waking and sleeping, dreaming and reality. As in many of her works, the artist and her own mother embody the protagonists. The repetition of their actions across three screens foregrounds the routines and social expectations driving them, while the symbolism of the staging, with the red dress, mother tucking in her daughter and washing her back, and so on, highlights how slender the gap between reality and fiction really is.
Bibliography
Caroline Nicod, Emmanuelle Antille. Family Viewing, exh. cat. Bienne, Centre PasquArt, 2008.
Emmanuelle Antille, Jean-Luc Manz and Franz Treichler, Emmanuelle Antille. Angels Camp, exh. cat. Venice, Swiss Pavilion, 50th Venice Biennale, Amsterdam, Artimo Foundation, Berne, Federal Office of Culture, 2003.
Michel Ritter and Beatrix Ruf, Emmanuelle Antille. Kiss and Shoot, Amsterdam, Artimo Foundation, 2001.