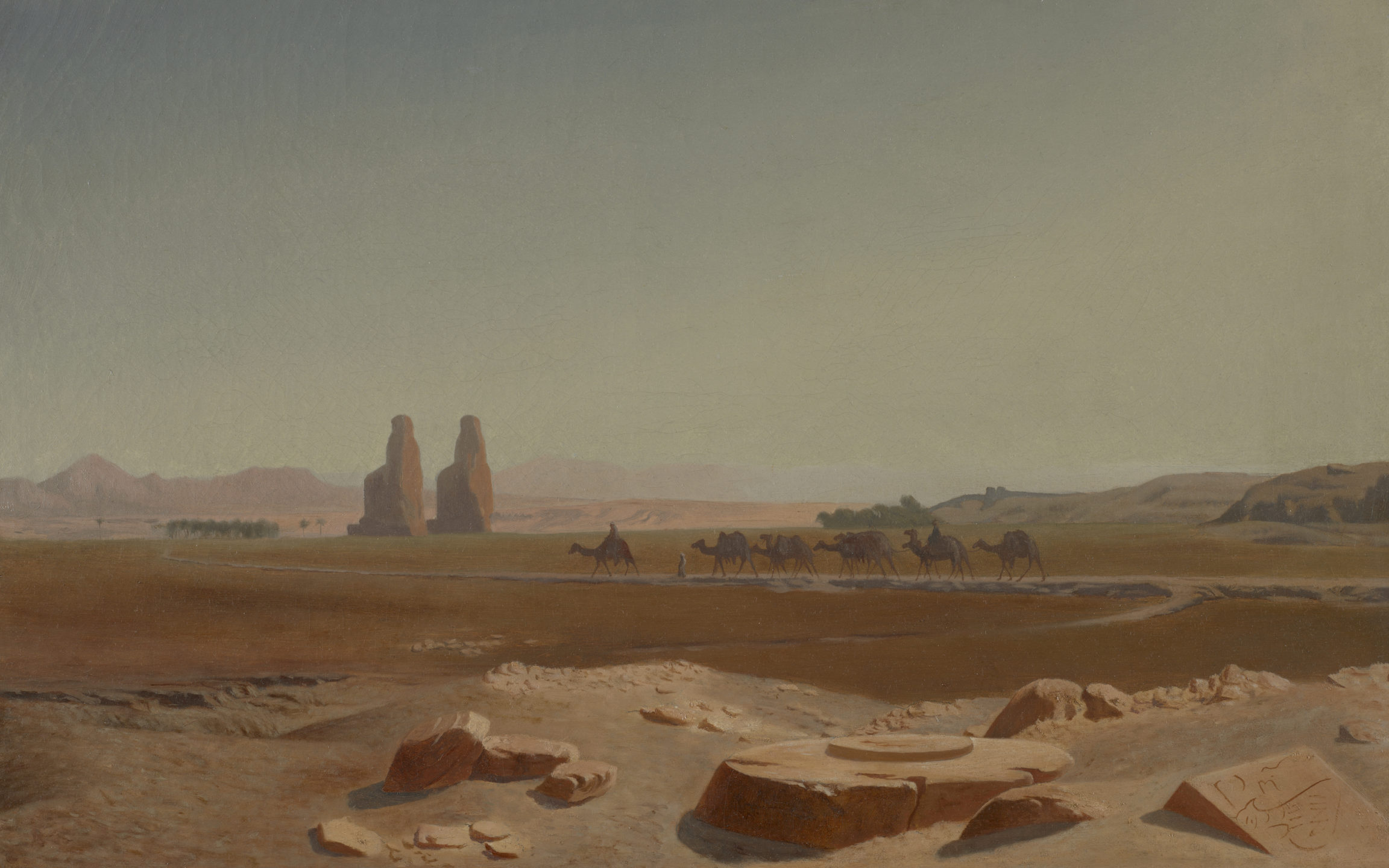 Jean-Léon Gérôme
Caravane passant près des colosses de Memnon. Thèbes (Caravan Passing the Colossi of Memnon, Thebes), 1856
Following Napoleon's expedition to Egypt in 1798, Egypt was a source of fascination for scholars, scientists and artists throughout the nineteenth century. When Jean-Léon Gérôme spent a brief time at Charles Gleyre's studio in the autumn of 1844, he was deeply impressed by Gleyre's account of his astonishing journey from Cairo to Nubia ten years earlier. Gérôme travelled to the land of the Pharaohs in turn in 1855, sent on an information mission by the Ministry for Public Instruction with other artists including the sculptor Auguste Bartholdi.
As in his earlier work Un Combat de coqs (The Cock Fight, 1846, Paris, Musée d'Orsay), which broke with the heroic attitude typical of history painting by showing Ancient Greek youths partaking in an everyday activity, Gérôme broke new ground in Orientalist painting by modernising and trivialising depictions of antique monuments. Even in this early completed study for his great Vue de la plaine de Thèbes (View of the Plain of Thebes, Nantes, Musée d'arts) for the 1857 Salon, he chose to show the colossi of Memnon from behind and from a distance. He uses the foreground as a foil, with the base of a pillar and a stone carved with hieroglyphics – possibly vestiges of Amenhotep III's Mortuary Temple – downplayed as minor features of the natural landscape. A camel train is slowly picking its way through the scene, creating a panoramic, atmospheric view sweeping across an endless sea of sand. The desert, traces of a great civilisation now lost, and the modern travellers all seem to merge, thanks in large part to a palette that verges on the monochrome, with its restricted range of delicate ochres, pinks, and blues. The impression of silence and tranquility is unusual in Gérôme's paintings, which are typically more crowded and noisy, inspiring many a director of swords-and-sandals Hollywood epics.
Bibliography
Jean-Léon Gérôme (1824-1904). L'Histoire en spectacle, exh. cat. Los Angeles, The J. Paul Getty Museum, Paris, Musée d'Orsay, Madrid, Museo Thyssen-Bornemisza, 2011, Paris, Skira Flammarion, 2010.
Christine Peltre, Les Orientalistes, Paris, Hazan, 2000.
Hélène Lafont-Couturier, Gérôme, Paris, Herscher, 1998.