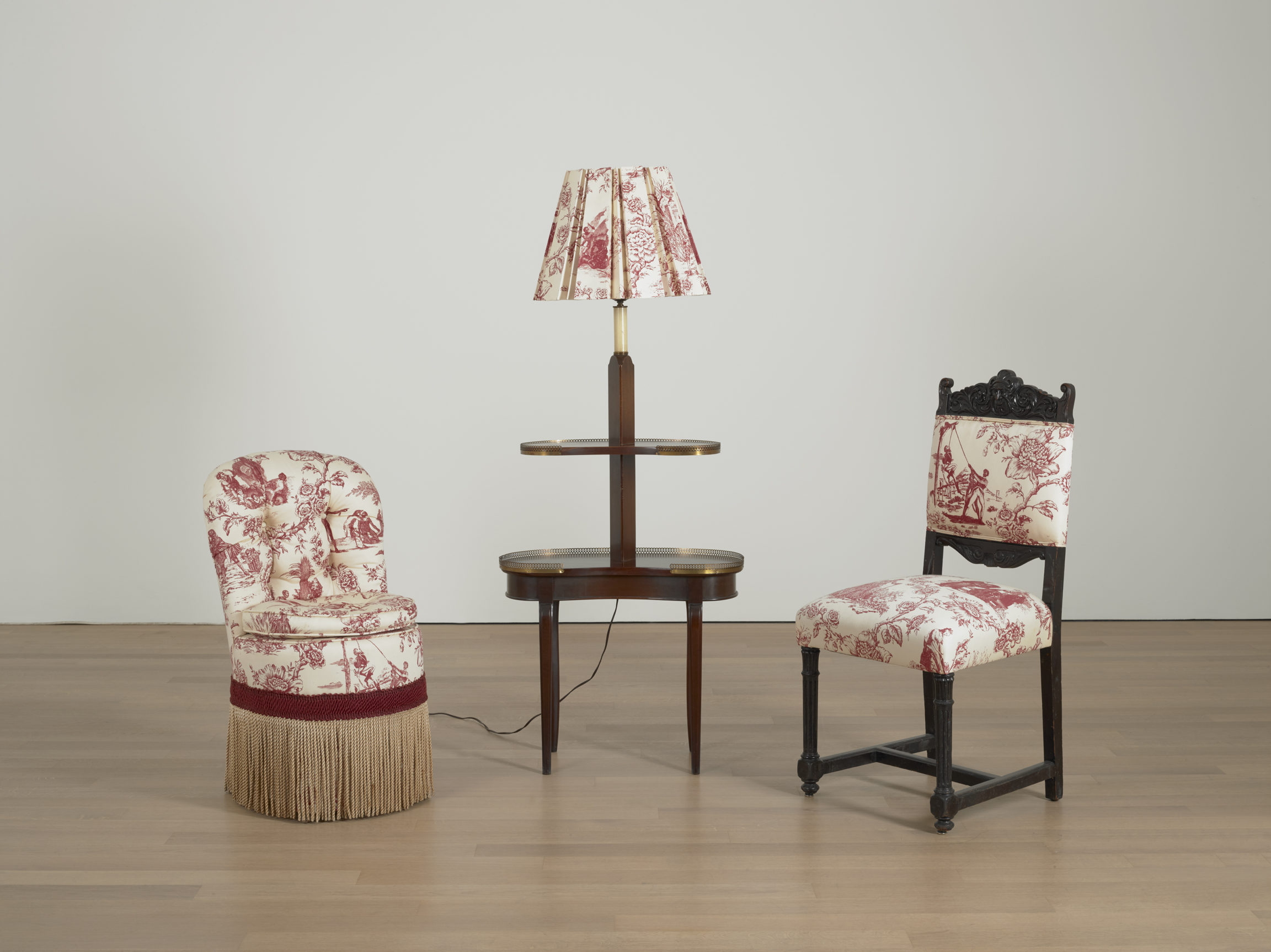 Renée Green collects words, images, narratives and sounds. She journeys back and forth between past and present, between real and imaginary spaces, between disciplines, layering the personal and the political in her installations, videos, sound pieces and writings. Educated in New York and at Harvard University, Green, who has worked both in Europe and the United States, most frequently conceives her works in association with a specific place, questioning its visible or suppressed history, whether dealing with Lisbon, Berlin, Amsterdam or Los Angeles.
Invited to work in collaboration with the city of Nantes, Green developed Commemorative Toile to explore relics of the city's colonial past, especially its key role in the triangular trade, which saw goods manufactured in Europe being exchanged for African women and men who were then sold as slaves in the West Indies in exchange for raw materials. The fabrics produced by the artist refer to the floral prints produced in great quantity in eighteenth-century Nantes, used to pay for slaves in Africa and also to decorate wealthy, genteel French interiors. The pattern of violent scenes of enslavement and revolt was inspired by traditional Toile de Jouy fabric, with its rustic and illustrative prints. Green borrowed illustrations from engravings and narratives popular at the time, such as the Senegalese nun who was the heroine of the 1824 novel Ourika and the disturbing image of a European licking an African's face to determine his state of health and thus his market value. Yet by inserting the image of a Frenchman hanged during the Haitian revolution amidst the wreaths of flowers, Green also commemorates the first successful slave revolt of modern times, ushering in Haiti's independence in 1804. The work thus subverts the seemingly innocent comfort of bourgeois furnishings, as well as that of the period rooms popular in museums across the English-speaking world, to foreground narratives that are all too often absent from them.
Bibliography
Betti-Sue Hertz (ed.), Renée Green. Endless Dreams and Time-Based Streams, exh. cat. San Francisco, Yerba Buena Center for the Arts, San Francisco, Yerba Buena Center for the Arts et New York, YBCA/D.A.P., 2010.
Nicole Schweizer (ed.), Renée Green. Ongoing Becomings, exh. cat. Lausanne, Musée cantonal des Beaux-Arts, Zürich, JRP Ringier, 2009.
Alexander Alberro, Nora M. Alter et al., Renée Green. Sombras y señales/Shadows and Signals, exh. cat., Barcelona, Fondation Antoni Tapiès, 2000.