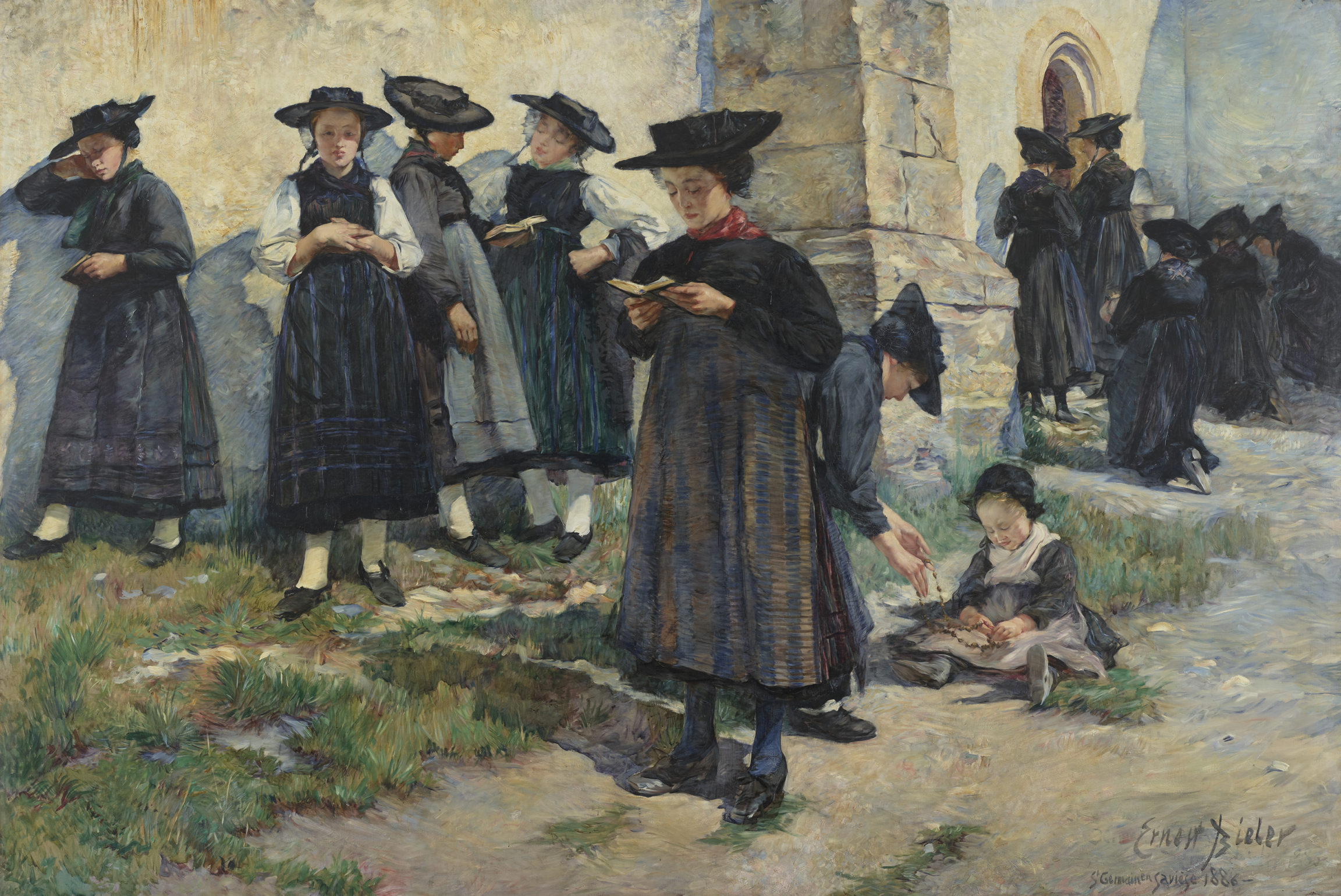 Ernest Biéler
Devant l'église de Saint-Germain à Savièse (Outside the Church of Saint-Germain in Savièse), 1886
Born in the Canton of Vaud, Ernest Biéler moved to Paris in the early 1880s but continued to live in Switzerland from time to time. He discovered the village of Savièse in the Valais in the summer of 1884 and was charmed by the customs of its people, attached as they still were to the traditional way of life, but also by the brilliant light and limpid air. He returned in the autumn and made several sketches for Devant l'église de Saint-Germain. The following summer he had a large stretcher delivered to him for this ambitious work. The painting, which he completed in his Parisian studio, was seen by a counsellor of state from Vaud, Eugène Ruffy, who acquired it for the Museum. Biéler was allowed to keep it for a while, however, so that he could present it at the Salon of 1887 in Paris.
For many painters in the late nineteenth century, rural life and religious practices stood for a stable world that was in fact disappearing, as populations left the countryside for the city and religious belief waned. During the industrial age these traditions came to represent reassuring values and Biéler – like Jean-François Millet and Jules Breton before him – offers a universalising vision of them in this work. Rather than a precisely located village or a particular Catholic rite, the artist shows simple, timeless activities: a banal church with its sturdy stone pier and its arched doorway; women gathering silently in the warmth of a fine summer day. Dressed in their dark blue Sunday dress, some are following the Mass from outside while others are reading their missals or looking after their children.
By its composition and handling, the work was bound to arouse the interest of avant-garde circles: the figures made monumental by the close framing, the way the folds of the clothes reflect the intense light and the bluish shadows applied in broad touches to the walls, all show that the artist had learned from the impressionists.
Bibliography
Pascal Ruedin (ed.), L'École de Savièse. Une colonie d'artistes au cœur des Alpes vers 1900, exh. cat. Sion, Musée d'art du Valais, Milan, 5 Continents Editions, 2012.
Ethel Mathier (ed.), Ernest Biéler. Geträumte Wirklichkeit/Réalité rêvée, exh. cat. Bern, Kunstmuseum, Martigny, Fondation Pierre Gianadda, 2011: n. 6.
Jörg Zutter and Catherine Lepdor (ed.), Ernest Biéler (1863-1948). Du réalisme à l'art nouveau, exh. cat. Lausanne, Musée cantonal des Beaux-Arts, Solothurn, Kunstmuseum, Milan, Skira, 1999: n. 10.