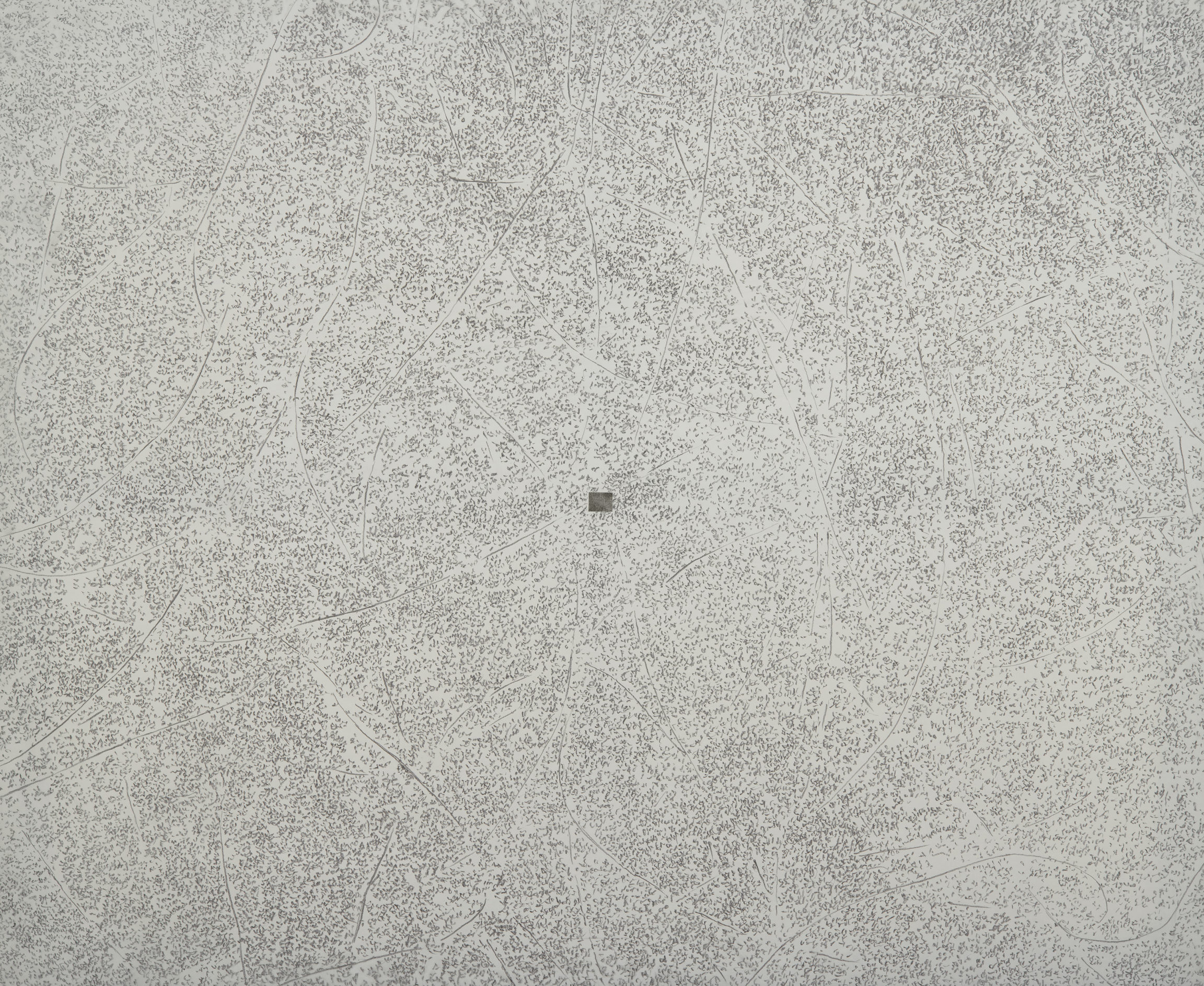 Giuseppe Penone
Svolgere la propria pelle (Pressione su carta)
(Developing your own Skin [Pressure on Paper]), 1974
In the early 1970s, Giuseppe Penone, the youngest member of Arte povera, then just twenty-five, developed a series of works that literally involved him lying flat. He applied his own body to glass plates, took a photograph, then pieced the fragments together in one large composition. He soon moved on to copying enlargements of his own skin in drawings on paper or even over entire walls. One of his favourite themes is still the (often invisible) imprint left by human bodies on nature.
At the centre of the composition Svolgere la propria pelle (Developing your own skin) is a small black rectangle. This is a piece of transparent adhesive tape bearing a print of a patch of the artist's own skin dusted with graphite. Penone transferred the print to the paper as the starting point for his composition, enlarging the 'skin print' in soft-lead pencil. The resulting Pressione sur carta (Pressure on Paper) is a drawing of skin that could almost be tree bark or a landscape. Svolgere la propria pelle is a personalised landscape. The artist's careful choice of materials – graphite gesturing to the mineral world, paper to the plant kingdom – and choice of direct and indirect techniques in printing with the adhesive tape and drawing bring humanity into its own various environments, linking microcosm and macrocosm, and creating a poetic world filled with complex relationships.
Penone foregrounds skin as the screen that records even the slightest sensations while leaving its own prints, giving our sense of touch pride of place rather than sight, which has long been central to the Western art tradition. In a world ever more subject to dematerialisation, Penone's works help us maintain physical contact with nature.
Bibliography
Bernard Fibicher (ed.), Giuseppe Penone. Regards croisés, exh. cat. Lausanne, Musée cantonal des Beaux-Arts, Milan, 5 Continents Editions, 2015.
Laurent Busine (ed.), Giuseppe Penone, Arles, Actes Sud, 2012.
Françoise Jaunin, Giuseppe Penone: le regard tactile, Lausanne, La Bibliothèque des Arts, 2012.