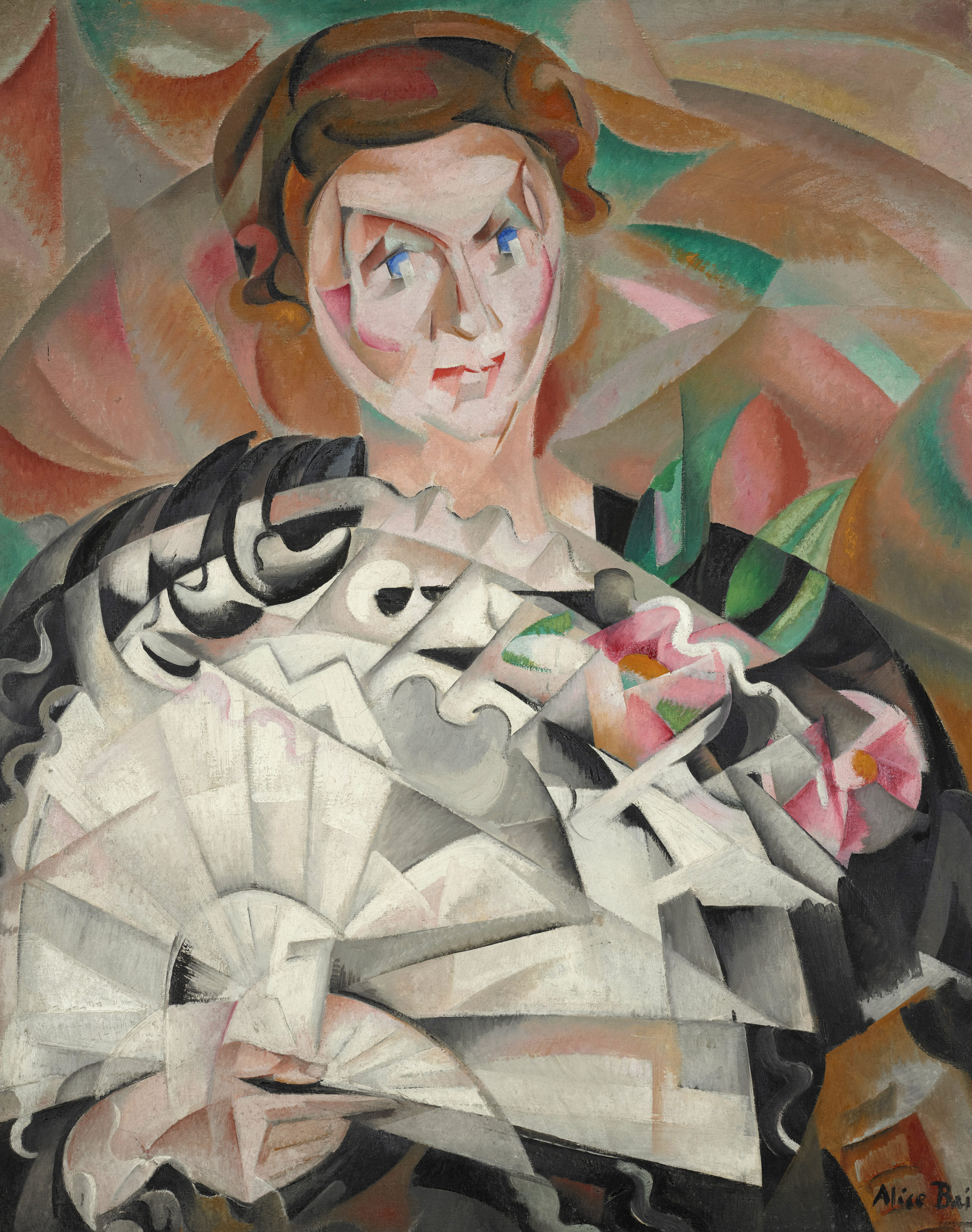 Alice Bailly
Jeu d'éventail (Playing with a Fan) or Femme à l'éventail (Woman with a Fan), 1913
Alice Bailly studied in Geneva before moving to Paris in 1906, where she became an admirer of fauvism. Her work already showed signs of the extremely bright colours that would later typify her oeuvre. In 1912, she encountered the futurist movement for the first time. She also began to embrace cubist abstraction after seeing the works on display at the Salon de la Section d'or and reading Albert Gleizes' and Jean Metzinger's manifesto on cubism. Together with Robert Delaunay's orphic cubism, these influenced her style towards the transcription of movement by bold lines and interpenetrating expanses and volumes, both served by an increasingly transparent use of colour.
In 1913, the year when she painted this Jeu d'éventail, Bailly's work caught Guillaume Apollinaire's eye at the Salon des Indépendants: 'Miss Alice Bailly has found an entirely new direction. Her subtle cubism is one of the interesting novelties of the Salon'. Convinced that this was the start of a glorious new career, Bailly produced an energetic burst of work in a wide range of genres, including the portrait, which she had not touched for several years.
The sitter for this portrait, which was probably painted in Geneva, was the artist's sister Louisa. It clearly calls to mind Auguste Renoir's Femme à l'éventail (Girl with a Fan, 1881, Saint Petersburg, Hermitage Museum), but the more immediate reference is to Jean Metzinger's Femme à l'Éventail (Woman with a Fan, 1912, New York, Solomon R. Guggenheim Museum). However, Bailly's approach to the subject is unique in her focus on the shapes produced by the fan's rhythmical movement, stirring the air to such an extent that it blurs the sitter's entire surroundings. The scene could almost be set in the open air, as suggested by the warm palette and the green in the background, contrasting with the shades of grey, white and pink in the foreground.
Bibliography
Paul-André Jaccard, Alice Bailly. La fête étrange, exh. cat. Lausanne, Musée cantonal des Beaux-Arts, Milan, 5 Continents Editions, 2005: n. 62.