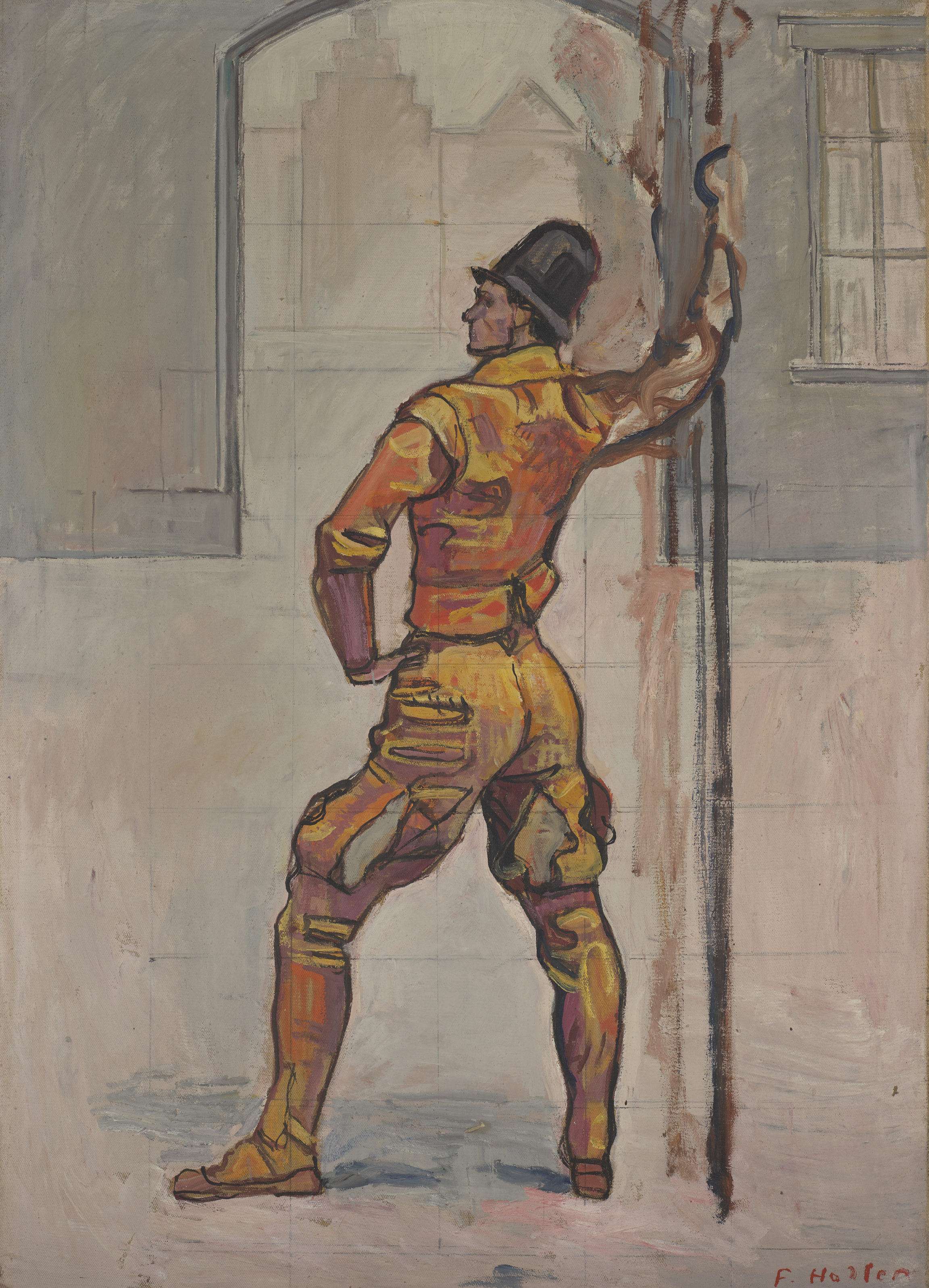 The development of a Swiss national art policy in the 1880s and 1890s led to numerous government commissions for important buildings. Paradoxically, the polemic that raged from 1897 to 1900 over Ferdinand Hodler's commission for his Retraite de Marignan (Retreat from Marignano) for the National Museum in Zurich did much to establish his reputation abroad.
Hodler was commissioned for a mural fresco in the council chamber in the new town hall in Hanover, on the theme of support for the 1533 Reformation. Einmütigkeit (Unanimity) was completed in May 1913. The design Hodler came up with after two years of work was spectacular in its use of virulently bright colours. The work is also the purest instance of his understanding of parallelism. A compact frieze of men with raised arms is placed symmetrically on either side of the orator Dietrich Arnsborg, shown swearing an oath with his hand on his heart. The work – five metres high by fifteen metres long – was painted in Geneva on three canvases. Hodler produced some two thousand pencil sketches and studies on paper or tracing paper, reflecting the huge scale of the project. He also roughed out an impressive seventy-five paintings for figures shown face-on or in half-profile, their arms raised and backs arched.
This study, painted for the third man from the right, is unusual in that it is all Hodler's own work: other sketches were produced in collaboration with his assistants. Traces of the square grid used to scale up the work can still be seen. The post that was initially used to uphold the raised arm of the model can also be made out. The figure is confidently outlined in black, belying the complexity of the pose, seen contrapposto from behind. The palette is equally bold, with yellow notes on an orange and pink ground.
Bibliography
Oskar Bätschmann and Paul Müller (eds.), Ferdinand Hodler. Catalogue raisonné der Gemälde, Band 3: Die Figurenbilder, Zurich, Scheidegger & Spiess, Zurich/Lausanne, Institut suisse pour l'étude de l'art, 2017, vol. 2: n. 1568.
Bernhard von Waldkirch (ed.), Ferdinand Hodler. Zeichnungen der Reifezeit 1900-1918, exh. cat. Zurich, Kunsthaus Zürich, 1992: 166-215.