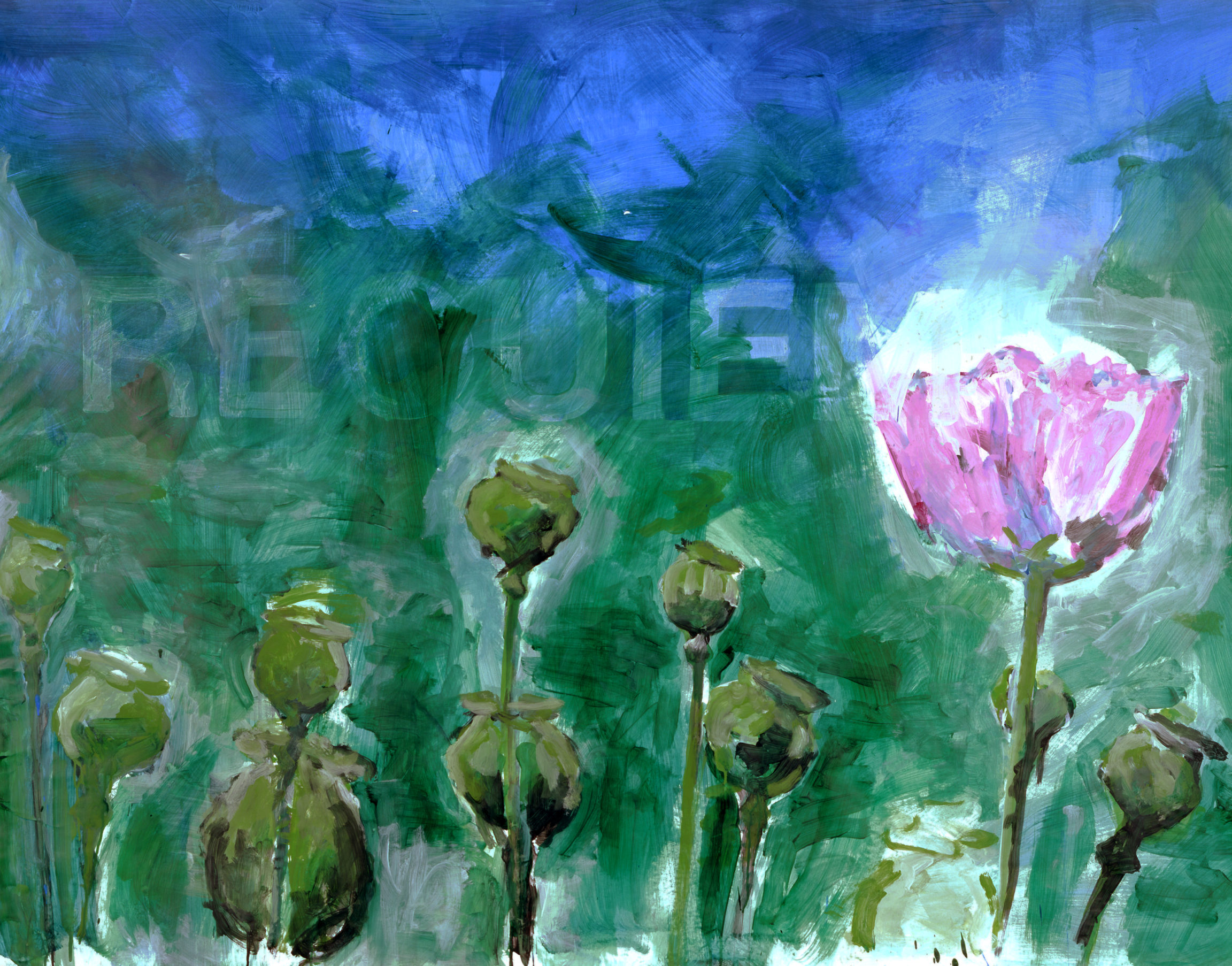 David Hominal mixes images from different sources and references  with different arts and pictorial traditions in order to take on the great narratives of painting, and even to partake in them, with the gravity of a person forging their own path, despite the doubts. For him, painting is an imperative duty: a space of respite as well as of tyranny, which in spite of it all, remains a realm of endless possibility.
Hominal's love of classical music and jazz is regularly echoed in his work, notably in the words – musical terms, names of musicians, titles, etc. – that he inscribes there in block print. Here, a diaphanous 'REQUIEM' (from the Latin word for 'rest') is bannered across the cusp of a flowery meadow and an electric-blue sky. The iconography of Flowers is thus rich in symbols. In the foreground, filling more than half the image, the capsules of opium poppies – the opiate latex oozes from the incisions made in them – surround the last blooming flower. A bright, luminous pink, this dominates the picture like a lighthouse in the night, piercing the sky with its gleams. A dreamlike vision of luxuriant nature in the chiaroscuro of consciousness, this work exudes a serene melancholy.
Hominal usually works in series and it is tempting to see another, larger work of his, Requiem (2006, held at the Museum), also made on the same fragile paper support as the pendant of Flowers. It certainly helps orient our reading: blazoned across its surface, the words 'PAINTING', 'REQUIEM', 'PAINTING' are obscured by a layer of white paint, and over the second 'PAINTING' is another 'REQUIEM', this time its white letters formed by a black outline. The artist seems to be defying the often-proclaimed death of painting with his own persistence. At the same time, he evokes the vain desire to represent things that do not last.
Bibliography
Laurence Schmidlin (ed.), David Hominal, Vevey, Musée Jenisch Vevey, Zurich, JRP Ringier, 2016 (Binding Sélection d'Artistes n. 60).
Bernard Fibicher, Catherine Lepdor and Sarah Zürcher. Hespérides, exh. cat. Lausanne, Musée cantonal des Beaux-Arts, 2009: 65 and 112.
David Hominal, Nicolas Pages and Philippe Pirotte, You'll Never Walk Alone, exh. cat. Lausanne, Espace Arlaud, Lausanne, Musée cantonal des beaux-arts de Lausanne, 2007:  32-33.