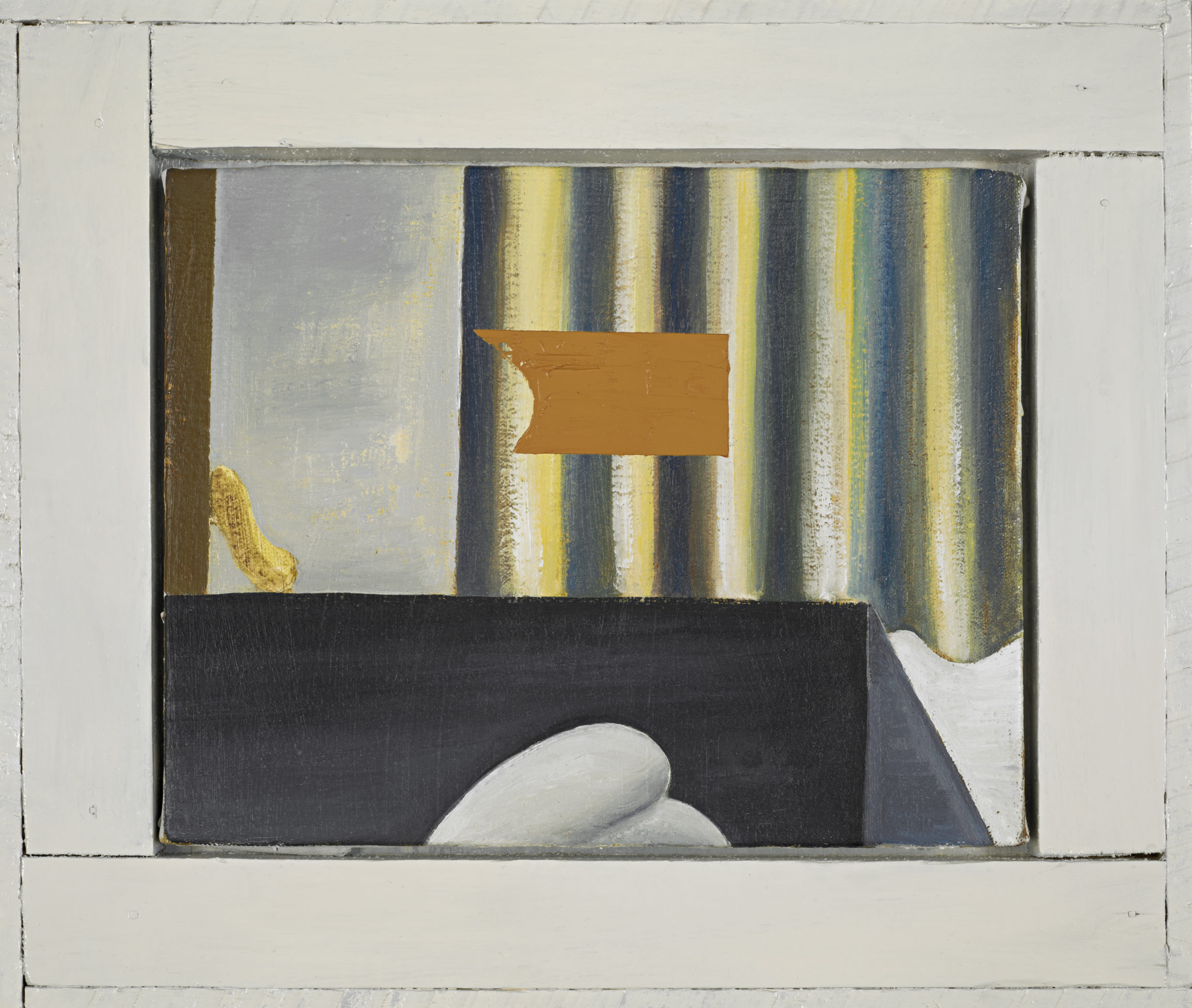 Don Hazlitt worked on this painting while staying at the Nota Bene art residency in Cadaqués, Spain, in 1996. It is one of a series of small-format works in bright colours, influenced by the Mediterranean ambiance of the Costa Brava. Hazlitt is an abstract painter whose visually crowded canvases can be described as baroque. Like his friend Richard Tuttle, he assembles very varied objects to create paintings that are akin to objects in their own right.
Cadaqués is a small town made famous by numerous visiting artists, including Salvador Dalì. There, Hazlitt returned to a certain classicism influenced by Giorgio de Chirico's 'metaphysical' period in the 1910s and the various forms of a return to order in the 1920s, including Purism. He was also inspired by Fernand Léger's rationalist post-war works and the spatial approach implemented by Joan Miró from 1917 to 1922. The lesson in rigour that he learned can be seen not only in the painting itself, but also in the frame, made from several pieces of rough-hewn wood daubed with white paint, making a sort of window looking onto a fragment of contradictory realities. The small painting is cleverly constructed, creating almost an optical illusion between the flat geometrical shapes such as the large black rectangle and the attempts at spatialisation such as the folds in the 'curtain', the abstract, organic shapes (a peanut?), the horizontal and vertical lines, painting (the orange 'ticket') and sculpture (the white 'marble'). Each element of the incongruous staging appears to be on the same plane. The grave of the title, doubtless embodied by the black rectangle, is literally the cornerstone of the composition, generating a general impression of serene 'gravity'.
Bibliography
François-Yves Morin, 'Don Hazlitt: dimension de la subjectivité,' Opus international, n. 103, Winter 1987: 20-21.
Don Hazlitt, exh. cat. Toulon, Musée de Toulon, 1982.
Bernar Venet, 'Les nouvelles images de la peinture américaine,' Art Press, n. 28, May 1979: 6-13.