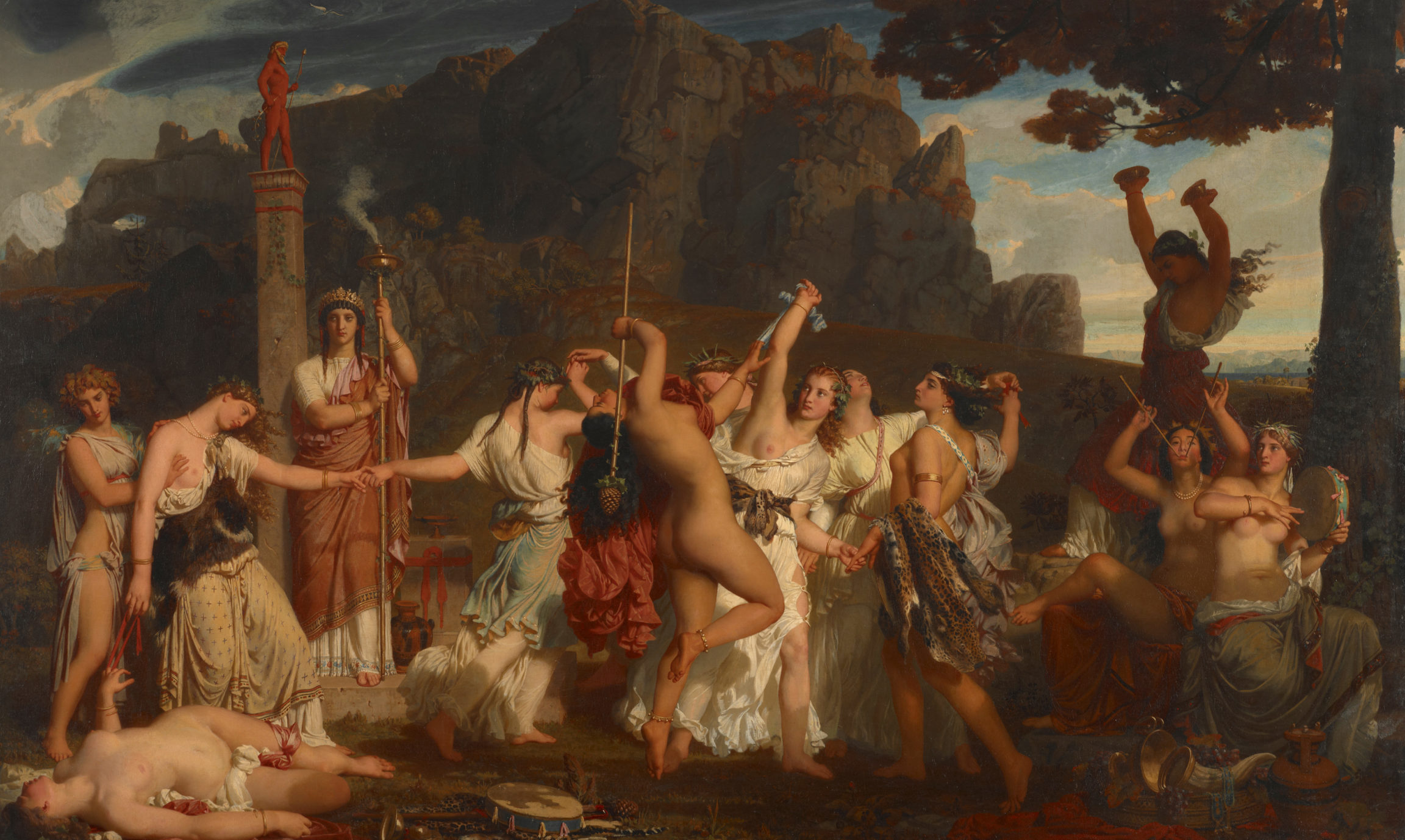 An exclusively female affair, the bacchanal takes place under the implacable gaze of a hieratic priestess who is the guardian of the altar supporting the astonishing statue of a scarlet Bacchus. Where Titian's Bacchanal of the Andrians (1523–6, Madrid, Museo del Prado), from which Gleyre took his figure of a bacchante exhausted by the Dionysian ceremony, overflows with life, the flesh here is petrified by a chill wind. There is no wild eroticism with the Swiss master, just partially denuded bodies bestowing a delicately sensual note on the scene; no frantic savagery, but instead a severe ritual. Gleyre renews the iconography by turning the bacchanal into a cultic and mystic moment. But if his Antiquity is meditative, it is not so dreamlike as to overlook even the slightest archaeological detail, which he revisits in the light of contemporary research, particularly with regard to polychrome sculpture.
Before the rocky mass of a mountain around which we observe two patches of sky, one threatening and the other serene, the artist unfolds his composition in a subtle low relief. The centre is occupied by a tight group of six dancers. To the left, two bacchantes have left the circle, exhausted with drunkenness, one of them held up by a servant. To the right, three musicians set the rhythm of the dance with the sound of a tambourine, aulos and crotalums. The composition forms an ellipse punctuated by the pronounced verticals of a column, the shaft of an incense burner, a brandished thyrsus and the raised arms of the musician. The transition from one figure to another is achieved fluently by the joining of hands and ribbons held between them. On the far right, a still life with vase, basket of grapes, golden dish and red fabric serve as a pendant to the bacchante lying on the ground.
Acquired by Francis, Duke of Cádiz, king consort of Spain, this painting was shown at the annual Salon in 1849. As an opponent of Napoleon III, Gleyre later refused to take part in this key Parisian exhibition.
Bibliography
Côme Fabre (ed.), Charles Gleyre (1806-1874). Le romantique repenti, exh. cat. Paris, Musée d'Orsay, Paris, Hazan, 2016: n. 96.
Bernard Vouilloux, 'Une bacchanale méditative,' in Catherine Lepdor (ed.), Charles Gleyre. Le génie de l'invention, exh. cat. Lausanne, Musée cantonal des Beaux-Arts, Milan, 5 Continents Editions, 2006: 151-158.
William Hauptman, Charles Gleyre: la Danse des Bacchantes, Les Cahiers du Musée des Beaux-Arts de Lausanne n. 1, 1995.