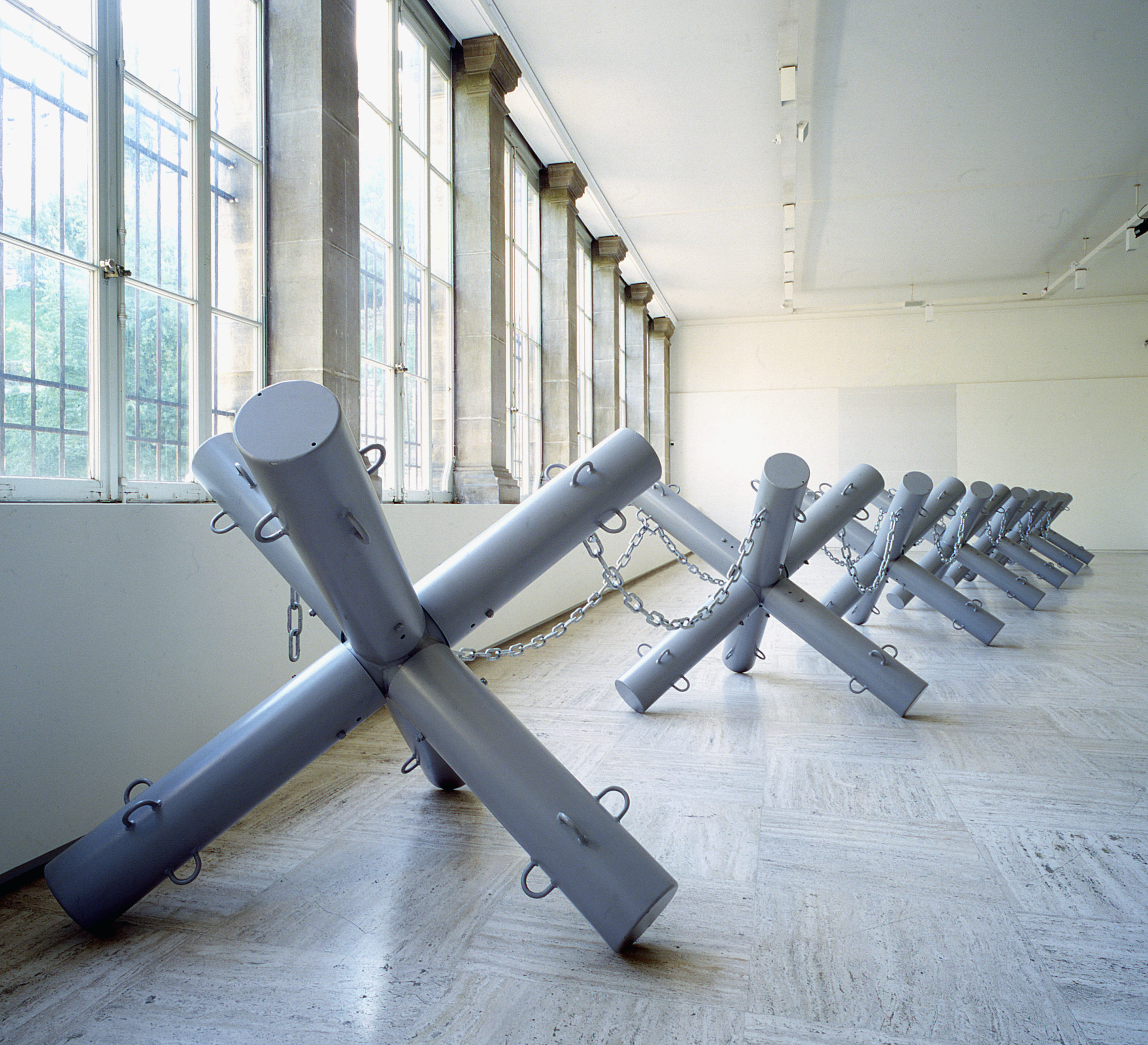 Fabrice Gygi's sculptures are inspired by barriers, sandbag walls, airbags, roadblocks, control towers, pylons and water cannons, all forms of street furniture that play a role in maintaining social order and protecting and controlling individuals. Trained at the École des arts décoratifs from 1983 to 1984 and the ÉcolesSupérieure des arts visuels from 1984 to 1990 in Geneva, he soon turned to a primarily sculpture-based practice, first with temporary structures such as Cabane (1986) and then with object-based performances such as Always Upright (1995). He developed a formal vocabulary inherited from minimalism, both in his use of materials and in the focus on space and the role of the audience, exploring themes related to displays of power and authority. Street barriers designed to protect, separate, channel and enclose are a recurrent theme in his work.
Crossblocks is an alignment of steel elements linked by chains to form a barrier that looks impassable and threatening, but also contains the seeds of its own transgression, as hinted at by the title. The smooth painted steel contrasts with the aggressive shape, making the installation part minimalist sculpture, part street furniture, while the chains connecting the elements gesture to torture and sadomasochism. The sculpture, built on a human scale, forces visitors to contemplate their own bodies and their relationship with the space surrounding them – the urban setting and the museum itself – and question its constraints and potential for reconquest.
Bibliography
Gygi. A Manual, exh. cat. Venice, Swiss Pavilion, 53th Venice Biennale, 2009, Zurich, JRP Ringier, Bern, Federal Office of Culture, 2009.
Andreas Baur, Konrad Bitterli and Lionel Bovier (eds.), Fabrice Gygi, exh. cat., Geneva, MAMCO, Esslingen am Neckar, Villa Merkel, Galerien der Stadt, St. Gallen, Kunstmuseum, Zurich, JRP Ringier, 2005.