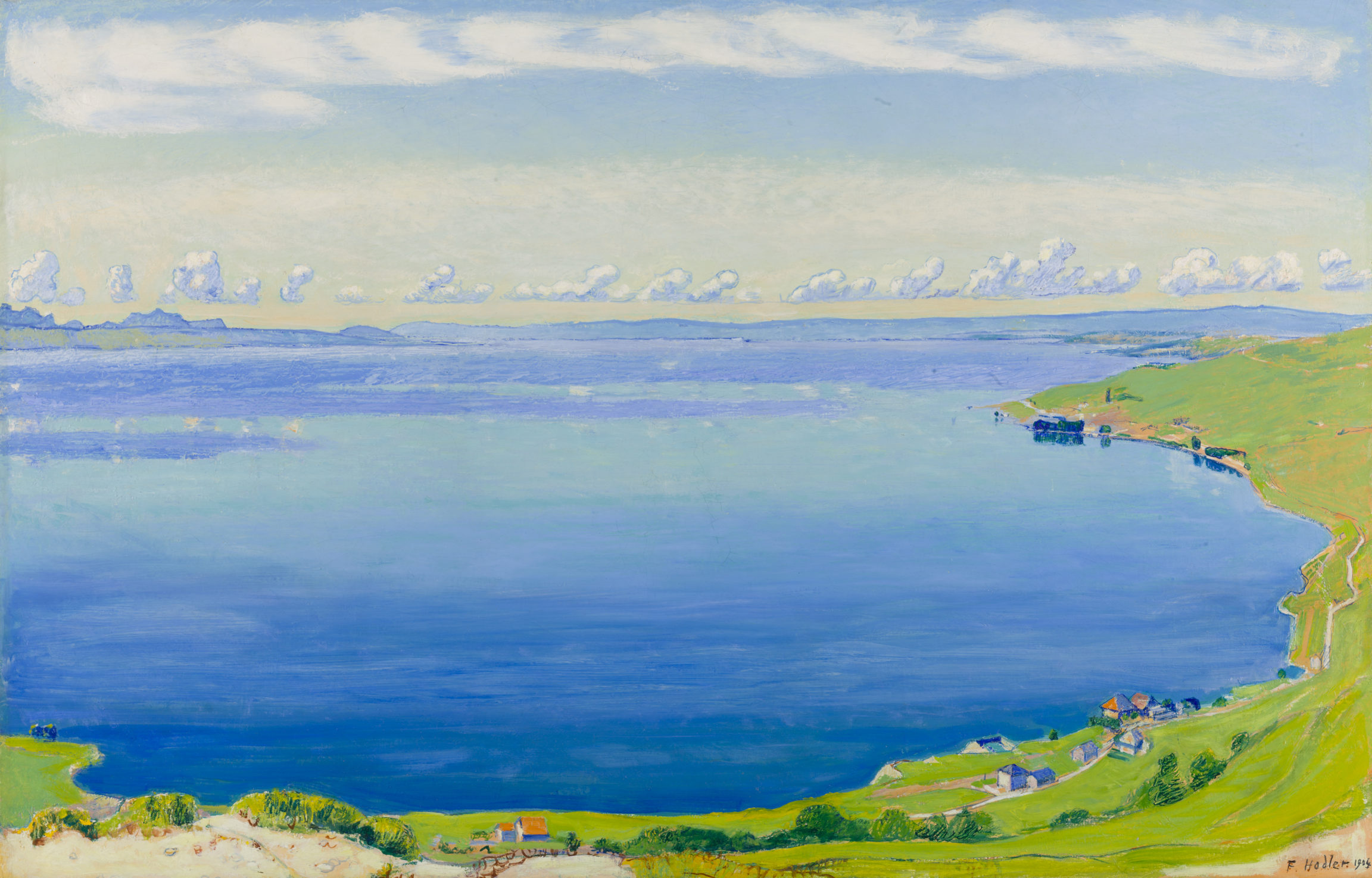 On the train journey into Lausanne from Germanic Switzerland, travellers reaching the heights of Chexbres enjoy spectacular panoramas as Lake Geneva and the Alps of Savoy heave into view. This superb vista made a lasting impression on Ferdinand Hodler who travelled frequently between his native Bern and Geneva, which became his home in 1872. A painter for whom emotion played a decisive role in his choice of subjects, he first represented this view in 1895 (Le Léman vu de Chexbres, le soir [Lake Geneva Seen from Chexbres at Night], Zurich, Kunsthaus).
Nearly ten years later, after his exhibition at the 1904 Secession in Vienna had solidified his reputation in Europe, he returned to Chexbres. In late April he took up residence at the Hôtel Bellevue and began work on a new series of landscapes. Lac Léman vu de Chexbres was the first, but all the works produced during his fortnight there adopt the same high viewpoint over the terraced vineyards of Lavaux, with the distinctive contours of the lake shore between the heights of Puidoux on the left and the village of Cully lower on the right, the chain of the Jura in the distance and a sky striated by clouds.
Here, too, the viewpoint is elevated. In this elongated canvas the colours are intense and the handling of the forms is synthetic and ornamental. The big blue mass of the lake, which asserts the main harmony, is contained within the contour of a broad, clearly drawn ellipse. The upper horizontal band contains the suggestion of a melody, with the staccato of the clouds reflected in the water. Hodler replaces the fleeting character of impressionist painting with a rhythmic organisation capable of revealing the timeless order of nature.
In 1894 the Museum was the first public institution to acquire a landscape by Hodler (Au pied du Salève, 1888). Lac Léman vu de Chexbres entered the collection in 1904, the year it was painted.
Bibliography
Oskar Bätschmann and Paul Müller, Ferdinand Hodler: Catalogue raisonné der Gemälde, vol. 1 and 2, Zürich, Institut suisse pour l'étude de l'art, 2008.
Ferdinand Hodler. Le paysage, exh. cat. Geneva, Musée Rath, Paris, Somogy, Geneva, Musées d'art et d'histoire, 2003.
Jura Brüschweiler, Einige Werke aus der Sammlung Karl G. Steiner, Zürich, 1981.