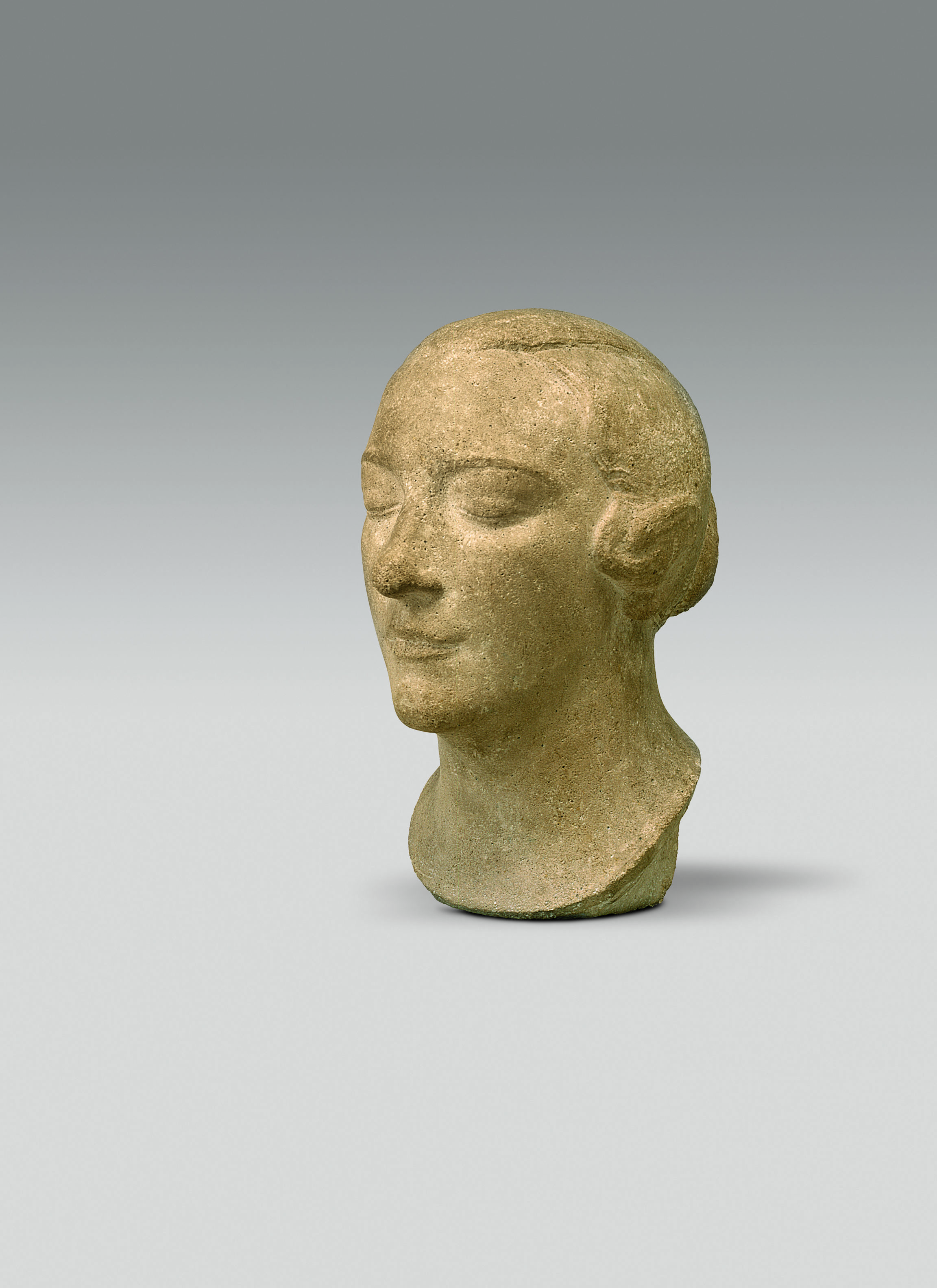 Charles Despiau studied fine art in Paris and was then hired by Auguste Rodin to work in his studio from 1907 to 1914. Seeing himself as Rodin's peer rather than a disciple, he forged his own artistic path, preferring to seek inspiration in classical forms and the art of Antiquity on display in Paris museums.
Despiau was one of the leading portraitists of his day, carrying out paid commissions and carving busts for his own pleasure. He sculpted many of his friends, mainly women, as well as the wives of artists and art critics in his circle. The Museum holds two of the latter, the Buste de Madame Léopold-Lévy (Bust of Madame Léopold-Lévy, 1923) and this Buste de Madame André Derain (1926).
Here, as for most of his busts inspired by female sculptures of Antiquity, Despiau smooths the model's hair into a low bun to set off her serene expression and inward gaze, her eyes closed. The generous shapes, regular features, and soft, calm, harmonious expression are typical of his art, while the relatively rough-grained stone gestures to Antiquity.
This stone version was completed in 1926, though the design dates back a few more years. A bronze version was displayed in 1923 at the inaugural Salon des Tuileries, an event founded by Despiau himself alongside the sculptors Aristide Maillol and Émile-Antoine Bourdelle, the two other towering figures of the classical revival of the 1920s.
Bibliography
Catherine Chevillot (ed.), Oublier Rodin? La sculpture à Paris, 1905-1914, exh. cat. Paris, Musée d'Orsay, Madrid, Fundacion Mapfre, 2009.
Paul-Louis Rinuy, 'La collection de sculptures modernes du docteur Henri-Auguste Widmer,' in Catherine Lepdor and Jörg Zutter (eds.),  La collection du Dr Henri-Auguste Widmer au Musée cantonal des Beaux-Arts de Lausanne, exh. cat. Lausanne, Musée cantonal des Beaux-Arts, 1998: 67-79.
Gustave Kahn, Charles-Albert Despiau: 1874-1946, collections du Musée municipal de Mont-de-Marsan, exh. cat. Mont-de-Marsan, Musée municipal, 1982.