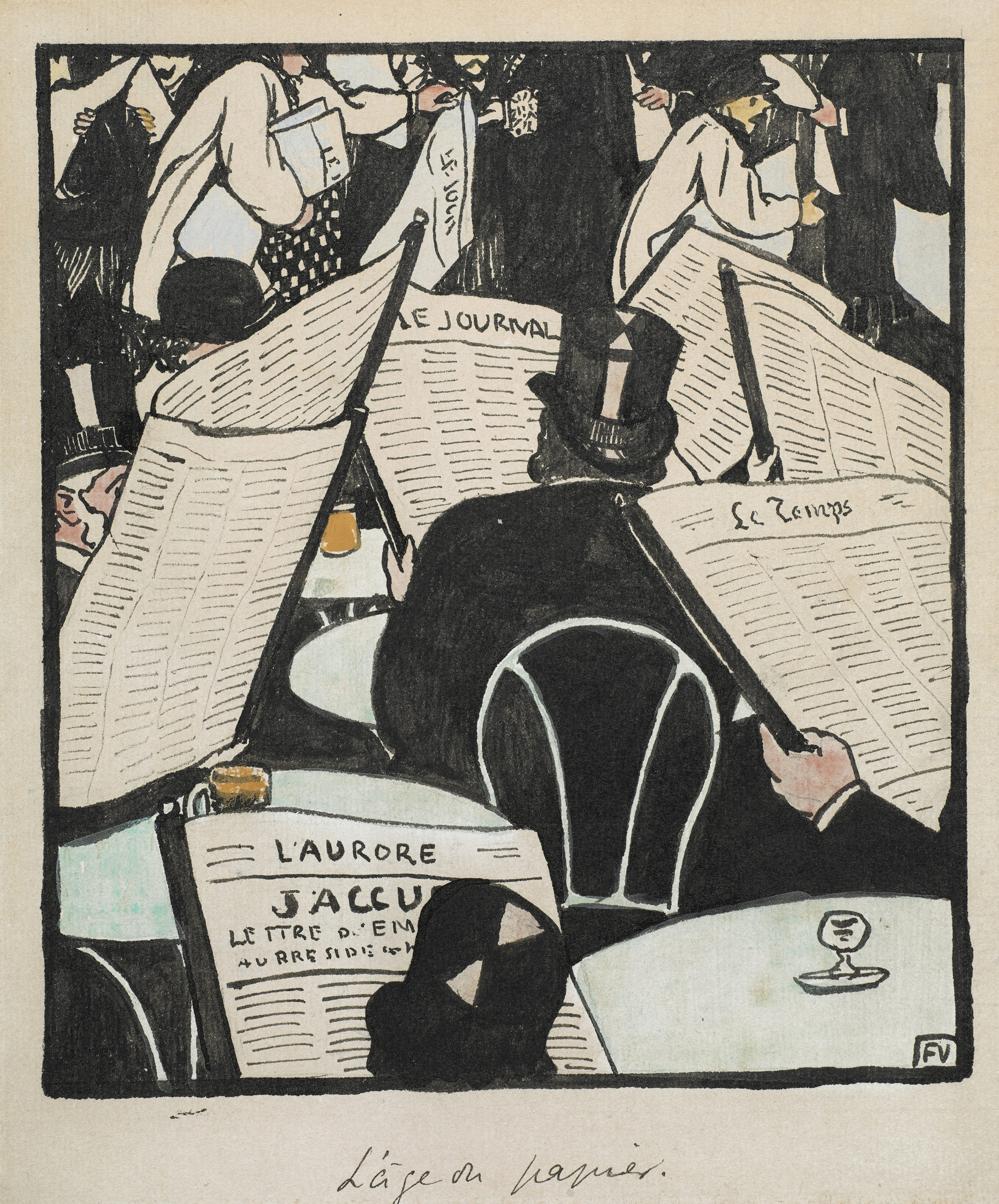 Félix Vallotton
L'âge du papier. Dessin pour Le Cri de Paris (The Age of Paper. Drawing for Le Cri de Paris), 1898
Félix Vallotton rose to fame in the 1890s with his woodblock engravings and his illustrations for the rapidly growing press industry. Having moved from Switzerland to Paris, he produced his first press illustrations in 1894 for the journals Rire, Le Courrier français and above all La Revue blanche, where he was the official illustrator until 1902.
Le Cri de Paris was a sixteen-page weekly printed in black. Vallotton completed over seventy illustrations for its cover. The journal was created in 1897 as an offshoot of La Revue blanche to satirise political corruption of all sorts. The magazine's greatest struggle was to obtain a retrial for Captain Alfred Dreyfus, whose fate was hotly debated in France for years, prompting intellectuals and artists to speak out publicly and contributing to the modern image of creators and thinkers as politically committed public individuals.
This drawing (subsequently heightened with watercolour by the artist himself) was featured on the cover of Le Cri de Paris on 23 January 1898, as an immediate response to Emile Zola's famous J'accuse. Zola's open letter, printed in L'Aurore ten days earlier, accused the French army of a crime against justice and of anti-Semitism in sending Dreyfus to prison for treason. L'âge du papier foregrounds the power of the press that Vallotton – drawing on that same power – translates as a host of newspapers including L'Aurore, Le Temps, Le Journal and Le Soir, being read in cafés and sold by newspaper boys in the street. The draughtsman's paper was literally turned into news. The very tight framing turns the infinitely proliferating print into a tidal wave of protest. L'âge du papier also proclaims the age of the press illustrator!
Bibliography
Anne-Marie Bouchard, 'L'expérience individuelle d'une image reproduite massivement. L'illustration de la presse et la réalisation du monde,' textimage. Revue d'étude du dialogue texte-image, October 2012 (online publication).
Christophe Charle, Naissance des 'intellectuels', 1880-1900, Paris, Les Éditions de Minuit, 1990.