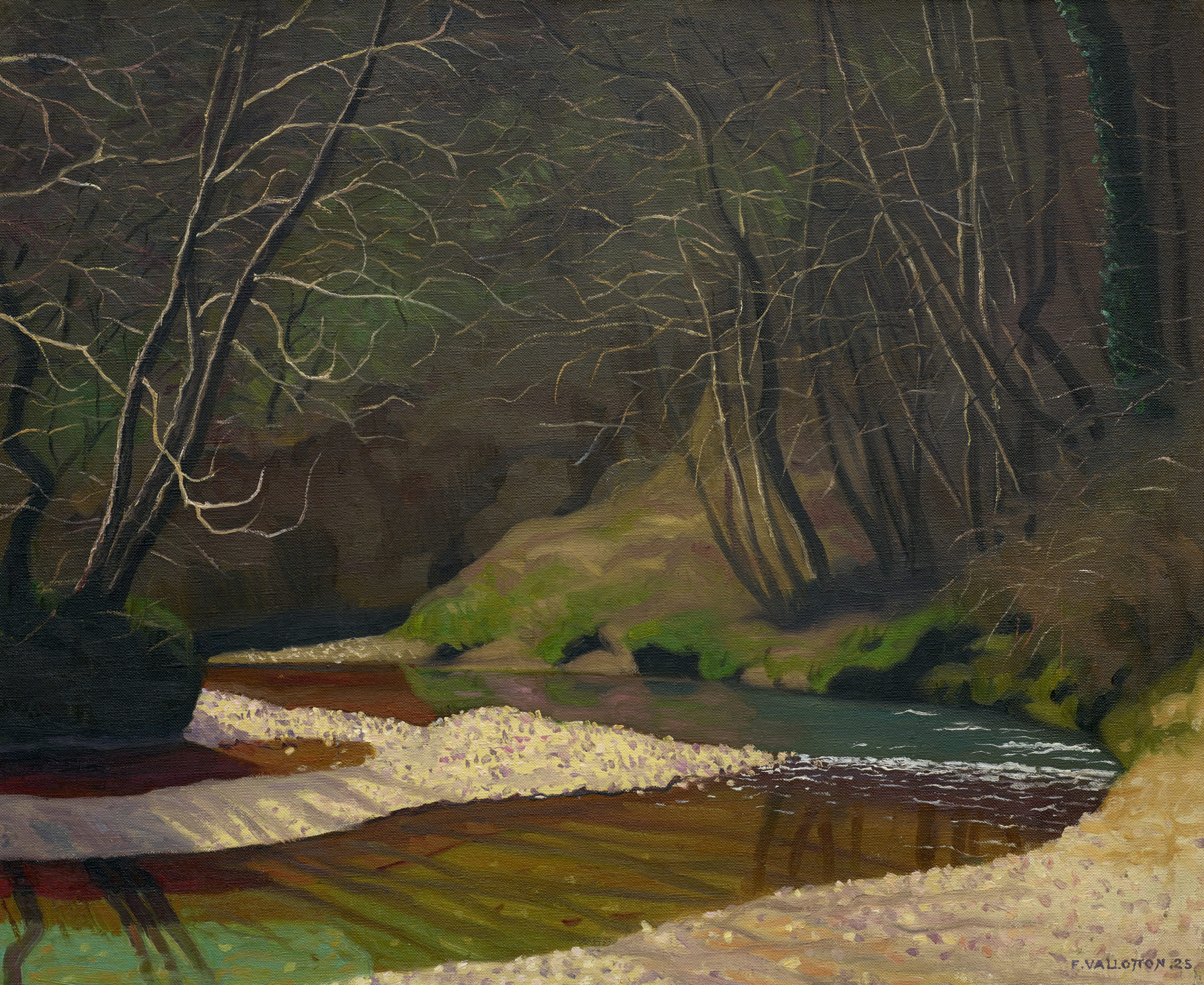 Félix Vallotton
Ruisseau rouille et galets blancs (Rust Stream and White Pebbles), 1921
A painful case of sciatica that came on in 1916 prompted Félix Vallotton to decide in late autumn 1920 to spend the winter season in the south of France. He and his wife Gabrielle arrived in Cagnes on 24 November 1920 and stayed in a guest house overlooking the village. They spent the next four winters there until Vallotton bought an old sheepfold in 1924. Vallotton was accustomed to the low, grey skies of Normandy and was initially astonished by the bright winter sun in the south, writing to his brother Paul on 26 December 1920, 'I have started working at long last but I am not at all satisfied with the result; I am a bit disorientated by so much light … I am not at home with my palette.'
Vallotton did acclimatise to the new light very quickly, choosing hues that he had never used before – intense blues, rust reds, oranges and purples, warm greens and yellows, whose brightness contrasted sharply with the powerfully highlighted colours of the shadows. What guided his choice of hues, even more than the light of southern France, was a new boldness that saw him accentuate their tones and heighten their contrasts.
Here, the stream's almost unreal light extends to the thick forest in the middle ground. The white glints on the rippling water echo the tangle of leafless branches that form a network of long filaments spreading light across the top half of the painting. The curving banks, ripples and pebbles shimmering in the sun filtering through the plants all reflect the heritage of Vallotton's Nabi period, still shaping his landscapes as late as the 1920s. The stream, lying across the pebbles almost like a multicoloured rug, is radically transformed by the artist's chromatic and formal synthesis.
Bibliography
Marina Ducrey, with the collaboration of Katia Poletti, Félix Vallotton, 1865-1925: l'œuvre peint, Lausanne, Fondation Félix Vallotton, Zurich, Institut suisse pour l'étude de l'art, Milan, 5 Continents Editions, 2005, vol. 3: n. 1396.
Sasha M. Newman (ed.), Félix Vallotton, exh. cat. Lausanne, Musée cantonal des Beaux-Arts, Paris, Flammarion, 1992.