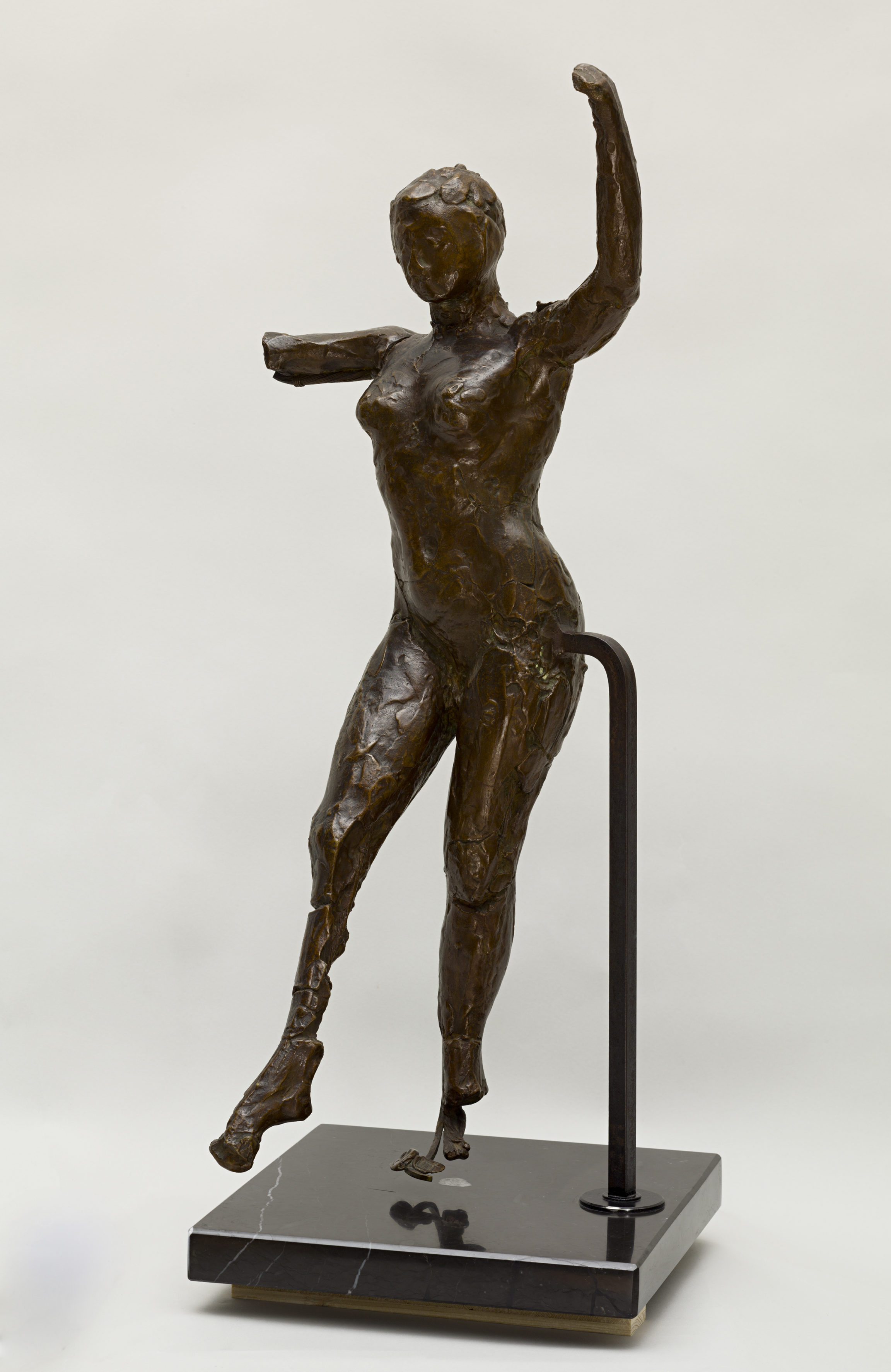 Edgar Degas
Danseuse s'avançant, les bras levés, jambe droite en avant (deuxième étude) (Dancer Stepping Forward, her Arms Raised, Right Leg Forward [second study]), c. 1885–90
Ballet dancers training, resting or performing on stage were a major motif in Edgar Degas' oeuvre from the early 1870s to his death. He often visited the Paris opera to study them and was later allowed into the wings at the ballet. However, he took his studies furthest in his own studio, safe from prying eyes, making his models dance, taking up dance poses himself, and analysing the mysteries of movement in the photographs of Eadweard Muybridge (Animal Locomotion, 1884–6) and his own, taken with his Eastman Kodak.
Though many of his drawings and pastels were inspired by dance, he emphatically pointed out in 1897: 'You will only obtain the truth by modelling, which places a constraint on the artist that forces him not to neglect anything of importance'. When he died, found in his studio were 150 wax and bronze sculptures, including many female dancers in a variety of poses. Later cast in bronze, they reflect his tireless quest to translate the body in motion into three-dimensional sculptures. One of them was this airy Danseuse s'avançant, the entire weight of whose body is held on one pointed toe.
Degas only ever exhibited one sculpture in his lifetime, the Petite danseuse de 14 ans, at the sixth impressionist exhibition in 1881. For that piece, he felt the need to colour the wax, add real human hair tied back with a pink satin ribbon, and clothe her in ballet shoes and a tulle tutu. Then, underscoring its status as a work of art in its own right, he placed it in a glass cage. Its realism caused a scandal: it was judged to be almost simian in appearance. Degas' nude dancers would have been an even greater shock for fin-de-siècle bourgeois morals. They are mature women with animalistic bodies forged by nature, adopting choreographed poses forged by culture.
Bibliography
Line Clausen Pedersen (ed.), Degas' Method, exh. cat. Copenhagen, Ny Carlsberg Glyptotek, 2013: 192-195.
Martin Schwander, Edgar Degas: the Late Work, exh. cat. Riehen, Fondation Beyeler, 2012, p. 60.