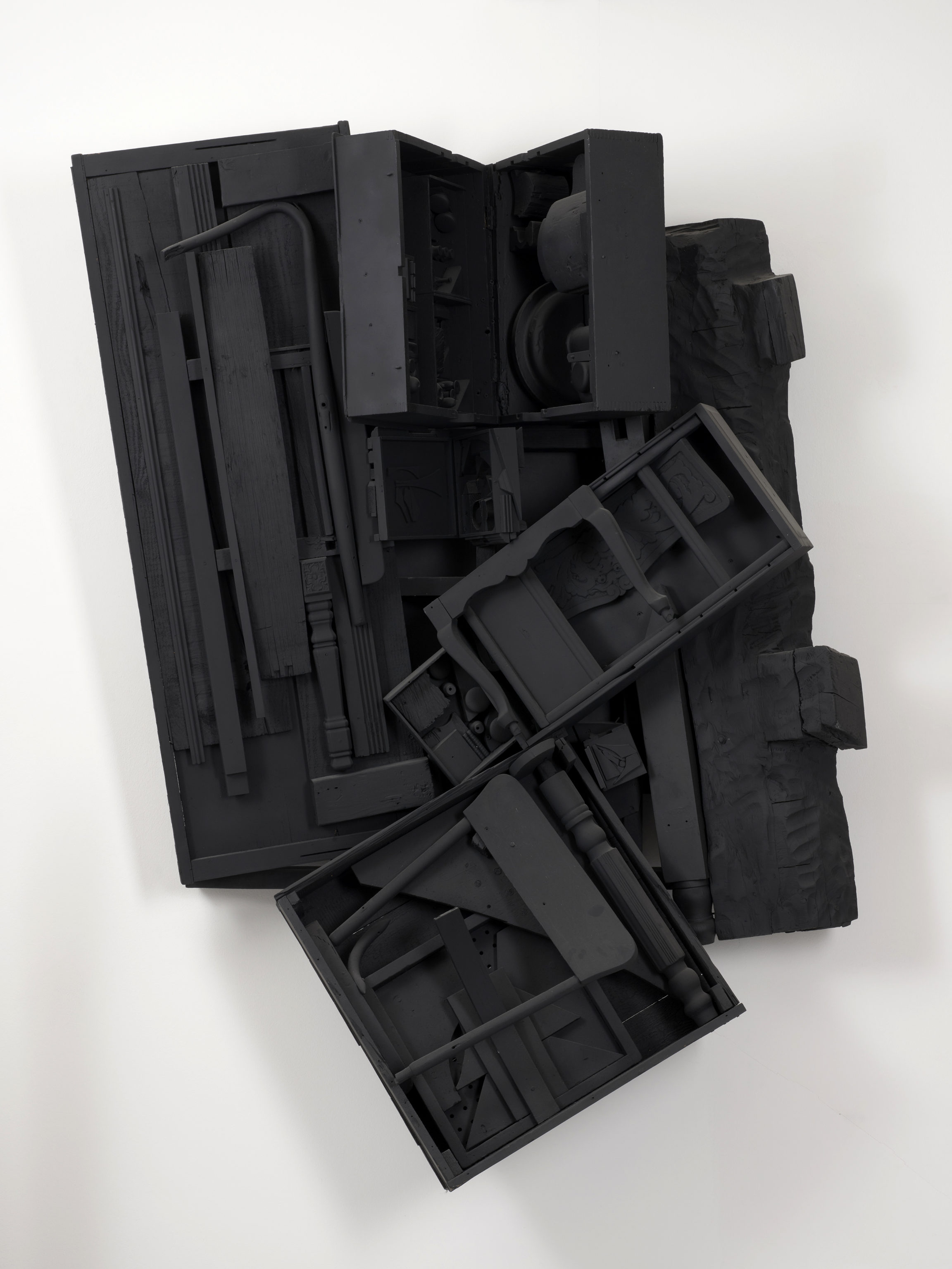 Louise Nevelson was born Leah Berliawsky to a Jewish family in what was then the Russian Empire, now Ukraine. She emigrated to Maine, in the United States, with her mother, sister and brother in 1905 to join her father, who worked in the timber industry, first as a lumberjack; his own father had been in the timber trade. Wood became Louise Nevelson's main creative material, though she also worked in other media including steel, aluminium and Plexiglas. She left for New York in 1920, where she studied art and theatre.
Influenced by Pablo Picasso, Marcel Duchamp and pre-Columbian architecture, Nevelson spent several years producing and exhibiting her early works, developing a form of mural sculpture whose structure consisted of assembled found objects, painted black, gold or white. The 1950s saw her create carefully-arranged large-scale compositions consisting of montages of wooden crates that in turn contained carefully-arranged objects. She often let herself be guided by the objects available to her, organising them and nailing them together. On the same principle, she also designed 'walls' that were perfectly rectangular in shape. Mirror Shadow XV is part of a series of the same name, dating from a few years before her death. It differs from her earlier work in that it is more compact, dynamic and voluminous. The objects are juxtaposed, bringing together multidirectional lines in their key elements and entering three-dimensional space.
The use of a single colour subordinates the details to the overall shape. The neutral colour gives no further information, and the elements, stripped of their individuality and function, lean towards abstraction. As the artist told Diana MacKown, 'When I fell in love with black, it contained all colour. It wasn't a negation of colour. It was an acceptance. Because black encompasses all colours. Black is the most aristocratic colour of all.'
Bibliography
Brooke Kamin Rapaport (ed.), The Sculpture of Louise Nevelson: Constructing a Legend, exh. cat. New York, The Jewish Museum, San Francisco, Fine Arts Museums of San Francisco, De Young, New Haven et Londres, Yale University Press, 2007.
Michael Klein, Louise Nevelson: Sculpture and Collages, exh. cat. Philadelphia, Locks Gallery, Philadelphia, Locks Art Publications, 1999.
Louise Nevelson, Dawns + Dusks. Taped Conversations with Diana MacKown, New York, Charles Scribner's Sons, 1976.