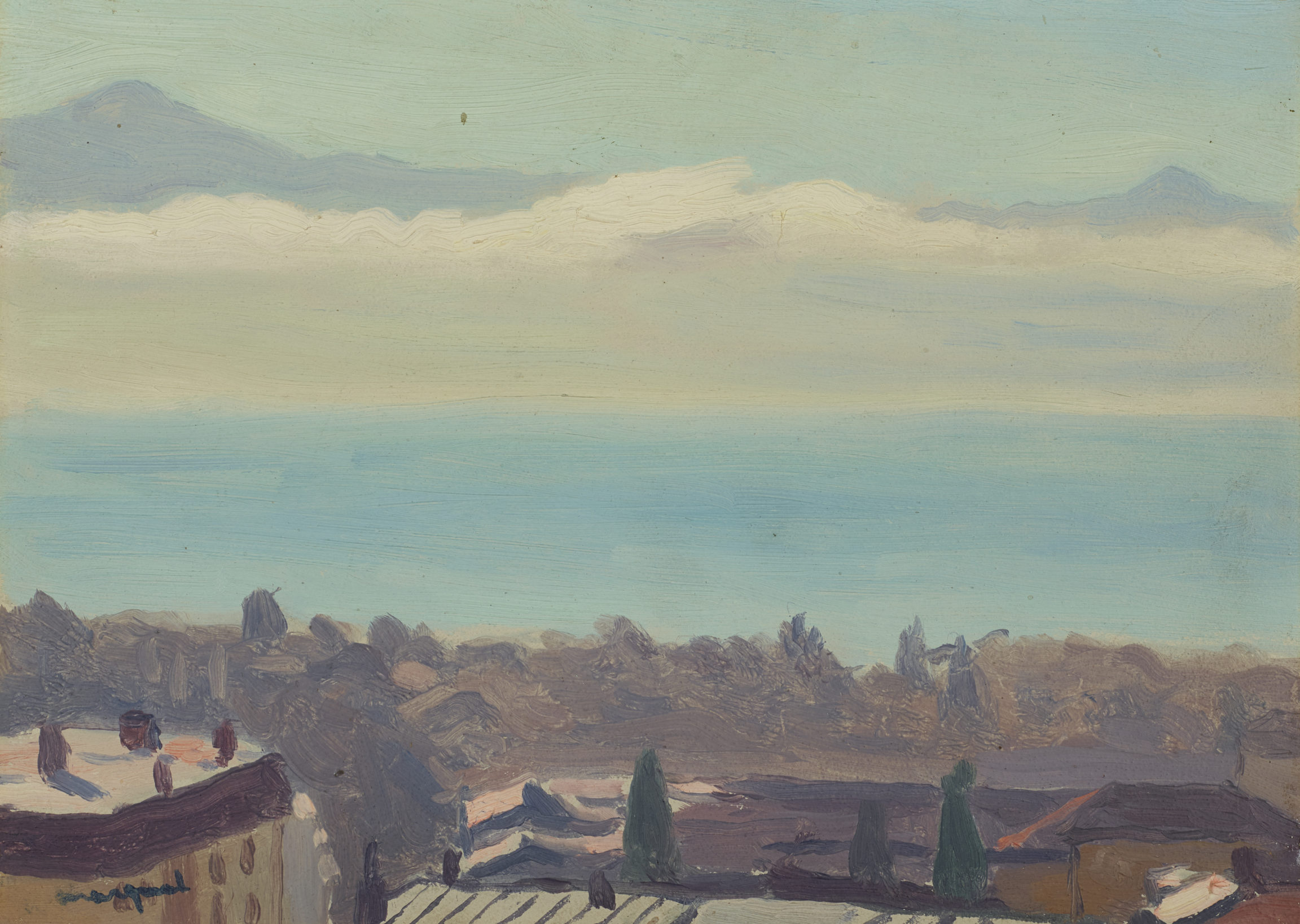 On January 23, 1936, Paul Vallotton, founder of the Lausanne gallery of the same name, died while on the telephone to discuss a forthcoming exhibition of Albert Marquet's landscapes planned for the following May. He had showed Marquet's watercolours the previous September and planned his visit to Lausanne for the October. Marquet and his wife Marcelle in fact only made the trip in late December 1935 after several postponements. What Marquet wanted in Switzerland was snow – he found there was simply not enough in Paris, where it barely covered the rooftops and melted away on the roads, so that he could not capture the light glinting off it to create a particular atmosphere and the snow-softened lines of his favourite views, including the cathedral Notre Dame.
'Be so kind as to suggest a hotel with a view that we might stay at', he wrote to Paul Vallotton. Accommodation was booked at the Hotel Belvedere, which offered a splendid vista over the surrounding area. Unfortunately, the weather was terrible. Marquet set out for Crans-sur-Sierre in early 1936, then on to Davos, where he found the snow scenes he was looking for. In Lausanne, he sat at the hotel window for a few swiftly painted works on small, stiff boards, with the lake in the background behind tiered rooftops lightly dusted with snow. The horizon is cut off by the mountain tops and by thick, glowering clouds hanging low over the flinty blue water. The panorama – a new to Marquet – is approached with the same sense of pared-down minimalism and simplified, harmonised shapes as the rest of his oeuvre.
Bibliography
Albert Marquet, exh. cat. Paris, Musée national de la Marine, Paris, Thalia Éditions, 2008.
Marquet, exh. cat. Lodève, Musée de Lodève, Milan, Electa, 1998.
Marina Ducrey and Guy Ducrey, La galerie Paul Vallotton depuis 1913…, Lausanne, Galerie Paul Vallotton SA, 1988.