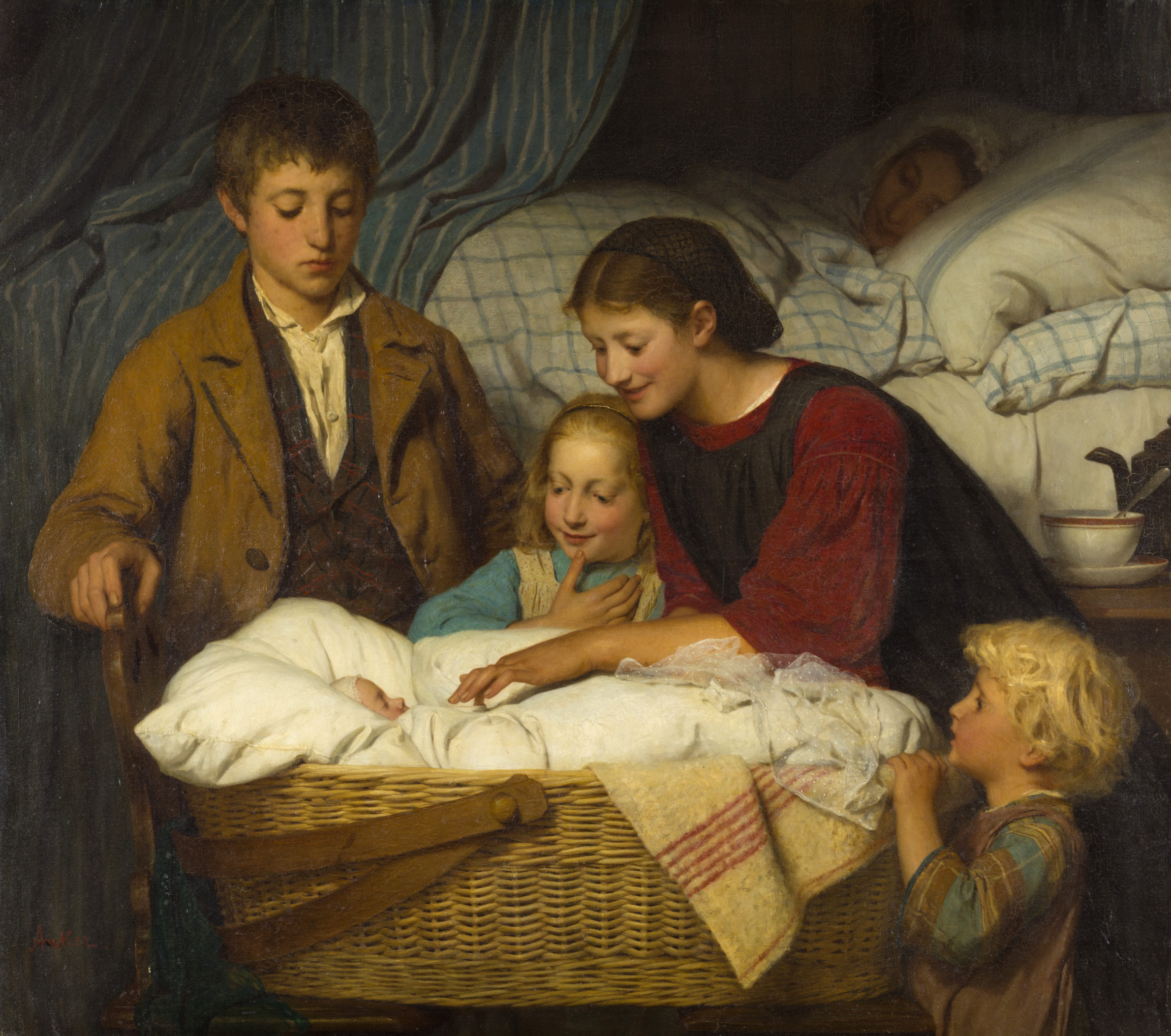 Albert Anker's charming painting of a family welcoming a new baby dates from the year his own son Ruedi was born. The tightly framed composition draws on the contrast between the white bedding in the crib, lighting up the faces in the foreground, and the more muted greys of the mother's bed in the background. The meticulous approach to every detail in the modest Bernese home gives the whole the ring of truth. Anker is at particular pains to capture textures, from the wicker crib and its two leather carrying handles to the various fabrics such as the stiff blankets on the big bed and polka dot tulle on the crib, and the white china cup and metal spoon.
Anker excelled in capturing expressive poses and here takes particular care with the hands to externalise the emotions of the older siblings. The older boy is restrained and serious, grasping the back of the chair; the younger girl is smiling in wonderment, her thumb to her lower lip. The older girl is spontaneously leaning over, pulling back the coverlet with one expert finger, while the chubby hands of the younger boy are clutching the end of the crib to catch a glimpse of the new baby.
Le Nouveau-né (The Newborn) was Anker's first painting in the museum collection. It was acquired via the artist François Bocion after being shown at the 1867 Exposition universelle in Paris and at the Musée Arlaud in Lausanne in 1869. The curator Léon de la Cressonnière recommended it to the Société vaudoise des beaux-arts for acquisition on the grounds of its simplicity of composition, fine use of colour, and physiognomies so well defined that each, he wrote, could serve as a model for budding artists.
Bibliography
Magali Junet, Mécène et collectionneur: la Société vaudoise des beaux-arts, exh. cat. Lausanne, Musée Arlaud, 2011: 32.
Sandor Kuthy and Therese Bhattacharya-Stettler, Albert Anker, 1831-1910. Catalogue raisonné des peintures et des études à l'huile, Berne, Kunstmuseum, Bâle, Wiese Verlag, 1995: n. 108.
Bernard Wyder, Anker. Chroniques intemporelles. Catalogue raisonné des œuvres d'Albert Anker au Musée cantonal des Beaux-Arts de Lausanne, Lausanne, 1987.