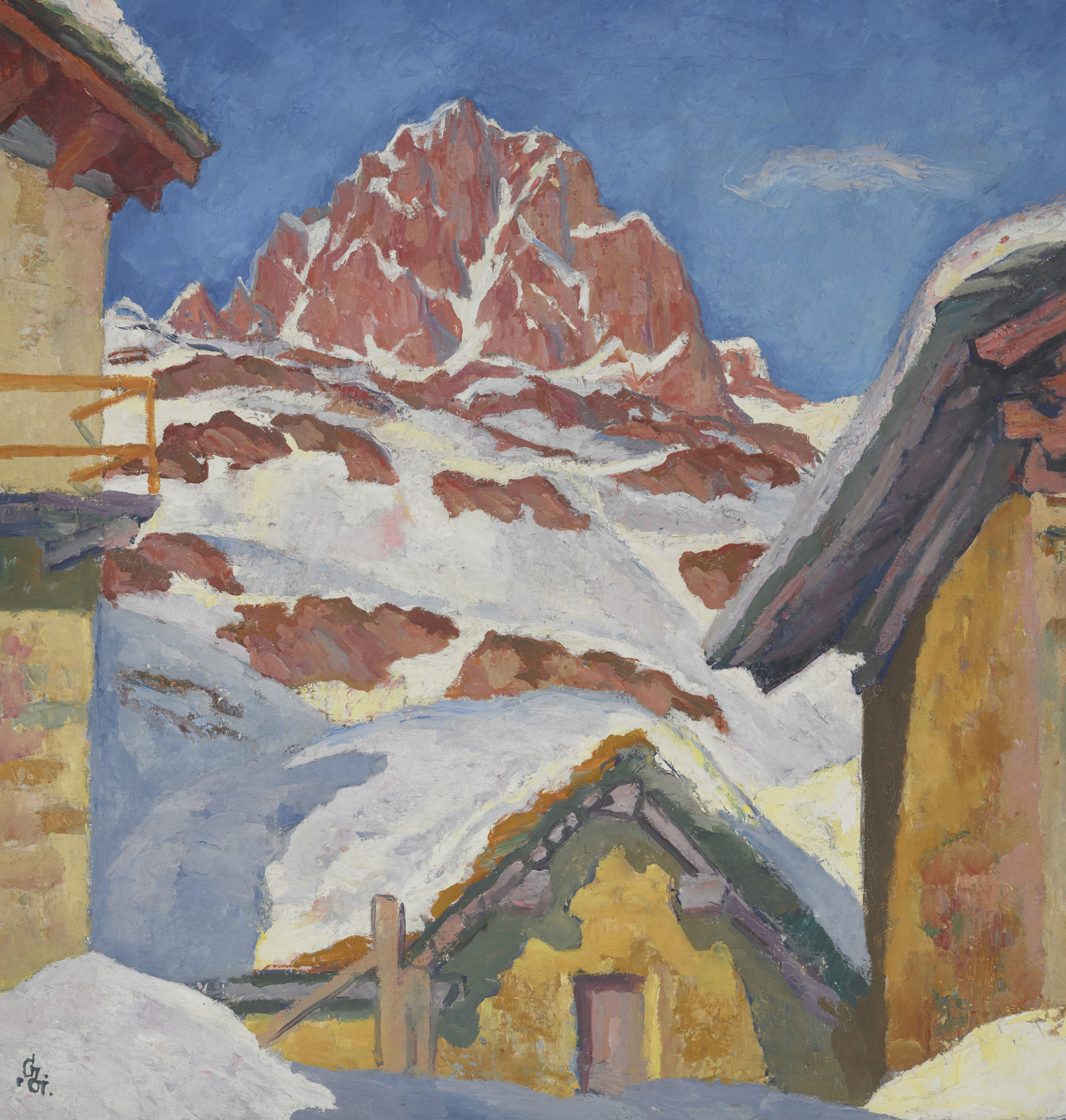 Giovanni Giacometti
Maloja en hiver or Piz Lagrev (Maloja in Winter or Piz Lagrev), 1929
When Ferdinand Hodler died in 1918, Giovanni Giacometti became one of the leading figures on the Swiss German art scene, rivalled only by with Cuno Amiet. While both are considered representatives of a new form of painting that foregrounded the importance of colour, Giacometti's work stands out from Amiet's for its passionate relationship with the concept of truth. Giacometti refused to reduce art to a simple interplay of shapes and nature to a set of motifs. Rather, he saw painting as an expression of emotion born of a close relationship with the artist's milieu and loved ones. As he wrote in 1909, 'An artist can only produce an oeuvre if he has lived it and the viewer can only appreciate it if he relives it inwardly'.
The relationship between the Grisons-born artist and the upper Engadine typifies such a relationship: his home region was in his blood. Far from his home village, clinging to the mountainside at an altitude of over 1,300 metres, he felt himself fading away: '[…] I find Italy unsatisfying, despite her beauties. I aspired to see my own mountains again and breathe in their health-giving air', he wrote in 1893. He returned to live in Stampa for good in 1904. This is where he spent his winters, spending the summer months in Maloja and its traditional pastures used by generations of peasants from Val Bregaglia.
By the early 1920s, Giacometti's children – long his favourite subject for painting – had all left home, so he focused all his attention on mountain landscapes instead. Maloja en hiver (Maloja in Winter) is almost identical to a work framing the Piz Lagrev peak chosen two years earlier for the companion piece Maloja en été (Maloja in Summer) (1927, also in the Museum's collection). The artist, who painted out in the open wearing his skis, did not choose a low angle viewpoint that would have played up the majesty of a peak standing over three thousand metres in altitude. Rather, he depicted it as it appeared in his field of vision, its pink slopes radiant in the bright sunlight that marries together the blue of the cloudless sky, the yellow of the houses, and the white of the melting snow.
Bibliography
Dieter Schwarz (ed.), Giovanni Giacometti 1868-1933, exh. cat. Winterthur, Kunstmuseum, Lausanne, Musée cantonal des Beaux-Arts, Chur, Bündner Kunstmuseum, Zurich, Institut suisse pour l'étude de l'art, 1996: 16.
Paul Müller and Viola Radlach, Giovanni Giacometti 1868-1933. Werkkatalog der Gemälde, Zurich, Schweizerisches Institut für Kunstwissenschaft, 1997, vol. 2: n. 1929.35.