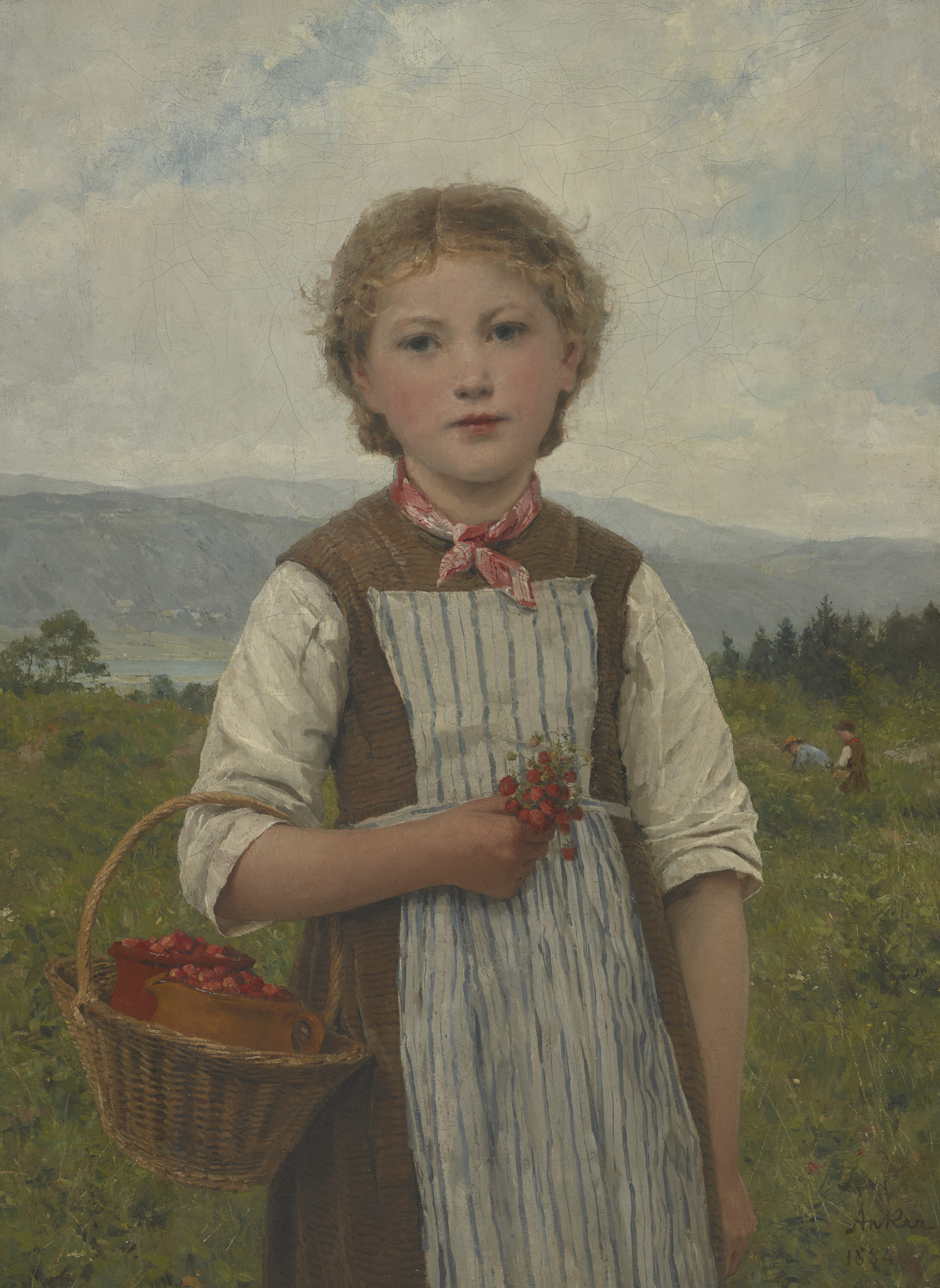 After a youth spent between Anet, Neuchâtel and Bern, Albert Anker put his two languages (French and German) to use in conquering the art markets in both Paris and German-speaking Switzerland. From autumn to spring, he lived in the French capital and exhibited at the Salon; in the summer, he withdrew to his country house in the Bernese Seeland. Here is where he painted this portrait typical of the world we still associate him with today: peaceful village life, the world of childhood and old age, and the social and educational activities that are the bedrock of the democratic spirit.
Listed by the painter in his sales catalogue as 'young girl with strawberries (chaperon)', the canvas became popular under the title La Mariette aux fraises [Das Erdbeeri-Mareili], which it shared with a novella by the Bernese writer Jeremias Gotthelf published in 1852. Anker himself later illustrated this book, although none of his drawings resemble this painting.
Anker chose a ten year-old girl from his village, Rosa Zesiger, to pose as his strawberry picker. She wears a blouse, a dress and an apron cut from crude, locally produced cloth. The kerchief knotted around her neck, typical of the textiles produced by the mills in eastern Switzerland, enlivens the ensemble with a dash of rouge, echoed by the strawberries, the girl's mouth and the clothes of another little girl in the background. The enamelled pots common in all Bernese kitchens in the nineteenth century, together with the landscape, which includes Lake Biel and the Jura mountains, ensure the scene's realism and consummately Helvetian character. At the same time, the young girl's dreamy, wandering gaze conveys the tedium of the hours she has spent posing for this portrait, which strives for an effect of immediacy. They confirm the impression that this figure standing out against a flowery meadow has almost been collaged onto its background.
Bibliography
Sandor Kuthy and Therese Bhattacharya-Stettler, Albert Anker, 1831-1910. Catalogue raisonné des peintures et des études à l'huile, Bern, Kunstmuseum Bern, Basel, Wiese Verlag Basel, 1995: n. 323.
Erica Billeter (ed.), Chefs-d'œuvre du Musée cantonal des Beaux-Arts, Lausanne, Lausanne, Musée cantonal des Beaux-Arts, 1989:  112.