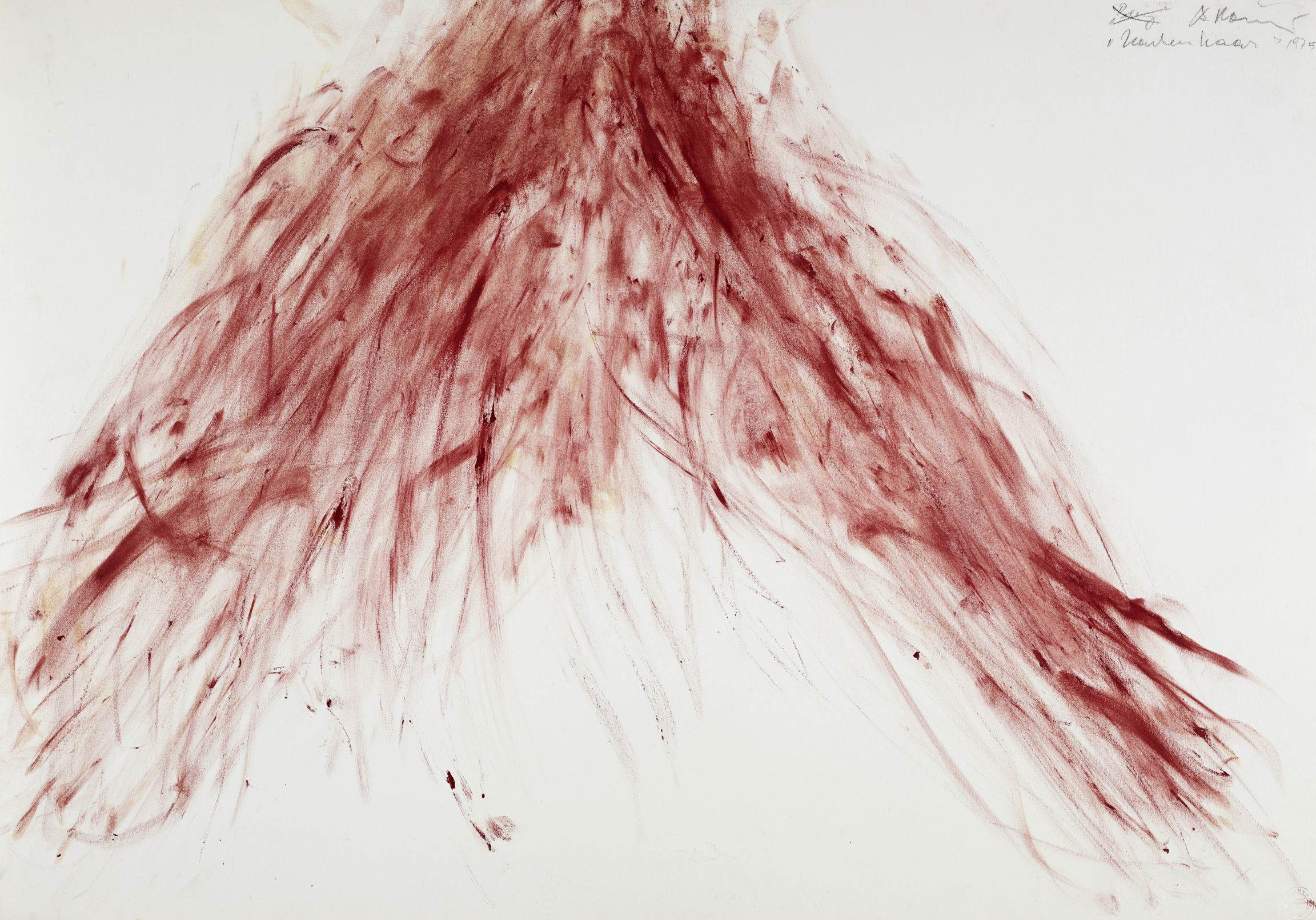 From as early as 1952, Arnulf Rainer developed a painting style typified by the nervous energy of the artistic process. His work on reproductions of famous paintings and photographic self-portraits is characterised by his physical commitment to the work and its intense, often violent energy. Nackenhaar accentuates the artist's physical labour: he painted it with his fingers, as if they were a direct connection between artistic impulse and action, stripping out any intermediaries between him and his medium. He started finger painting in 1973 after breaking a paintbrush while working and carrying on with his hands so as not to interrupt the flow of his inspiration. It is also doubtless a deliberate reference to Louis Soutter, who produced numerous finger paintings: Rainer admires him and collects his work.
In Nackenhaar, the artist has used both hands to paint an almost symmetrical composition, working from instinct. Two aspects of the work are unusual for Rainer. He has painted on a previously unused medium, pointing to a certain sense of unfussy simplicity. The use of non-black monochrome is likewise atypical: his art usually combines bright red and yellow, hemmed or split with black or blue lines. The use of cardboard rather than paper reflects the need for a less flimsy base.
Bibliography
Helmut Friedel, Arnulf Rainer. Rainer Kosmos, exh. cat. Baden, Arnulf Rainer Museum, Nuremberg, Verlag für moderne Kunst, 2012.
Erika Billeter (ed.), Les doigts peignent/Die Finger malen. Arnulf Rainer/Louis Soutter, exh.  cat. Lausanne, Musée cantonal des Beaux-Arts, 1986.
Erika Billeter (ed.), Chefs-d'œuvre du Musée cantonal des Beaux-Arts, Lausanne. Regards sur 150 tableaux, Lausanne, Musée cantonal des Beaux-Arts, 1989: 296-297.