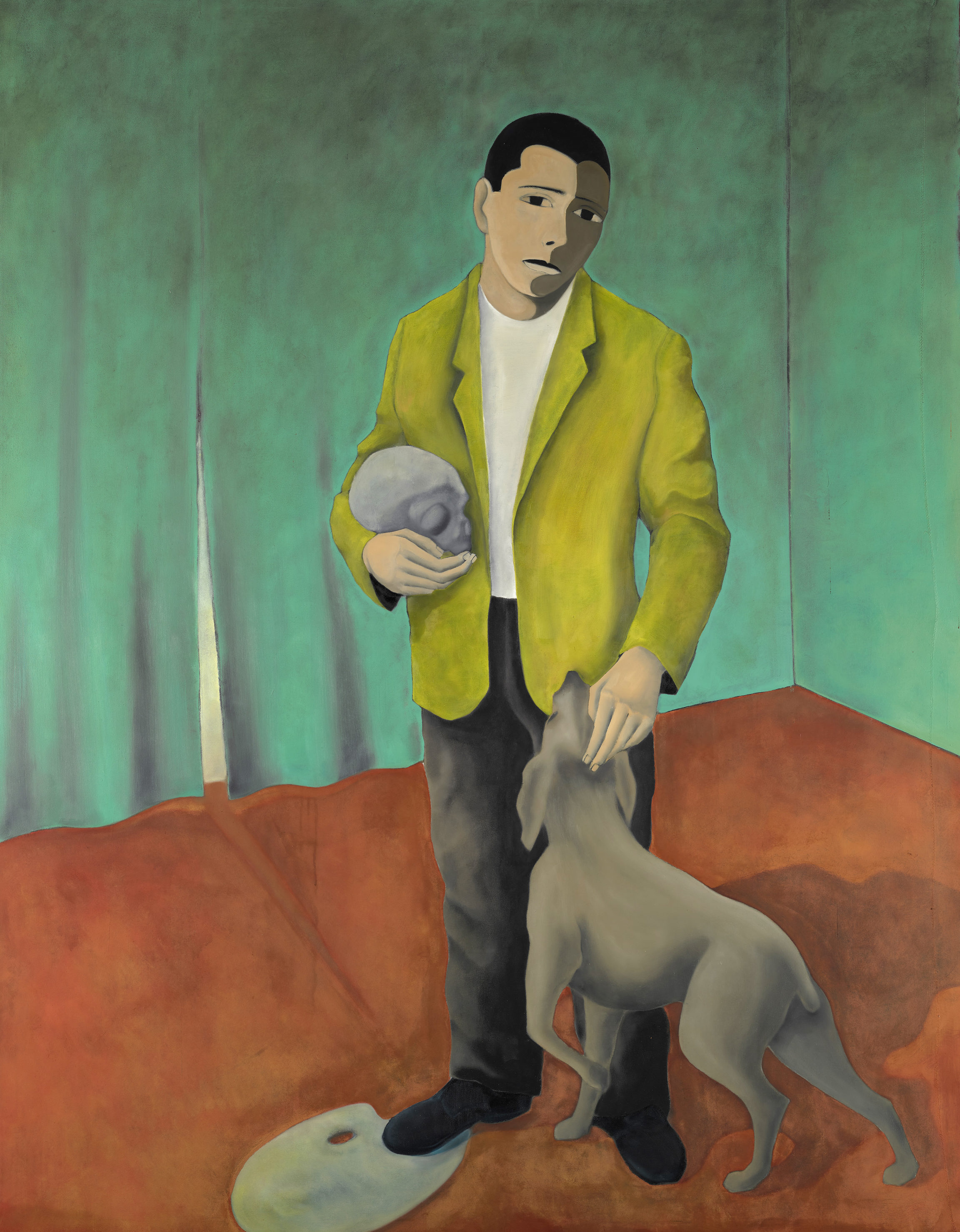 Albrecht Schnider enjoyed critical acclaim in the mid-1980s for his icon-like portraits, whose austerity has often been compared to that of Félix Vallotton. This canvas, which also echoes Vallotton's handling of colour and space, is a vanitas painting in the tradition of the self-portrait with skull indicating man's mortality, a genre that has remained current since the golden age of Dutch painting until the present day, from Frans Hals to Sarah Lucas. Taking inspiration from a self-portrait by François Barraud (Le mélancolique [The Melancholy Man], 1931, private collection), Schnider has nestled a skull in the crook of his arm.
While the large-format, full-length self-portrait appears deceptively plain, it is in fact full of symbolism. The artist is patting a dog, symbolising fidelity, while gazing out at the visitor. He does not show himself painting, as is often the case for self-portraits of artists at work. His work is hinted at only by the palette without paint under his foot, an odd shape that could almost be an anamorphosis of a skull. The background is a corner wall covered with a curtain with folds and a split, hinting at the theatricality of the scene and of life in general.
Schnider looks sad, with a downturned mouth and downcast eyes. The stylised face, with simplified lines, smooth skin and close-cropped hair, also features in other works from the same period, in which Schnider wears the same outfit. Sometimes he is alone with his painting kit, at other times he has a brush and palette in hand and a child by his side. The dog also appears regularly, while the range of colours is invariably the same. The set of works heralds the schematic faces of his paintings from the period after the turn of the millennium, which have become featureless contours.
Bibliography
Martin Luchsinger, Beat Wismer et alii, Albrecht Schnider. Das noch Mögliche, exh. cat. Aarau, Aargauer Kunsthaus, Nuremberg, Verlag für moderne Kunst, 2006.
Martin Schwander and Philip Ursprung, Albrecht Schnider, exh. cat. Lucerne, Kunstmuseum, 1994.