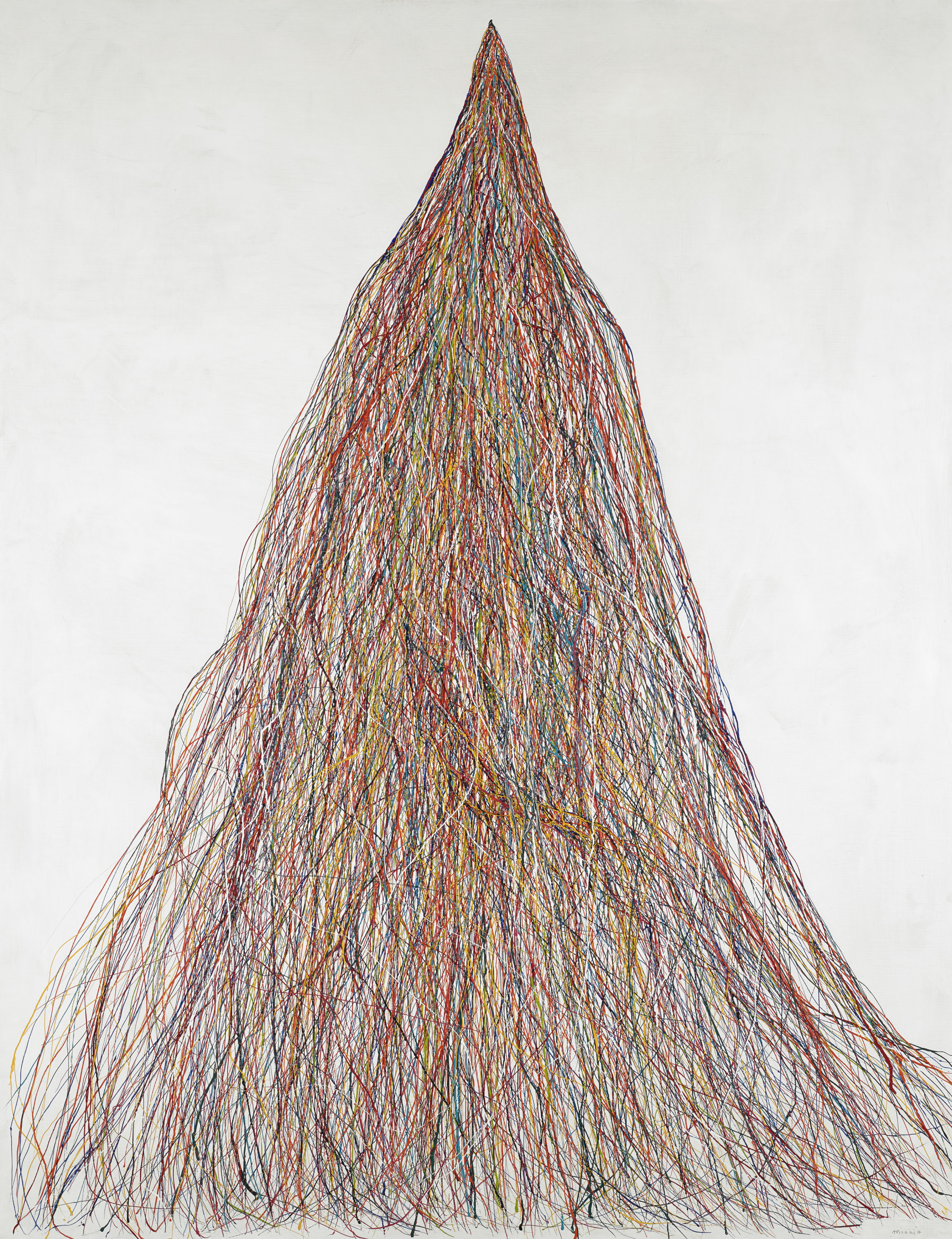 Michio Yoshihara was the son of Jirō Yoshihara, the art theorist behind the group Gutai Bijutsu Kyōkai (Association for Concrete Art) (1954-1972), which he founded shortly after the Second World War in Ashiya. The group brought together young artists keen to break with the restrictive Japanese tradition. It soon began publishing a widely read review and brought out a manifesto in 1956. The performative forms promoted by the group were at odds not only with nihon-ga, the school of painting that upheld traditional Japanese art conventions, but also with yō-ga, the school influenced by the Western tradition that had arisen in the closing quarter of the nineteenth century. For Gutai, which was equally at home working in urban centres and in the open countryside, art was inseparable from life: art was action, and action was art. The group's major influences were Hans Hartung and Jackson Pollock, influenced in turn by Gutai and the broader Japanese tradition, especially calligraphy and the significance of brushwork.
Michio Yoshihara's first installations combined natural and industrial elements. Eau lumineuse (Luminous Water, 1956), for instance, consisted of three holes dug in the ground with a light shining from them. The painting P-21 echoes an installation presented in 1965 at the Gutai Pinacotheca in Nakanoshima, Osaka, a former warehouse complex converted into an exhibition space by Jirō Yoshihara and given its name by the critic Michel Tapié. Multicoloured paper streamers were attached to a corner and blown by a fan. The tight-knit skeins of colourful lines here evokes this ephemeral event, creating a sense of vibration. The individual strands are not floating, but rather stream forth from a tiny point of impact, with a few white lines heightening the shimmering effect. The painting reflects Yoshihara's new-found use of colour.
The Museum acquired the canvas the year it was painted, in 1966, at the 2nd Salon international de galeries pilotes – proof not only of the Gutai group's international relevance, but also of the interest European museums were already taking in it.
Bibliography
Alexandra Munroe and Ming Tiampo (ed.), Gutai: Splendid Playground, exh. cat. New York, Solomon R. Guggenheim Museum, New York, Guggenheim Museum Publications, 2013.
Katō Mizuho (ed.), Yoshihara Michio, cat. exp. Ashiya, Ashiya City Museum of Art & History, 2003.
Yves Aupetitallot, René Berger et alii, Inside the sixties: g.p. 1.2.3. Le Salon international de galeries-pilotes à Lausanne/1963, 1966, 1970, exh. cat. Lausanne, Musée cantonal des Beaux-Arts, 2002: 98, n. 91.