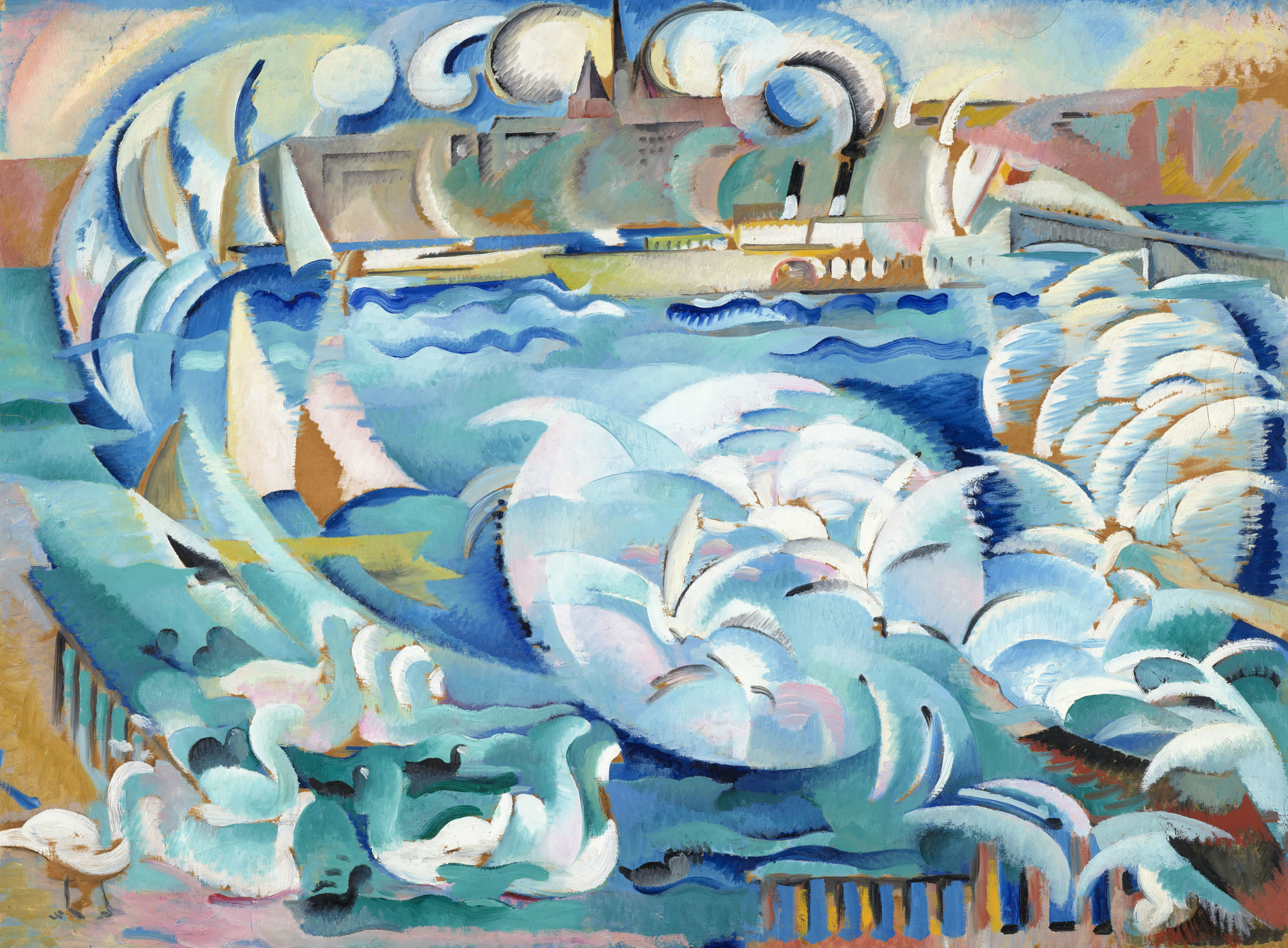 Alice Bailly
Rade de Genève ou Vol de mouettes (Geneva Harbour or Flight of Gulls), 1915
Alice Bailly was on the cusp of turning forty when her decision to adopt an avant-garde style paid off in Paris. She became friends with Guillaume Apollinaire, spent time with Sonia and Robert Delaunay, and became a presence on the Paris art scene. In mid-July 1914, she moved to Mézières, a dozen miles outside Lausanne, to spend the summer preparing for the next Autumn Salon. But everything changed on 2 August when war broke out: the borders closed and Bailly was forced to move to Geneva, where she found herself in difficulties. She had received a hostile reception in 1913 for the exhibition of French Cubists she curated in Lausanne and Geneva and indeed for her own solo exhibition at the Musée Rath: abstract art was not welcome in French-speaking Switzerland, where the critic Paul Budry was almost their sole supporter. She had to find a way to survive without access to her Paris network and the creative stimulus of the Montparnasse art scene.
This painting offers a brand new vision of the Geneva lakeside, which countless artists had depicted in a more canonical manner including, a few years previously, Ferdinand Hodler. The view is from the right shore looking out over the harbour and the cathedral in the background. Bailly draws on her highly individual stylised approach, rooted in Fauvism, Cubism, and Futurism, to rouse the scene from its usual torpor. The strident palette of blues, pinks and whites throws gulls, clouds, and the steam pouring from a ship's funnel into an elliptical spin that draws the viewer into a mad, whirling dance.
Bibliography
Paul-André Jaccard, Alice Bailly. La fête étrange, exh. cat. Lausanne, Musée cantonal des Beaux-Arts, Milan, 5 Continents Editions, 2005: p. 67, no 80.
Paul-André Jaccard, « Alice Bailly et l'introduction du cubisme en Suisse », in Études de Lettres. Revue de la Faculté des lettres de l'Université de Lausanne, no 1, vol. 8, 1975: p. 62.