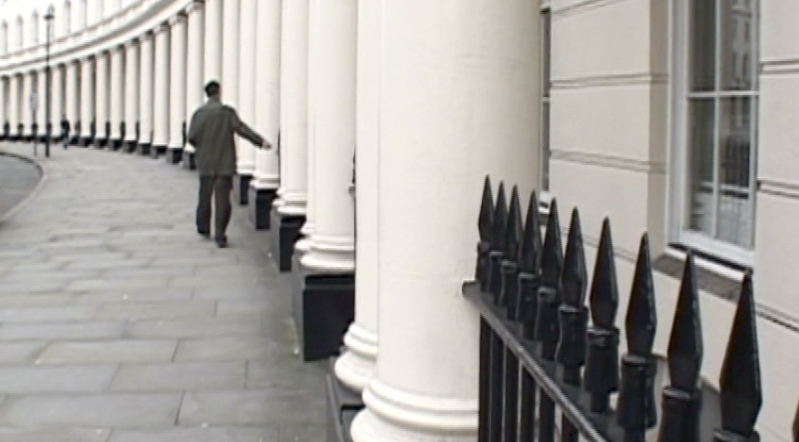 Francis Alÿs has been walking since 1990. He started his walks in Mexico City, his chosen home since 1986, and has continued in São Paulo, London, Istanbul and Jerusalem, among others. Alÿs is the 'artist as walker' par excellence, one who explores and re-imagines the city by the routes he follows through it.
In Railings, Alÿs walks around London, running a drumstick along railings in order to create an urban sound specific to its setting. This gesture, which at first recalls a children's game, may also bring to mind some of the music of John Cage or Steve Reich; it produces a vast repertoire of rhythms produced by the different kinds of railings that the artist walks past. Added to these sounds produced by the gesture of his hand are various accidental noises – a barking dog, a siren, the roar of traffic. But it is the specific score that the artist superimposes over the ambient noise that produces the music here. If his gesture makes the space itself resonate – its structure and linearity, its architectural ruptures and rhythms –, then the impact of the stick on the railings and walls in turn underscores the rhythm of his steps, the movement of his body in space, the passing of time as a movement.
Railings recalls an earlier work by Alÿs, Time Is a Trick of the Mind (1998), which consists of a video animation based on drawings, shown as a double projection. We see a man walking alongside a fence with a wooden stick in his hand and we hear the sound of the stick touching the metal, sometimes in synch with the gesture and sometimes out of synch, the two rhythms combining to form a third. Railings can thus be read as the culmination of work begun several years earlier, with drawing giving way to performance and musical simulation to capturing reality.
Bibliography
Mark Godfrey (ed.), Francis Alÿs – A Story of Deception, London, Tate Publishing, 2010.
Robert Harbinson, James Lingwood et alii, Francis Alÿs. Seven Walks, London, Artangel, 2005.
Andreas Bee and Anton von Bebenburg, Francis Alÿs: Time is a Trick of the Mind, Frankfurt, Revolver, 2004.