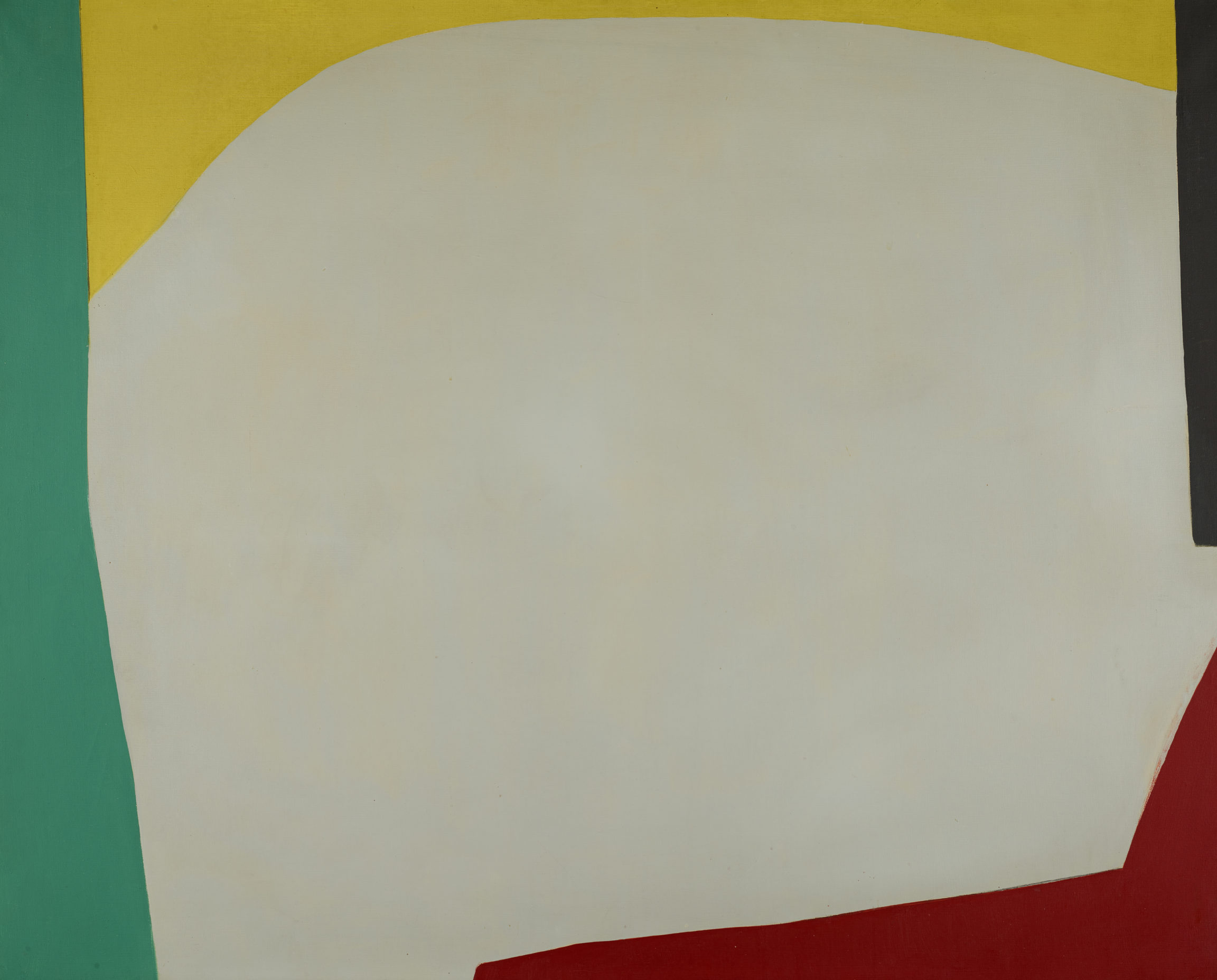 Robert Breer began his career as a painter after studying at Stanford University, near San Francisco, in 1949. That same year he moved to Paris where he applied the principles of neoplasticism, as defined by Piet Mondrian in 1917, but with greater latitude. While he was familiar with the research of the Dutch artist, it was especially concrete art and its offshoots, which were fashionable in Paris at the time, that encouraged him to pursue geometrical abstraction.
Sky Chief is emblematic of this period. Each element exists in relation to the others, and all, in spite of their irregularities and their differences, contribute to the temporary stability of the composition. Indeed, the potential movement that one perceives is actually played out in the films that Breer starts making from 1952, and notably in Form Phases IV (1954).
The work has neo-plasticism's areas of flat colour, its bi-dimensionality and its absence of symmetry. Unlike Mondrian, however, Breer does not limit himself to primary colours or to black, grey and white, and he does not limit himself to strict horizontals and verticals. The supple linearity of his forms was probably inspired by Henri Matisse's cut-outs. Within the rectangle of the canvas, the coloured segments with their uneven edges neither interlock nor clash. As if frozen in their own movement, they seem to form a random composition, Breer was influenced by Jean Arp and John Cage's interest in chance. The work's title may refer to the advertisement for 'Sky Chief' petrol, named after Frank Hawks's aeroplane, whose colours were, apart from yellow, similar to those of Breer's canvas.
Breer stopped painting in 1959 and returned to the United States, where he concentrated on making the films and kinesthetic sculptures for which he became known. Although regularly exhibited by the Galerie Denise René in Paris in the 1950s, his paintings were not shown to the American public until 2000, when an exhibition was held at Staff USA, New York.
Bibliography
Ute Holl, Andres Pardey and Laurence Sillars, Robert Breer, exh. cat. Basel, Museum Tinguely, Gateshead, BALTIC Centre for Contemporary Art, Bielefeld/Leipzig/Berlin, Kerber Verlag, 2011.
Laura Hoptman, Juliette Singer et alii, Robert Breer. Films, Floats and Panoramas, exh. cat. Annecy, Musée-Château, Clermont-Ferrand, Musée d'art Roger-Quilliot, Clermont-Ferrand, Éditions de l'Œil, 2006.
Robert Breer, Billy Klüver et Julie Martin, Robert Breer: a Painter in Paris, 1949-1959, exh. cat. Paris, Galerie 1900-2000, 1990.