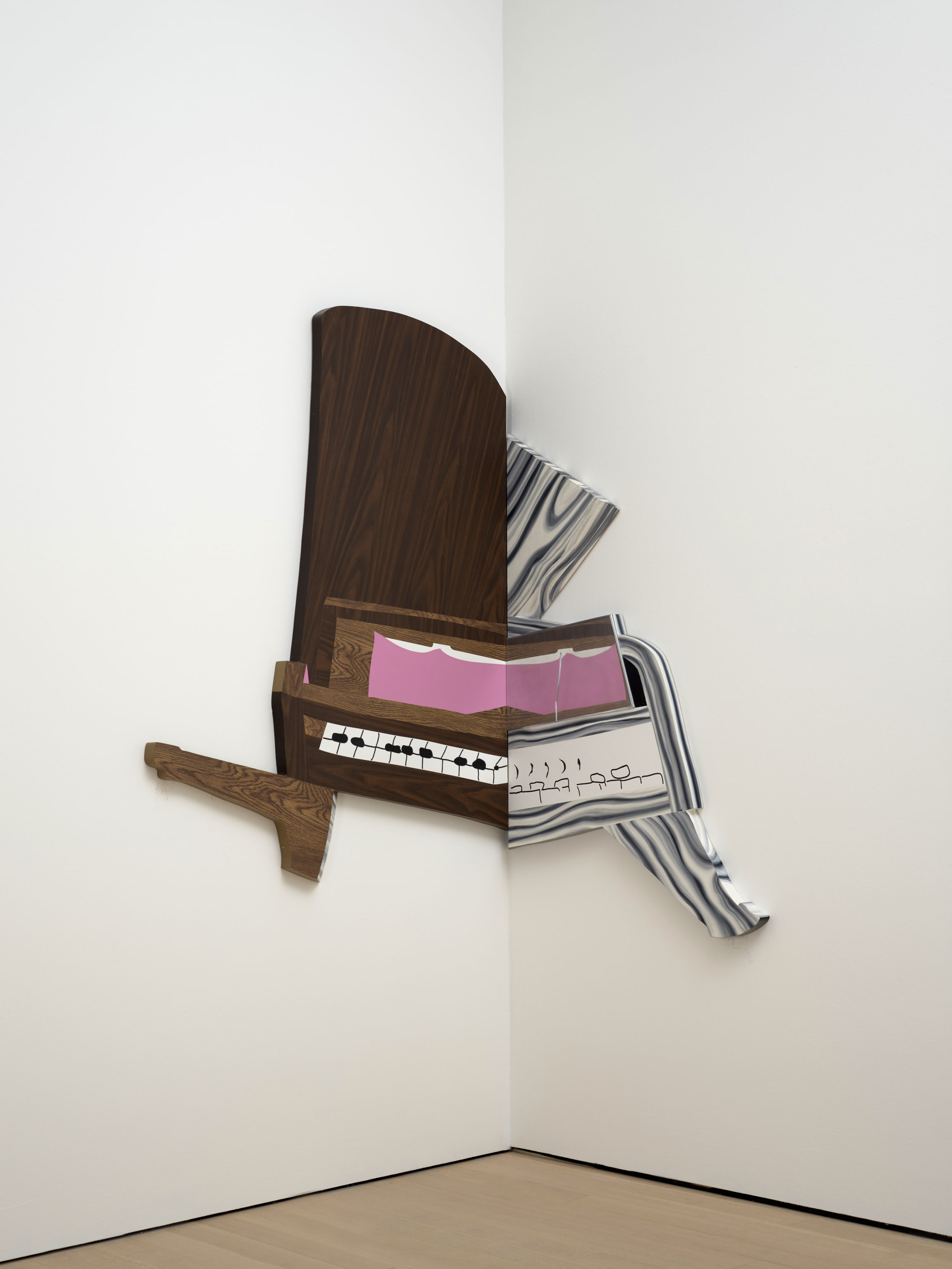 Richard Artschwager's oeuvre was influenced by his mother, an artist, and his father, a botanist. Though he studied science and then earned a living for his family as a furniture maker, he never entirely turned his back on art: for instance, he was Amédée Ozenfant's assistant in Paris in 1949. When his flourishing furniture workshop burned down in 1958, he took up drawing classes, reawakening his passion for art.
Aiming to make the most of his skills, Artschwager soon took his art in a new direction. He explored the use and aesthetic value of objects by drawing on his own craft skills to produce fine art. He first produced small wall sculptures, then experimented with pieces on a human scale. His works featured interplaying geometric shapes, colours including acid brights, and industrial materials generating both volume and pictoriality. A typical work such as Description of Table (1964, New York, Whitney Museum of American Art) is a rectangular parallelepiped bearing a Formica image of a wooden table covered with a white tablecloth, with a negative (black) space between the four legs.
Splatter Piano II is one of a series of later works in which the artist engages in more sophisticated play with the same basic idea. A grand piano is reduced to two dimensions and then "splattered" across a corner of the room. The work is a response to the use of space, which is often wasted. The instrument is divided in two along the vertical axis, with one side made of Formica, the other side in imitation "wood" with paint mimicking its grain. The right-hand side is also inset with an aluminium plaque that reflects the pink book of scores and the brown fake wood, further undermining the viewer's understanding of the "cubist" object. The piano's formal and functional qualities are taken so far that the effigy develops a certain degree of kitsch.
Bibliography
Jennifer R. Gross (ed.), Richard Artschwager, exh. cat. New York, Whitney Museum of American Art, Los Angeles, Hammer Museum, 2012.
Arthur C. Danto, Jacinto Lageira and Ingrid Schaffner, Richard Artschwager, exh. cat. Jouy-en-Josas, Fondation Cartier pour l'art contemporain, 1994.
Jörg Zutter (ed.), Un musée pour demain? L'art contemporain dans des collections privées vaudoises, Les Cahiers du Musée des Beaux-Arts de Lausanne n. 8, 1999: 36, n. 2.